Fake news is a huge problem on social media, and Facebook in particular has taken a ton of heat for unwittingly promoting stories that are simply not real. It seems that Twitter is also unable to tell the difference between real stories and complete B.S., as it's been actively promoting a totally fake ESPN account along with links to a fake ESPN site and false stories about various UFC fighters for over a month.
I first noticed the trend in late December when a seemingly legit story about Conor McGregor appeared on my timeline as a promoted tweet. It was created by @ESPNUFC (for the record, the real ESPN account for UFC news is @ESPNMMA), and had an ESPN logo, some professional photography, and a link to a story about Conor McGregor and HGH use.
The site looks like ESPN, and has the byline of a (fake) ESPN writer, but you only have to read a few paragraphs before you realize it's not actually the popular sports site. It's an ad for a bogus muscle-building scam called AlphaTren. The story alleges that Conor McGregor is using the supplement and that's why he's so buff and able to recover quickly after bouts. Then, the story offers readers a limited time offer to buy it.
The fake story appeared in my timeline again two days ago. A quick Twitter search shows that it's not only been floating around on the social network for a while, but that it's actually been in Twitter's promotional program since December 3rd, which means that for over a month the story was being populated in users' timelines, complete with a fake ESPN profile and photo.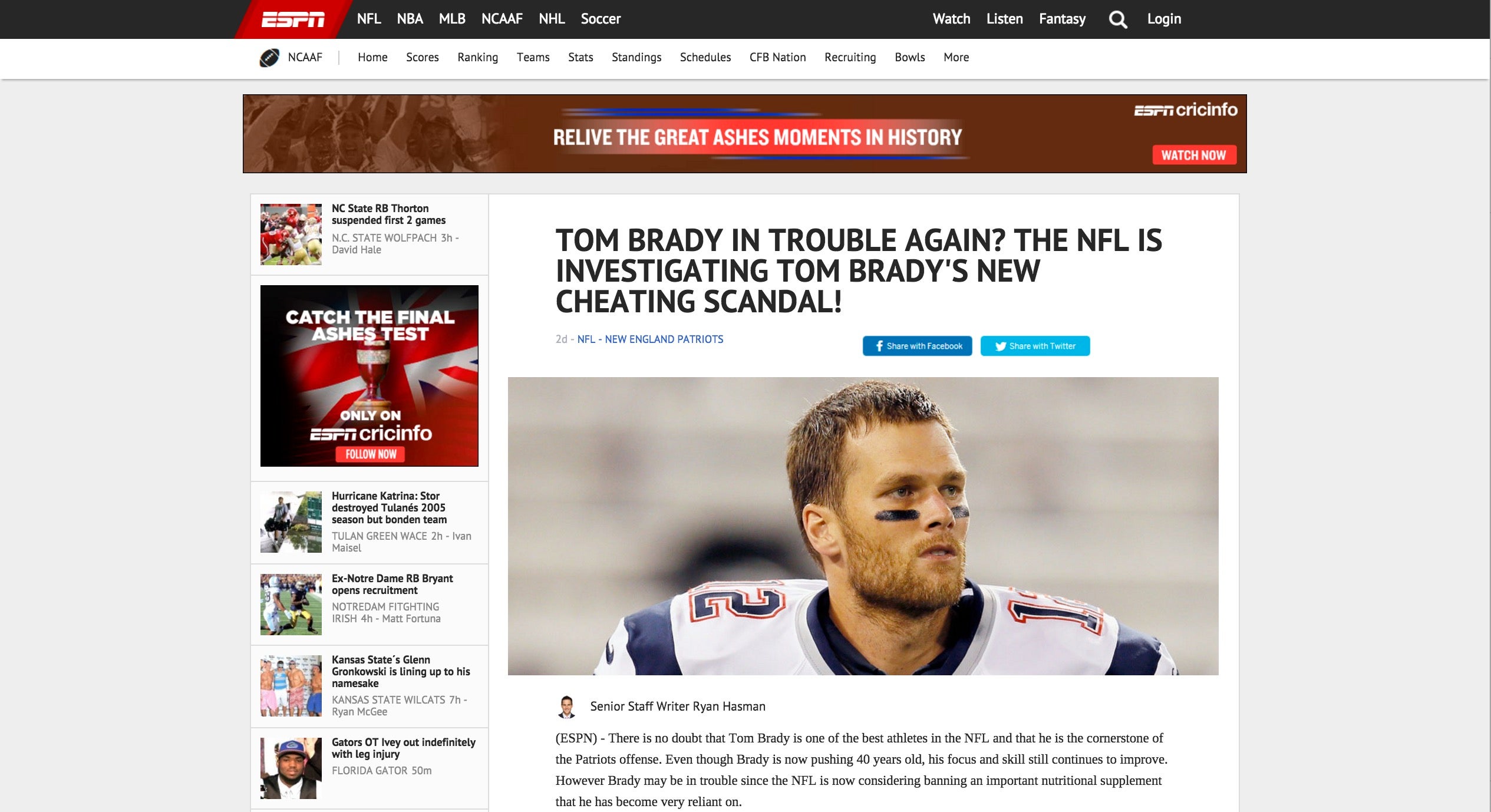 The story itself is not unique. It's just one variant of a popular theme for scam stories that stretches back over a year. In early 2016 the trend was centered on NFL players, and there were stories about Tom Brady, Peyton Manning, and others "furiously denying" HGH use, followed by plugs for various shady supplements. Many of those stories also used fake ESPN site layouts as well and appeared in advertorial slots on several different websites.
The difference here is that the obviously false stories and disgusting promotional plugs for sketchy products aren't being placed in an obvious ad slot — which many web veterans already view with a great deal of deserved skepticism — but in their Twitter timeline with an ESPN logo and handle. The profile isn't verified, but from the promoted tweet you'd never know that it's not actually ESPN. Twitter is promoting it anyway.
In the 48 hours since the second promoted tweet appeared on my own timeline the account has disappeared, though it's not clear whether Twitter finally realized what was going on or if the account's month of paid promotion simply ran out and those running it shut it down to bring it back later. We've reached out to Twitter for comment but haven't heard back. In the meantime it's probably best to just not click on anything on the internet ever again, just to be safe.