Although Hurricane Florence's immediate impact on the Carolinas wasn't as bad as some people expected, the rains that have been falling on the East coast for the last few days have brought flooding that seems decidedly Biblical. Wilmington, North Carolina, a city with a population of 110,000 people and an international airport, has been cut off from the rest of the world by flood waters. People have already died, and were it not for the heroic actions of hundreds of volunteers, more lives would be in peril.
The power and danger of slow-moving flood water isn't as easy to visually grasp as, say, a news reporter braving vicious winds to demonstrate the effect. But thanks to professional and amateur photographers, you can at least get some sense of the devastation that Hurricane Florence is leaving in its path.
The flooding is coming from rivers, rather than the ocean, thanks to the feet of rain that have fallen since Thursday night. In Wilmington, the roads, airport, and sea port are all closed, with no way in or out of the city. Power is still out for the majority of residents, and the ongoing flooding will make it difficult for the power company to begin work to restore downed lines. The Cape Fear river is not predicted to crest until Tuesday or Wednesday, so there's no immediate hope on hand for residents.
Video: ground v aerial perspective of deep flood waters in Wilmington NC at the Applebee's. Cape Fear River is forecast to crest on Wednesday. @breakingweather @accuweather #Florence pic.twitter.com/7sn77aBzOO

— Reed Timmer (@ReedTimmerAccu) September 17, 2018
Update: flood erosion of I40 in Wilmington, NC continues with water flow forced UNDER new channel beneath the highway @breakingweather @accuweather #Florence pic.twitter.com/LvSMFccYLn

— Reed Timmer (@ReedTimmerAccu) September 16, 2018
Herd Heads For Higher Ground:

🌧Wildlife is often well-adapted to extreme weather conditions, most wild animals simply move to higher ground when areas begin to flood

🌧North Carolina's 7-day rainfall forecast predicts "a total of >10 trillion gallons" of rain from #Florence pic.twitter.com/sojYKvuypB

— Laurel Coons 🧬🧬🧬 (@LaurelCoons) September 15, 2018
Food, water, and gasoline are still in short supply for residents who remained. A curfew is in place, with residents instructed to stay off the streets between 8PM and 6AM to mitigate looting. Residents are still queuing at the few remaining stores (and restaurants) that are open: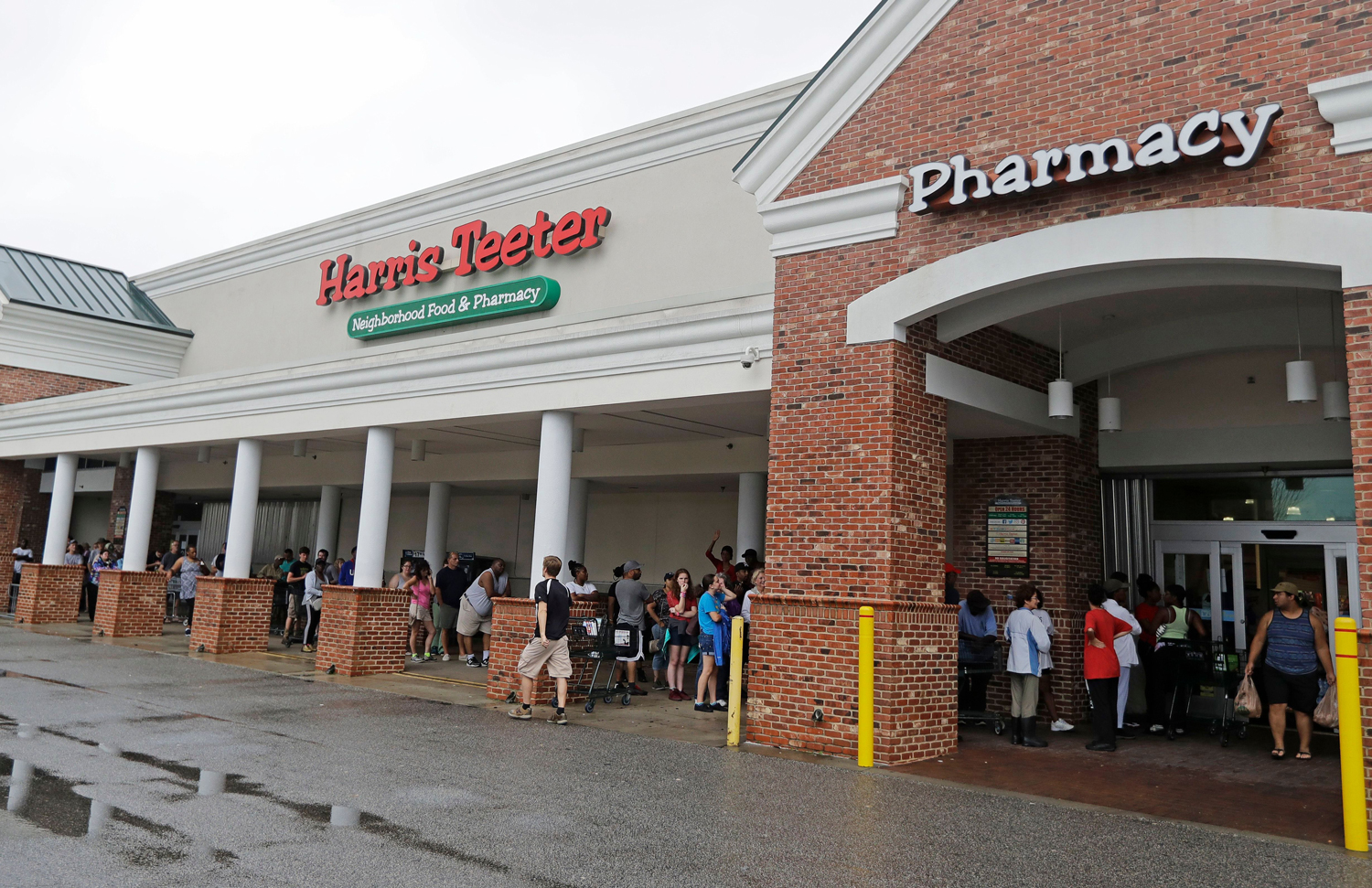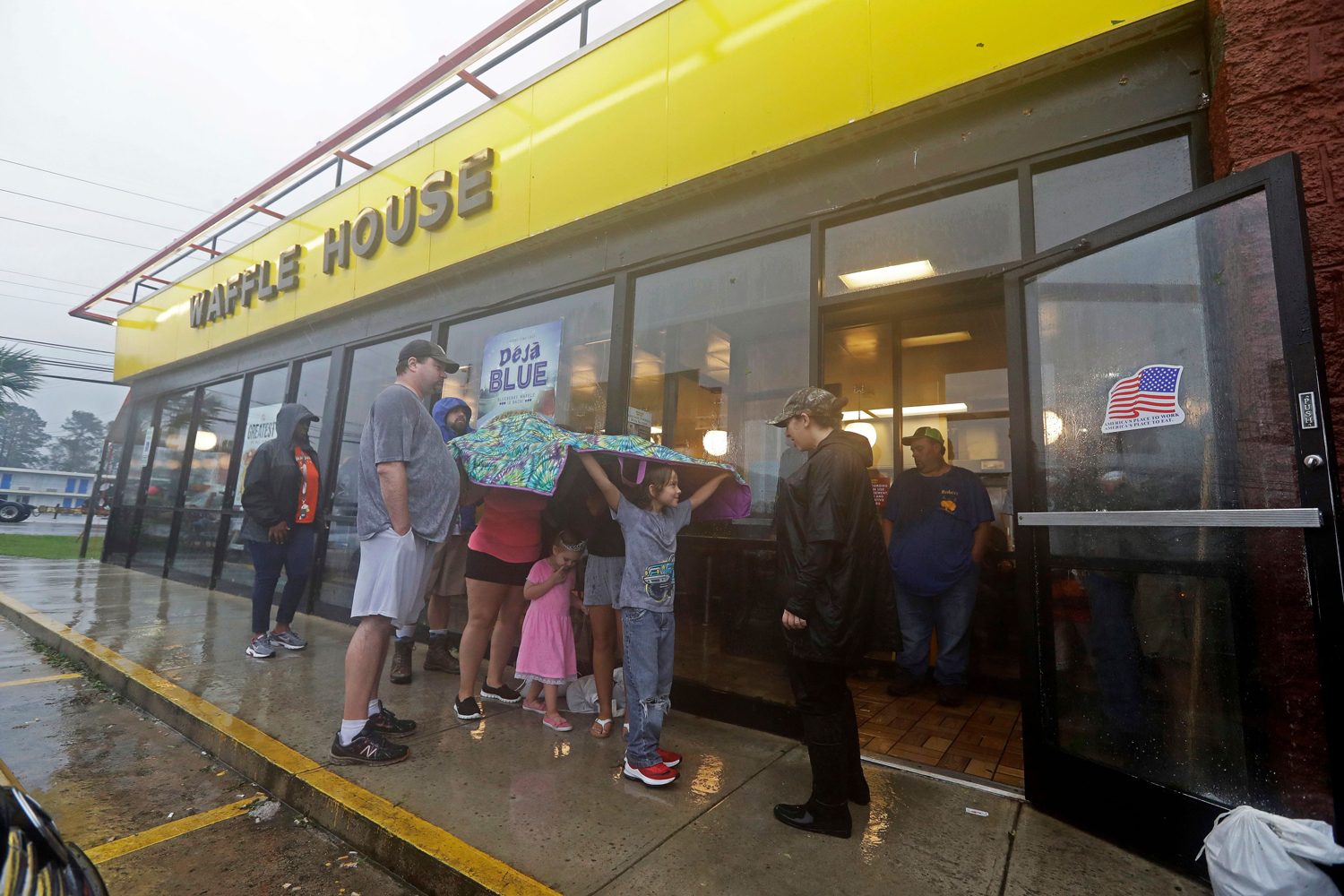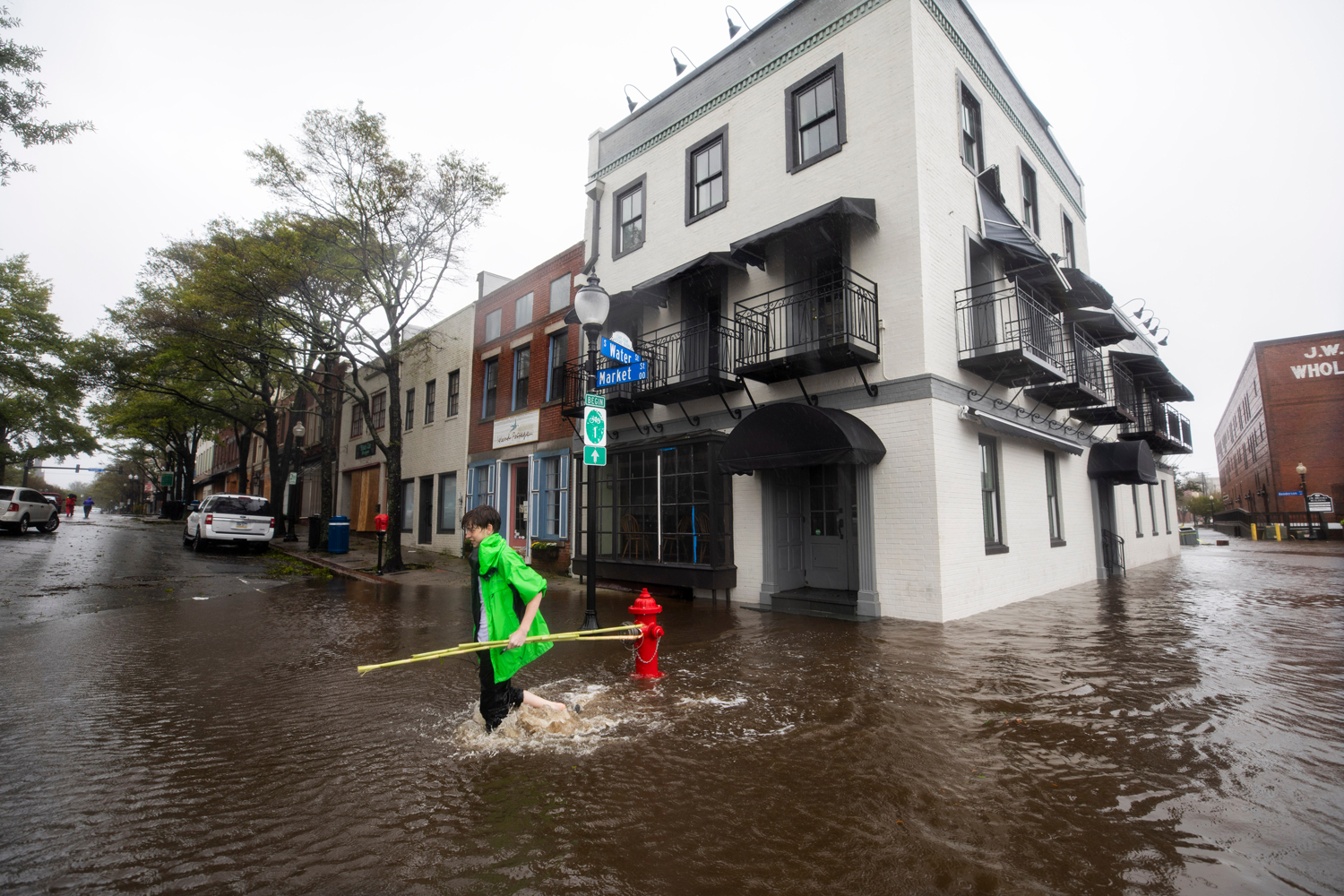 The effects of flooding are also being felt well outside of Wilmington, with much of North and South Carolina also affected:
Wow. #Durham's Northgate Park is underwater. One man who has lived in this neighborhood for years says last time he saw it like this was during Fran. #WRAL @WRAL pic.twitter.com/TmEeC5mCT9

— Sarah Krueger (@WRALSarah) September 17, 2018
WATCH: Drone footage shows flood damage to 40-50 houses in the Stoney Creek Plantation in Town Creek, N.C. The flooding was due to heavy rain brought by the remnants of #Florence.

Latest story: https://t.co/3EdDrwav7f
Video courtesy of Charles Peek / LSM pic.twitter.com/G9OqlsPjt4

— Eyewitness News (@wchs8fox11) September 17, 2018
This is what the water rushing into Lumberton, NC from the overflowing Lumber River looks like right now. Note: It's flowing into the poorest parts of town (and Lumberton is already one of the poorest towns in the US). This is expected to continue for a week pic.twitter.com/kM8ipuAww7

— Roberto Aram Ferdman (@robferdman) September 17, 2018