Donald Trump's administration thought it would be a good idea to separate migrant kids from their parents at the border, and put young children in what look a whole lot like modern concentration camps. Facing immense backlash from the public, Trump did rescind the policy, but that doesn't mean his problem went away.
People are still protesting against Trump's immigration laws, and someone is doing it by trolling Trump's name and properties. You'd think that TrumpHotels.org is one of the more 3,000 web domains held by the Trump organization. But it's not. It's actually a prank site that was just set up to "advertise" Trump's child camps.
Using imagery that shows caged children, and featuring several quotes from Trump, the fake hotel site is one creative way to draw even more attention to the administration's policies. On the "hotel" site you'll also find plenty of links to other controversial statements and policies from Trump. The focus is, of course, on the children, and those photos drive the point home. Yes, Trump signed an order in an effort to fix the problem he created in the first place. But those pictures of young children in cages cannot and should not be forgotten.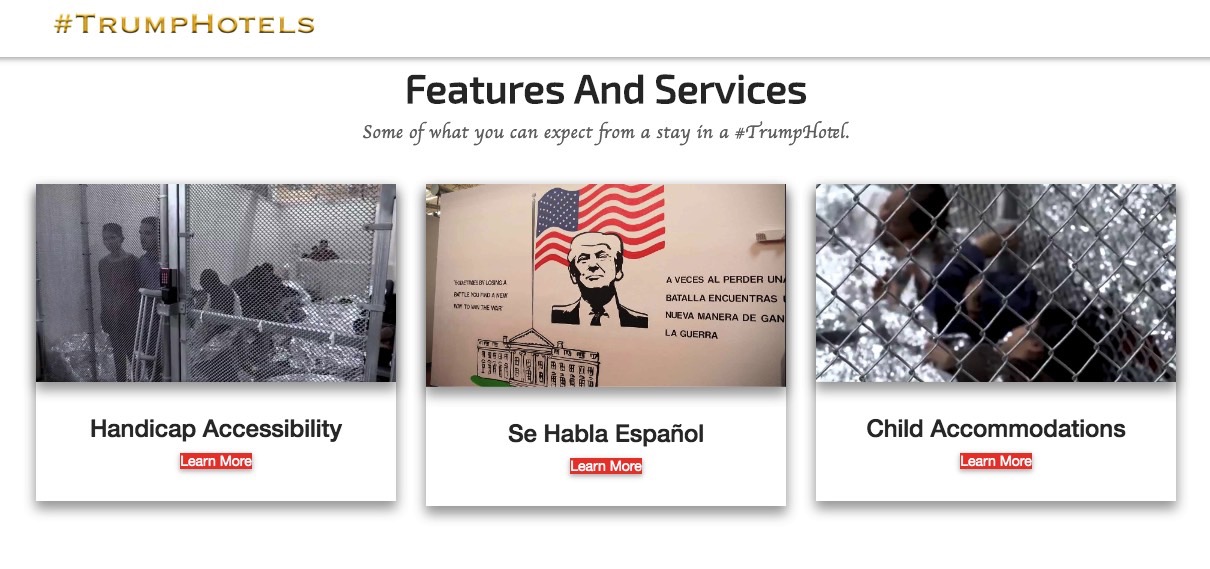 It's unclear who operates the site — or why the Trump organization doesn't own it already — but, as Gizmodo points out, the owner does expect some action from the Trumps. After all, if there's one thing that's certain, it's that Trump doesn't like to be ridiculed. Here's what the huge disclaimer, posted right on the front page of the site, says:
TrumpHotels.org is intended for entertainment, satirical, and political commentary purposes. It is an overt exercise of political speech, and it does not serve any commercial purpose. This site has no relationship to any commercial establishment or resort, it does not offer any similar products or services such as those provided by any commercial establishments or resorts, and it is in no way intended to deceive or create confusion with or to suggest sponsorship or endorsement by any other business or trademark holder. The use of any intellectual property, including trademarks or names of public figures, is protected under fair use, as TrumpHotels.org serves to comment on social and political issues and problems regarding the federal immigration policies of President Donald J. Trump, as well as other statements and actions made by Mr. Trump, through the use of ridicule and criticism. See the U.S. Trademark Act of 1946, 15 §§ 1051 et seq. (a/k/a, the Lanham Act), and KP Permanent Make-Up, Inc. v. Lasting Impression I, Inc., 543 U.S. 111 (2004).
UPDATE: The site has been taken down, and we certainly all saw that coming. Luckily, nothing is ever truly gone when it comes to the internet — here's a copy from Internet Archive.