In his quest to make America great again, a number of experts claim Trump is actually making ISIS great again. Now, it appears as though another unintended side effect of Trump's presidency is starting to gather steam: family feuds. It's no secret that Trump is one of the most polarizing political figures the United States has seen in decades, but a new report reveals that heated debates over Trump's presidency and policies are actually tearing American families apart.
73-year-old California native Gayle McCormick and her husband had been married for 22 years until recently, when the couple decided to separate. The reason for their separation, according to the retired prison guard, was her husband's decision to vote for Donald Trump.
"It totally undid me that he could vote for Trump," McCormick told Reuters in an interview. She said her husband casually mentioned his support for Donald Trump last year while the couple was having lunch with friends, and she instantly knew it was a "deal breaker." McCormick told Reuters she is a "democrat leaning toward socialist," and she voted for Bernie Sanders in last year's presidential election.
"I felt like I had been fooling myself," McCormick said. "It opened up areas between us I had not faced before. I realized how far I had gone in my life to accept things I would have never accepted when I was younger."
McCormick's is an extreme case, but it's hardly the only instance of the current political landscape in the US causing turmoil within families. According to a Reuters/Ipsos poll of 6,426 American adults conducted between December 27th and January 18th, 39% of respondents have argued with family and friends over politics during that time frame.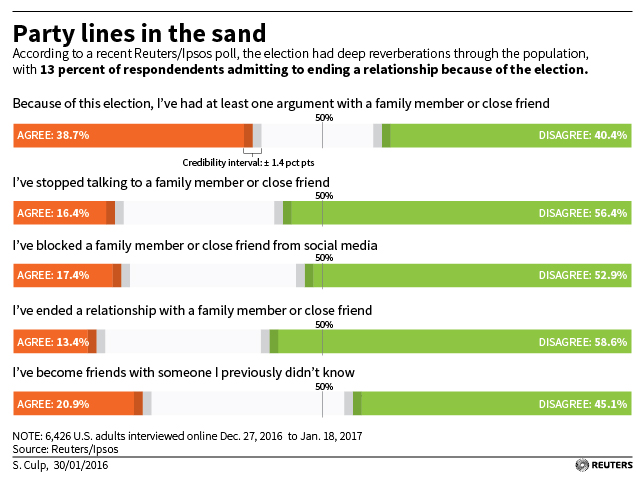 Even more troubling, more than 16% say they have completely stopped talking to a friend or family member due to differences in political views. Among Clinton supporters, that figure climbs to 22%. One man told Reuters that upon learning of his support for Trump, he completely stopped communicating with a close uncle who had helped him cope with his father's suicide. "We had some back and forth and it just got really deep, really ugly," the man told Reuters. "I don't see this ever being fixed."