Eminently GIFable and oddly-colored US President Donald Trump has sent shockwaves around the world when he went on his promised executive order spree. The video clips of him signing and showing off the documents has been played ad nauseam, but now you can create your very own Trump laws thanks to a handy little GIF creator called IsNowIllegal.
The tool is extremely simple to use. All you have to do is type something that you wish to make illegal, click "Illegalize," and wait a few seconds while the GIF maker does its automated magic. The resulting GIF isn't terribly high quality, but it gets the point across just fine.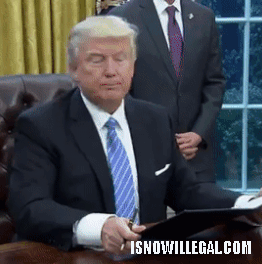 Unfortunately, as hilarious as this little piece of political commentary is, it has some pretty serious limitations. The text field where you type in whatever it is you wish to make illegal has a character limit of just ten, meaning that longer words and phrases are pretty much out of the question. Still, you can "illegalize" things like "Bud Light," "Toe Socks," and "Fake Tans," so it still certainly has its uses.
IsNowIllegal was created by Ivan Seidel, Bruno Lemos, and João Pedro — a trio of self-described nerds who built it as "a protest against Trump's immigration ban." The team has made the project available via Github as well, if you have any interest in following its development and various tweaks. If you just feel like making things illegal, you can head to IsNowIllegal.com and begin your shenanigans.