Donald Trump's ascension to the Oval Office has taught us many things, not the least of which is that anyone can truly become President. Political affiliations aside, the fact that someone with absolutely zero political and military experience managed to become President of the United States is nothing short of astounding. In fact, we may never see something like it again in our lifetime.
That said, if you'd like to roll the dice and see how you might fare in the rough and tumble world of politics, there's an interesting website out there called Run for Office that will tell you what public positions are up for grabs in your area. All you have to do is type in your address and the site will let you know all of the positions in your district you can run for, along with the corresponding filing window period and, of course, the ever important election date.
Making things even more convenient, you can even streamline your search to look for Federal, State, County or City positions exclusively.
Once you've got that information handy, the website will direct you to a comprehensive 2-hour long online course which will help you navigate through all the ins and outs of running for public office. From planning an election timeline and attracting volunteers to targeting specific demographics of voters, the site appears to be an all-encompassing primer for any one looking into or curious about taking a more active role in the political process.
As a quick example, I typed in an address in New York City and a wide number of interesting options popped up.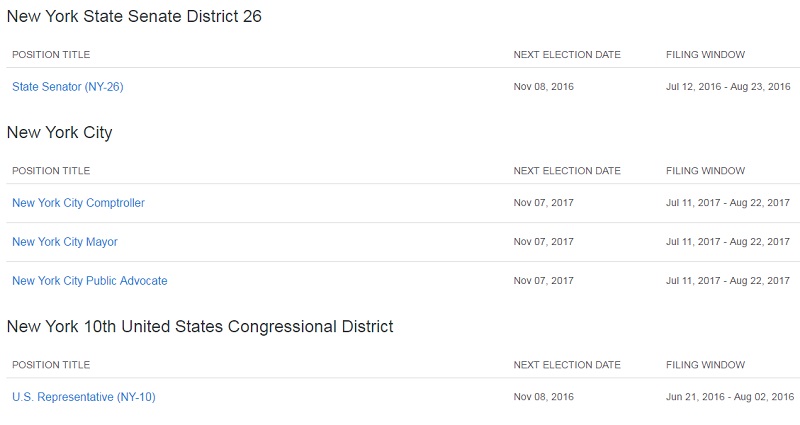 If you've ever dreamed of being a comptroller, now is your chance!