Thousands of Romanians took to the streets again on Sunday, in what turned out to be the 13th day of straight protests the Social Democratic government. The protests were peaceful and very creative, just like last Sunday when some 250,000 people gathered in Bucharest light up the night using smartphone flashlights in a symbolic message against corruption. Using the same piece of technology, thousands of protesters recreated a giant Romanian flag in front of the government building.
The Sorin Grindeanu government came out late at night on January 31st with a controversial emergency ordinance that would have crippled the fight against corruption. Protesters, who fought the rumored initiative in the weeks preceding the decision, came out in bigger and bigger numbers since then, culminating with last Sunday's demonstrations. Over 500,000 people took to the streets in what's probably the largest street movement in the country following the 1989 revolution.
People continued to protest every single night across the country even though the government rescinded the ordinance last Sunday. The Justice Minister Florin Iordache stepped down a few days after his initiative was canceled, trying to appease the public and take blame for the ordinance. That still wasn't enough for the public.
Some 50,000 people gathered again outside the government last night. In Bucharest, the protesters came up with a unique way to attract attention, they recreated the Romanian flag by using colored papers and their smartphones, lighting up the Victory square again. Albeit not as many as in the previous week, Romanians took to the streets in many other cities, including international locations.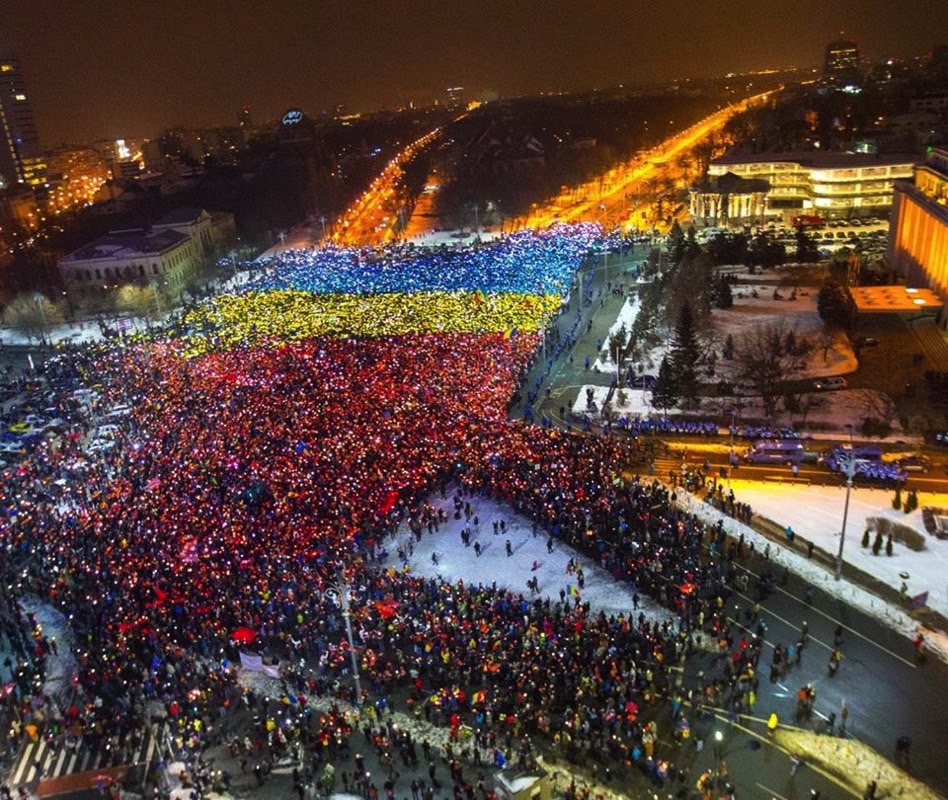 The people seem determined to continue the fight against a government they say it doesn't represent them, The New York Times reports. The Social Democratic Party (PSD) won a comfortable majority in the parliamentary election in early December, forming the Grindeanu government Protesters are now asking for Grindeanu's resignation and the formation of a new government.
PSD President Liviu Dragnea is able to occupy the prime minister position, Reuters explains, due to a suspended sentence for vote rigging. He's also about to face charges of abuse of power in a different case. A second conviction would mean prison time for the party's leader. The emergency ordinance would have fixed some of his legal problems that prevent him from occupying a higher office in state, protesters allege.
Meanwhile, The Guardian reported a few days ago that President Donald Trump might actually take some moves that would undermine the fight against corruption in the US and abroad. In his desire to eliminate bureaucracy, he might repeal a law that forces US energy and mining companies to disclose payments to foreign governments. These are exactly the kind of practices that might encourage corruption in various countries around the world, Romania included.