If there is an end to the rabbit hole that is Russia's attempts to meddle in the US presidential election, we still haven't reached it. On Thursday, CNN reported that a Russian-operated campaign posing as a Black Lives Matter group used Facebook, Twitter, Tumblr and even Pokemon Go in order to provoke Americans and exploit racial tensions.
The name of the campaign is "Don't Shoot Us," likely a reference to the "hands up, don't shoot" slogan that became a rallying cry of sorts after Michael Brown was shot and killed in Ferguson. According to CNN's source, the Don't Shoot Us page was one of 470 Facebook accounts taken down once Facebook discovered it was connected to the Russian Internet Research Agency (IRA) — a group of trolls who run influence operations on behalf of the Kremlin.
Virtually everything the Don't Shoot Us social media accounts (which were active on Facebook, Twitter, YouTube and elsewhere) published or shared was intended to stir up trouble or cause division by taking advantage of activists who had grievances with the justice system in the United States. One of the most creative (and disturbing) ways that the trolls attempted to do this was by running a contest through the Don't Shoot Us Tumblr page encouraging Pokemon Go players to hunt for Pokemon "near locations where alleged incidents of police brutality had taken place."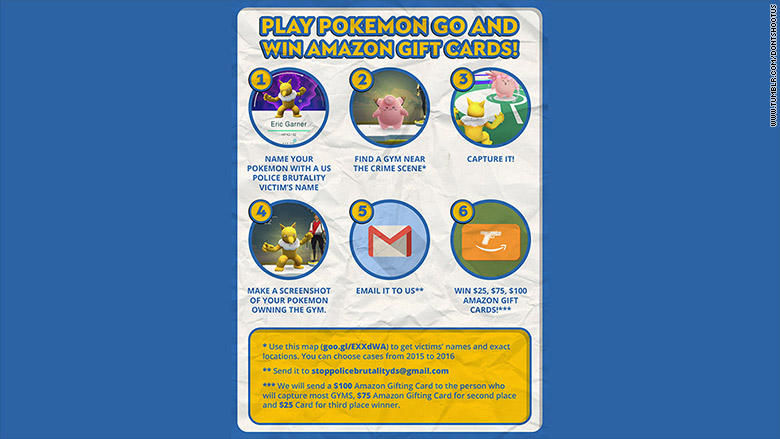 Once the players caught a Pokemon, they were told to change its name to someone who had been a victim of police brutality. "Eric Garner" — who died after being put in a chokehold by an NYPD officer — was the example given in a post promoting the contest. The post said that the winners of the contest would receive Amazon gift cards.
CNN reports that there is no evidence that anyone actually entered the contest, which kicked off in July 2016, nor any evidence that rewards were given out. Niantic was quick to respond to the report and to provide important context:
"It's clear from the images shared with us by CNN that our game assets were appropriated and misused in promotions by third parties without our permission," Niantic told CNN. "It is important to note that Pokémon GO, as a platform, was not and cannot be used to share information between users in the app so our platform was in no way being used. This 'contest' required people to take screen shots from their phone and share over other social networks, not within our game. Niantic will consider our response as we learn more."
As Niantic explains, there is no way to message or communicate with one another within the Pokemon Go app. Still, it's clear that the IRA was aware of the popularity of the app (especially in July 2016, the same month it launched) and was willing to make use of any tools in its arsenal to promote unrest among the American people.
If you want to know more about the Don't Shoot Us troll campaign, be sure to read the entire piece over on CNN.