Well, that was fast. One day after Facebook's former chief security officer Alex Stamos made headlines for declaring it's "too late" to protect the 2018 elections, saying essentially the government hasn't done enough to close vulnerabilities, here comes Google with a dramatic announcement:
The search giant said it's shut down several YouTube, Google+ and Blogger accounts that were part of a misinformation campaign with ties to Iranian state broadcaster, the Islamic Republic of Iran Broadcasting.
Of the affected Google properties, the operation most heavily targeted YouTube, with Google saying it had shut down 39 English-language accounts on the video platform that had garnered some 13,466 total U.S. views on relevant videos. In a Google blog post today, the company's senior vice president of global affairs Kent Walker said the action taken today is related to the influence campaign out of Iran the cybersecurity firm FireEye helped unveil this week that spanned content across Facebook, Twitter and Reddit.
"We're grateful to FireEye for identifying some suspicious Google accounts (three email accounts, three YouTube channels, and three Google+ accounts), which we swiftly disabled," Walker notes, also pointing to FireEye's full report that was published today.
Beyond that, Google also took action today against accounts apparently tied to part of a broader campaign, this one connected to the IRIB. Oh, and Google says Iranian state media has been at this since January of 2017.
"We can't go into all the technical details without giving away information that would be helpful to others seeking to abuse our platforms," Walker continues, "but we have observed the following:
"Technical data associated with these actors is strongly linked to the official IRIB IP address space. Domain ownership information about these actors is strongly linked to IRIB account information. Account metadata and subscriber information associated with these actors is strongly linked to the corresponding information associated with the IRIB, indicating common ownership and control."
As part of the takedown announced today, Walker said Google had shut down 39 YouTube channels, 6 blogs on Blogger and 13 Google+ accounts. And of course, he says Google has updated U.S. lawmakers and law enforcement about the results of its investigation.
As a recap, we reported just yesterday that Facebook had pulled down hundreds of pages it said were linked to "coordinated inauthentic behavior" that originated in Iran.
Examples of some of the fake social media content that was part of today's announcement: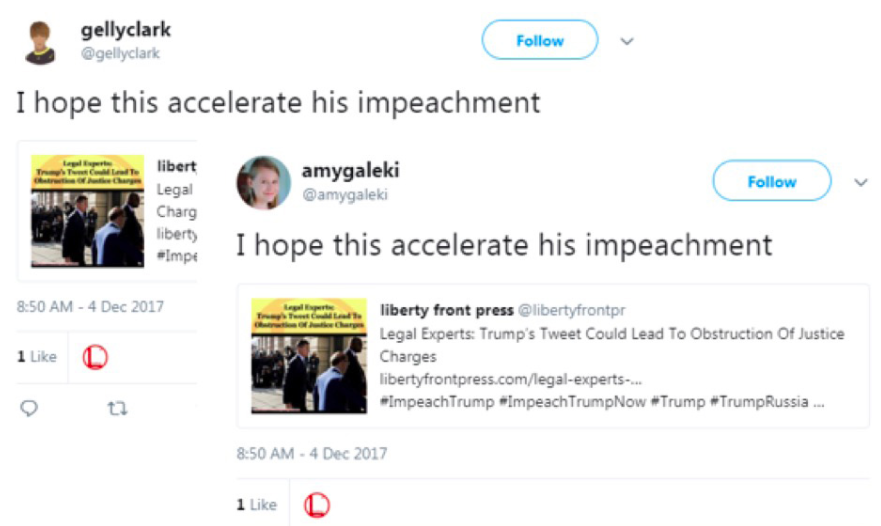 A fake Facebook account used to amplify and share other content: