It must be hard to be a news anchor these days. No matter what network you work for, you're constantly being told your reporting is either shortsighted or an outright lie, and you just kind of have to roll with the punches and keep doing your job anyway. With all that to deal with, you certainly need all of your supporting cast to be on the top of their game, but it seems someone at Fox News had a brief brain fart that resulted in a rather embarrassing graphic popping up during a segment hosted by Howard Kurtz.
Regarding the topic of fake news, Kurtz was expecting his backstage crew to broadcast a simple graphic showing that the general public believes many news organizations report false information, citing a Monmouth University poll. The poll that popped up on screen also happened to be related to news networks, but rather than giving him a point at which to branch off on a tirade against his competitors, the poll data pointed to Fox News being the least trusted of the major news outlets. Oops.
"This is not the graphic we're looking for," Kurtz stammers as he sees what is being shown to the live broadcast's viewers. "Hold off. Take that down, please." At that point the graphic quickly disappears and Kurtz continues with his segment.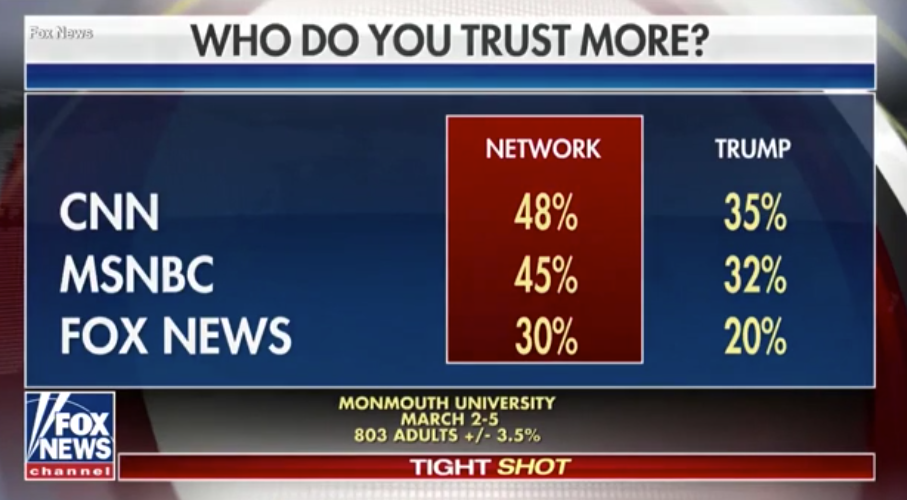 The incident is obviously pretty funny, but it raises a number of questions as well. Top of that list is why the show's producers would even bother to create a graphic that very clearly shows that Fox News is, well, a bit of a joke these days. The data in the poll is credited to Monmouth University as well, and since Kurtz was just using the university's polling to make a point in his own favor, it's not like the host could reasonably claim bias, right? We find out a little later in the segment, as Kurtz presents the data in a slightly more flattering light.
Rather than citing the obvious, which is that Fox News is apparently the least trusted network of the major three that were included in the poll, Kurtz hedges the data by saying that all three networks are "trusted more than the President." Well, that's one way to put it, I suppose.