We all make false claims from time to time. We all exaggerate the truth. Sometimes, we blatantly lie. Of course, we're not the president of the United States, and we don't lie constantly, dozens of times each day, in full view of the public eye. Whether it's part of a deliberate strategy to force the American people to grow numb, or Trump actually is as imbecilic and unhinged as he seems, the end result is the same: the public grows more divided each day. Trump supporters continue to lap up their leader's cries that everything the FAILING media says about him and his administration is FAKE NEWS. Those who oppose Trump continue to grow more and more maniacal as they try to draw attention to each and every false claim Trump makes.
Can the American people take four years of this? We're not quite sure, but it may be a telling sign that Trump has been president for less than a month, and even Fox News has already had enough of his ridiculous claims.
On Thursday, Donald Trump held a press conference. It was… a spectacle. If you haven't seen it already, you can watch the full video right here. This is real life.
There were so many twists and turns during Thursday's press conference that it's difficult to know where to begin. Trump has a habit of talking to the American people like he's having a conversation with a bunch of buddies while eating steak, sipping his third scotch and smoking an $80 cigar. He repeats baseless, seemingly random things he overhears or sees online. He rambles on and on about anything that pops into his mind. He seems overly sensitive and terribly insecure, and doesn't worry at all about whether or not his claims are rooted in fact. It's only a matter of time before we see the president extend his arms as wide as he can and proclaim, "I once caught a fish thiiiis big!"
Trump's clubhouse chat — err, press conference — meandered all over the place on Thursday, but needless to say he made his signature (and baseless) FAKE NEWS claim multiple times. And as always, his supporters cheered him on while those who oppose him could be heard from miles away repeatedly face-palming until their foreheads glowed a bright crimson. This time around, however, Trump was so exasperating that Fox News couldn't even take it anymore.
Here's a clip of Fox News anchor Shepard Smith from just after the press conference:
https://twitter.com/passantino/status/832338172478500864
"It is crazy what we are watching every day, it is absolutely crazy," Smith said while defending CNN correspondent Jim Acosta. "He keeps repeating ridiculous throwaway lines that are not true at all and sort of avoiding this issue of Russia as if we are some kind of fools for asking the question."
Smith then turned and looked directly at the camera. "Really? Your opposition was hacked, and the Russians were responsible for it, and your people were on the phone on the same day it was happening, and we are fools for asking those questions? No sir, we are not fools for asking those questions, and we demand to know the answer to this question. You owe this to the American people."
Oof.
Trump has often praised Fox News, which tends to lean to the right juuuust a smidge, while lambasting center and left-leaning news networks. You know, the FAILING ones that constantly publish FAKE NEWS. As Trump's claims grow more ridiculous and baseless, and as the media as a whole grows more exasperated, it will be interesting to see how long it takes our president to turn on Fox, too.
What's the over/under on how long it will be before only Breitbart bloggers are invited to Trump's press conferences?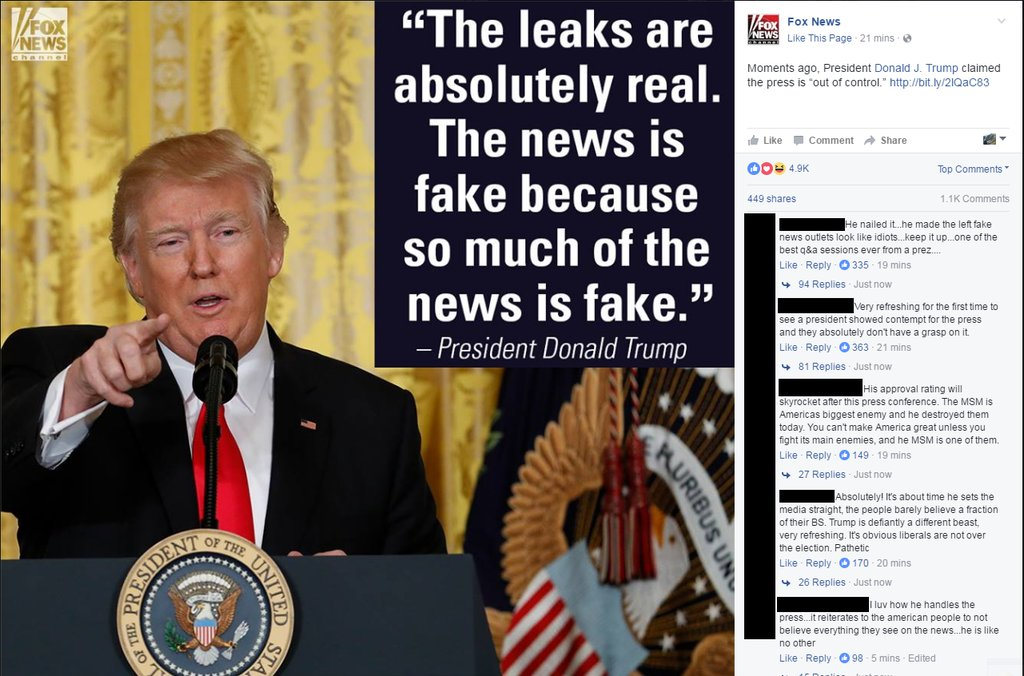 Oh, and just for good measure, Fox News is also exclusively reporting that Trump blatantly lied and was in fact fully briefed on the content of the conversations Flynn had with Russian ambassador Sergey Kislyak. Ruh roh…
.@johnrobertsFox: @POTUS was in fact fully briefed on the content of those conversations that Gen. Flynn had with the Russian ambassador. pic.twitter.com/I70FlxuYCl

— Fox News (@FoxNews) February 17, 2017