Picture this: you meet Ivanka Trump and her family on a flight, and you decide to tell her exactly what's what. But don't do it. Resist the urge to tell her anything. If you plan on harassing anyone on a plane, right or wrong, you're probably not going to be on that plane much longer.
A passenger on a JetBlue flight was removed after he allegedly told Ivanka that "your father is ruining the country."
He even asked why Ivanka was on the flight in the first place: "Why is she on our flight? She should be flying private," he apparently said, while holding his kid in his arms.
Ivanka was accompanied by her family, including her children, and she and her family were flying all in coach. She ignored the man shouting at her, and tried distracting her kids with crayons.
"You're kicking me off for expressing my opinion?!!" he then asked when he was escorted out.
The harassing may have been planned. According to TMZ, the husband of the passenger tweeted an hour before the flight on Thursday that "Ivanka and Jared at JFK T5, flying commercial. My husband chasing them down to harass them." That tweet and Twitter profile is now gone. The same person apparently posted this image online, saved by TMZ: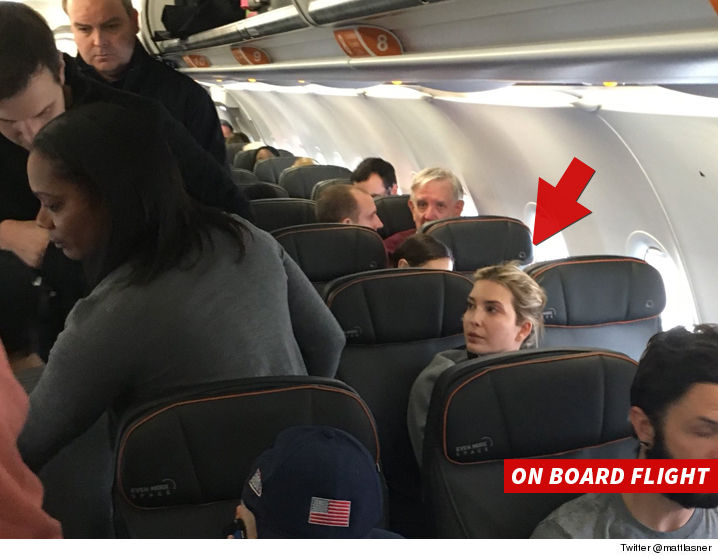 The plane was departing from the JFK airport in New York, and the passenger was re-accommodated on a different flight.
The airline confirmed to Business Insider that it did indeed remove a person from the plane on Thursday.
"The decision to remove a customer from a flight is not taken lightly," JetBlue said.
"If the crew determines that a customer is causing conflict on the aircraft, the customer will be asked to deplane, especially if the crew feels the situation runs the risk of escalation during flight."
"In this instance, our team worked to re-accommodate the party on the next available flight," the company added.
This is the second instance this week where a passenger was kicked off a flight.