Deciding when exactly to book a flight can be stressful and exhausting, which is why the new price guarantee feature on Google Flights deserves your attention.
On Monday, Google announced three new travel-centric features for its search engine. Chief among them is a pilot program for Google Flights which guarantees that the price you pay for your ticket is the lowest it will be until the flight takes off.
Google might refund part of your plane ticket
Google is so confident that the price won't go any lower that if it does, you'll get the difference back via Google Pay. In other words, if you book a flight for $250 and the price drops to $225 a few days later, you will get a credit for $25 on Google Pay automatically.
Now, it's worth noting that during the pilot program, this only applies to select flights available for 'Book on Google' itineraries that depart from the United States. If you don't see the colorful shield badge next to the price of the flight, the price isn't guaranteed.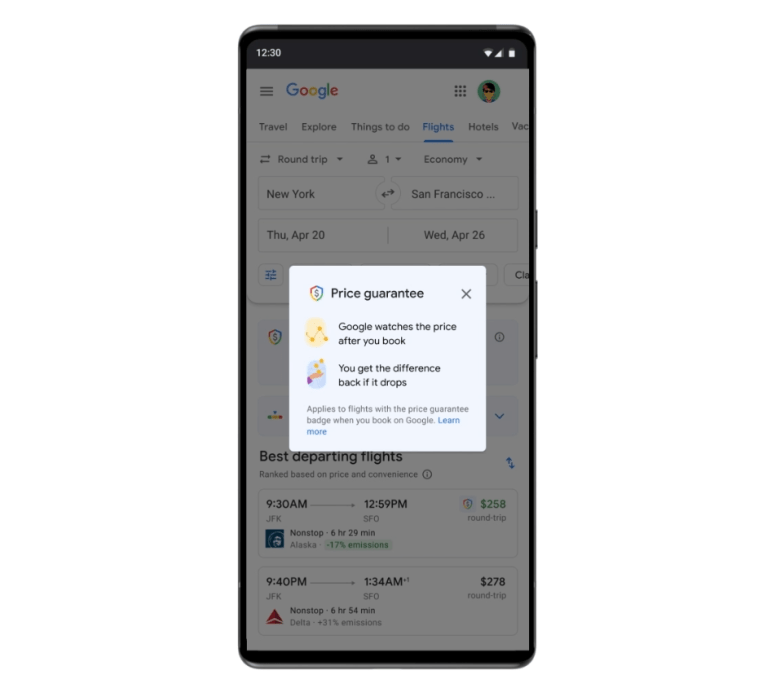 "Price guarantee pays you the difference between the flight price when you book and the lowest ticket price," Google says on its support site. "To get money back, the price difference must be greater than 5 USD. You can receive up to 500 USD back total per calendar year for up to 3 open Price guaranteed bookings at any one time. This happens after the first flight in the booked itinerary has taken off."
In order to receive a payment from Google, you'll need to download the Google Pay app and set it up within 90 days of the departure of the first flight in your itinerary.
Even if you aren't accustomed to using Google to book your travel, it might be worth checking to see if the price guarantee applies to your next flight before your book.