Just because it's Tuesday doesn't mean that the election is over. In fact, although millions of voters across the country have already cast their ballots through early voting, there's a good chance that we won't know the results of the election until late into the night. Then again, if any of the most vital battleground states quickly swing one way or another, we might be able to go to bed relatively early.
DON'T MISS: How to follow 2016 election coverage all day
First of all, here's when the polls close in those key battleground states:
7:00PM ET: Florida, Virginia
7:30PM ET: North Carolina, Ohio
8:00PM ET: Michigan, New Hampshire, Pennsylvania
9:00PM ET: Arizona, Colorado, Wisconsin
10:00PM ET: Iowa, Nevada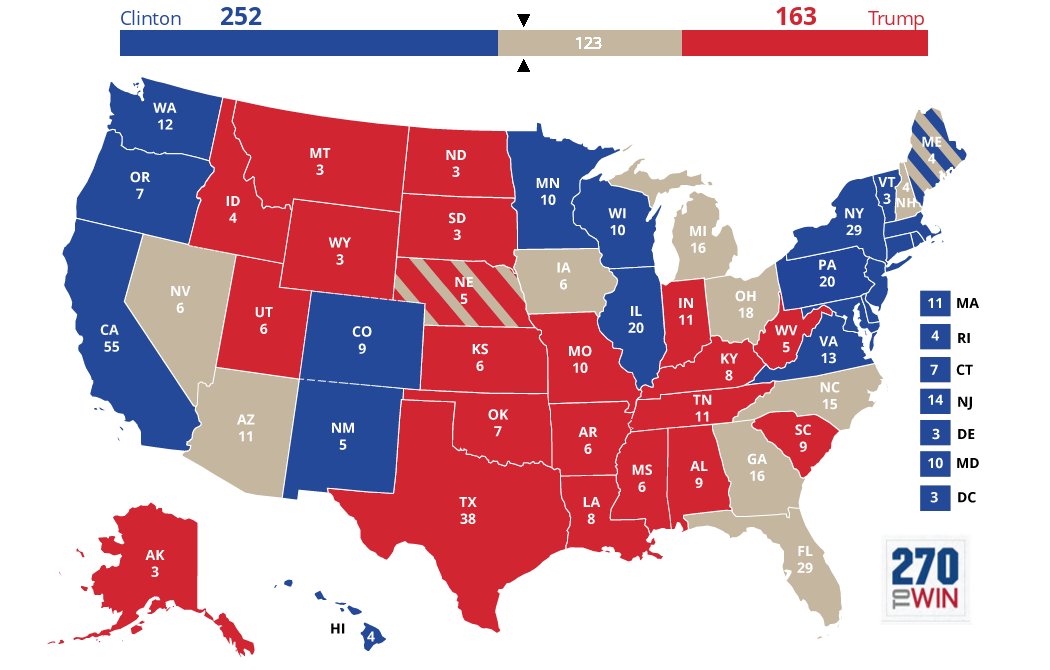 Florida & Virginia
Although neither candidate absolutely has to win Florida in order to win the election, many of Donald Trump's paths to 270 electoral votes will be cut off if Hillary Clinton manages to take the Sunshine State.
Hillary is favored somewhat heavily in Virginia, so a Trump victory there would be a surprise, but the latest Florida polls are something of a tossup, with Clinton just barely edging out Trump. If Trump wins Florida (which is totally within reason given the latest polls), we're likely in for a long night.
North Carolina & Ohio
While a Florida victory would be huge for either candidate, North Carolina is even more important. The state has been trending blue for a majority of the campaign, but as the national race tightened at the end of October, so did the North Carolina polls. In the last ten polls, Clinton led in six while Trump led in four. If Trump can follow in Romney's footsteps and tear North Carolina away from the Democrats, his campaign and his supporters will have something to celebrate.
Much like North Carolina, Ohio started turning red in October, but unlike North Carolina, it never really stopped. Trump is leading in a vast majority of recent polls and is currently favored to win the state. At this point, Ohio is unlikely to be the tipping point state for either candidate, but Trump needs to win here.
So, if Clinton manages to rally enough support in both North Carolina and Ohio to win both states, you might want to start brushing your teeth and pulling back the covers. On the other hand, if Trump wins both states, you might want to start brewing a cup of coffee or ten, because we're going down to the wire.
All the other states
If the election is still too close to call when ballots in Florida, North Carolina and Ohio have all been counted, New Hampshire and Pennsylvania will be the next states to watch.
Hillary Clinton made the final stop of her 2016 campaign in Philadelphia alongside President Barack Obama and special guest Bruce Springsteen on Monday night, which should tell you all you need to know about how important she and her campaign staff consider winning the state of Pennsylvania to be.
Arizona, Colorado and Wisconsin will all be interesting to keep track of, but according to FiveThirtyEight's final 2016 Election Forecast, New Hampshire and Nevada are the most likely tipping points in a close election.
At the end of the day, if Clinton can pull ahead early, the odds favor all of us getting to go to bed early as well. If Trump's support is stronger than the polls suggested, we'll probably be watching the news all night long.