Apple hosted the first-ever press conference at its new campus back in mid-September. The star of the show was the iPhone X, although Apple unveiled a bunch of other products including the iPhone 8, iPhone 8 Plus, and the LTE Apple Watch. Aplpe also demoed some of its latest software innovations. But most people in the audience were too infatuated with the iPhone X to be bothered with everything else, and many may have ignored an absolutely brilliant product that Apple announced during the event. Today, that product has finally launched in the US.
The first Apple Heart Study was launched today in the US, and every Apple Watch owner over the age of 22 can — and should — enroll as soon as possible. All Watch models are supported, including Series 1 models. This is hardly the first health study Apple initiated in recent years, but it's definitely one of the most ambitious ones.
What the Apple Heart Study app does is use the Watch's heart sensor to detect irregular heart rhythms, and then notify users who are experiencing atrial fibrillation (AFib).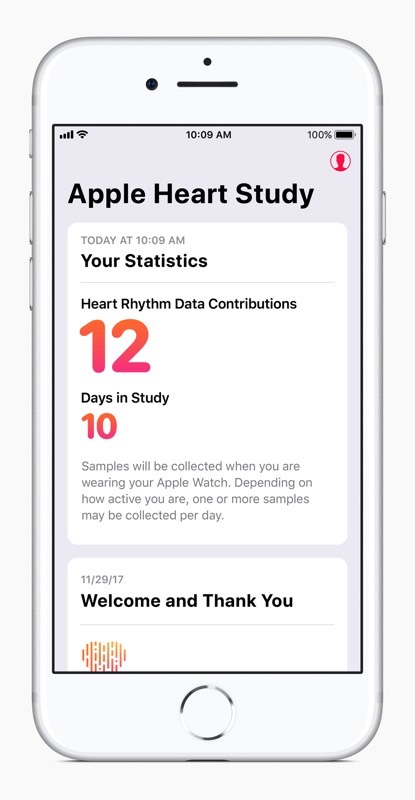 Some people already know what AFib means, but most people don't. It's a medical condition that can go undetected for years and happens to be the leading cause of stroke. Apple says that some 130,000 people die in the US every year because of AFib, and the condition is responsible for some 750,000 hospitalizations annually. 

So how will the Apple Watch identify your irregular heartbeat? Apple explains:
To calculate heart rate and rhythm, Apple Watch's sensor uses green LED lights flashing hundreds of times per second and light-sensitive photodiodes to detect the amount of blood flowing through the wrist. The sensor's unique optical design gathers signals from four distinct points on the wrist, and when combined with powerful software algorithms, Apple Watch isolates heart rhythms from other noise. The Apple Heart Study app uses this technology to identify an irregular heart rhythm.
Working with Apple is the Stanford Medicine department, which will perform the actual study. All participants will receive notifications on their Watch and iPhone when irregularities are detected. Participants will also get a free consultation with a study doctor and an ECG patch for additional monitoring.