A good VPN service on your iPhone or iOS device guarantees you an extra layer of security and privacy for all your online activities. This is especially necessary since we now rely on our phones and tablets to shop, bank, chat, and search for things we might need, all while sending out personal information.
A good VPN service is essential to ensuring a thoroughly safe and private way of engaging in online dealings. In this story, we've highlighted the best VPN option for your iPhone. Here are our picks.
What is a VPN?
VPN is the abbreviated version of "Virtual Private Network." It is a private and secure connection between two devices connected over a network, most commonly the Internet.
You can think of it as a secured and encrypted tunnel between two devices that hinders the interception of communication by anyone outside the tunnel. This makes it possible for the two devices to send and receive private information.
A VPN is like connecting to a website over HTTPS (SSL), where all the traffic between you and the website is encrypted and secure. Good VPN services secure and protect all network traffic between your device and the VPN server, including websites and apps.
Benefits of having a VPN
In the past, VPN providers were more commonly used by businesses and enterprises to communicate internally and for data transfer requirements. This was so that employees could safely access company data from their respective home networks.
However, Internet users have recently taken up VPNs, discovering their many advantages and benefits. Some of which include:
A secure Internet connection: A good internet VPN service is guaranteed to provide a secure Internet connection. If you use free, public Wi-Fi for one reason or another, it is effortless for any data being sent over that connection to be hacked. This is because public Wi-Fi networks are not secure. With a secure VPN on your iPhone, whatever information you send is safe, regardless of your method of connecting to the Internet.
Protects your privacy from prying eyes: You might not know it, but ISP, Google, other advertisers, websites, etc., track your browsing habits. Rather than using the "private browsing" feature in your web browser whenever you want to do a delicate search, getting a mobile VPN is your best option. You'll always be on "private browsing" mode and the only one with the knowledge of where you've been on the Internet. Note that a mobile VPN is much more private in a different way than browsing in "incognito" mode.
Helps you enjoy open, unblocked access to content: Sometimes, you might be unable to access certain geo-restricted websites on the Internet due to censorship issues –especially if you're traveling abroad with your device. Also, some subscription-based services you pay for may not be accessible in the area you're traveling to. You can get around these location blocks with a VPN by selecting another "home" server for undeterred access. You can also access websites or services that might be restricted in your country due to implemented censorship, although we do not recommend going against local laws.
Allows you remotely connect to the office and home network: Most companies today require their employees to be on VPN before accessing critical company data. This is because VPN technology can be used remotely to access private and confidential data stored on the office network from anywhere in the world. It will also prevent chances of unauthorized access to the company data. Similarly, you can set up a VPN server at home and connect to it remotely to safely access your private data stored on the home network.
Helps you test your website or apps: You can test how your website is available to users in different countries across the globe via VPN. Also, you can troubleshoot any loading or speed issues with your website or app and quickly get them fixed by stimulating network access over a VPN.
Helps bypass network speed throttling: Speed throttling some websites or services is something some local or major ISPs in many places around the world choose to do. To avoid this, you can set up a VPN connection. This will prevent the ISP from detecting whatever is happening between your device and the VPN server, making it impossible to selectively throttle speeds.
Factors to be considered before choosing a VPN provider
Before you search for the perfect VPN for you among the available options available on the market, ensure that you consider these few factors that can help narrow the field.
Secure connection
You need to know what encryption method the VPN provider you're going for uses, as not all VPN providers use one. Some free VPNs may use a lower level of protection or no encryption at all. While this might be good for unblocking content, it's not the best for security. Meanwhile, a good VPN will likely use 256-bit encryption and a more robust protocol like OpenVPN.
Privacy
Checking the privacy policy of whatever VPN you're considering is highly recommended. This is to make sure that the VPN internet service provider you choose does not keep a log of your activity. If your number one priority when getting a VPN is privacy, this is a factor you should consider.
The company's profit plan
This might not seem helpful, but knowing how a VPN company makes money is essential. With a subscription-based VPN, you know exactly how the company makes its money. However, you can't be sure with a free VPN. You might end up dealing with too many ads, or they could be selling your info to advertisers, which can compromise your need for privacy.
Fast connection / Number of servers
A VPN service with fewer servers in fewer locations means you may have to share bandwidth with other users. Due to this, you may not always have access to the VPN when and where you need it, causing your Internet experience to be drastically slowed down. Several subscription VPN applications offer a free trial to test these functions, so you know exactly what you're getting with such a provider.
Usage caps
Some VPNs might limit your daily or monthly usage. However, some might offer a free option with limited use and a subscription-based option for unlimited use. Therefore, take note of the presence of usage caps in a VPN service and go for one that suits you best.
Types of VPN for iPhone
Although Apple's iOS is relatively secure, it doesn't hurt to have extra protection and privacy on your phone.
Here are some of the top ten best VPN apps we have picked out for you:
Proton VPN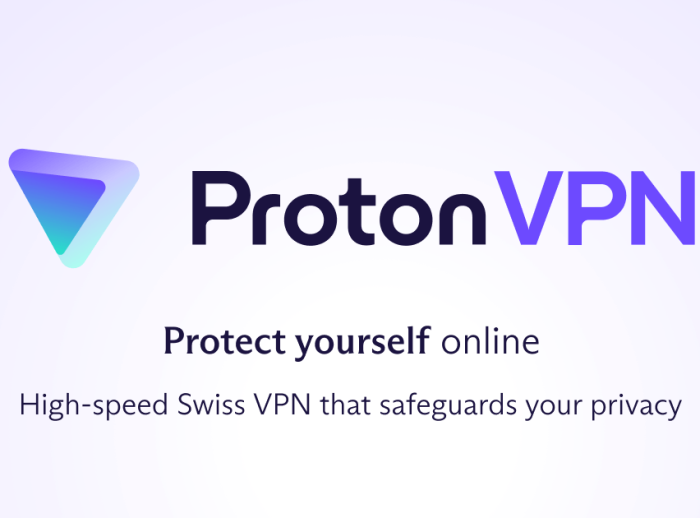 BGR may receive a commission
Pros
Best free subscription
Numerous advanced privacy tools
Strong customer privacy stance
Slick, accessible client
Excellent Speedtest scores
Cons
Awkward Chrome OS implementation
Complicated pricing structure
This iPhone VPN app is simple and customized nicely for mobile use. It also offers excellent features at affordable pricing and is one of the best free subscriptions on the market today.
Although it doesn't have an Ad blocking feature, it has an unlimited free version data limit, five simultaneous VPN connections, 500+ servers in 54 countries, and geographically diverse servers.
IVPN
IVPN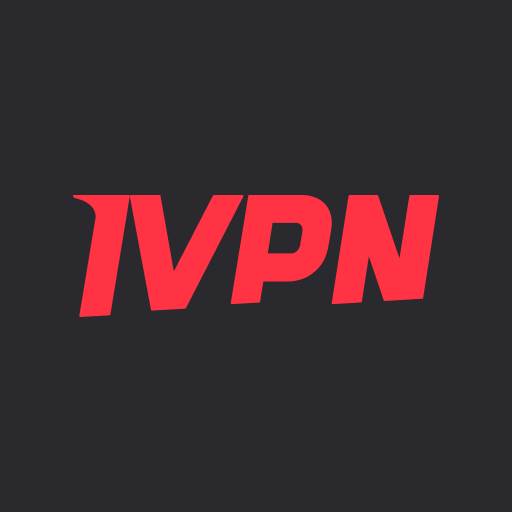 BGR may receive a commission
Pros
Flexible, affordable pricing
Unique multi-hop system
Privacy is baked into its account system.
Strong stance on transparency
Cons
Offers a few server locations
Multi-hop and Account ID might confuse some users
This VPN is guaranteed to give you an excellent experience with its barebones design that is even cleaner on an iPhone. It also prioritizes privacy and offers VPN protection at an affordable price.
Although it has no free version, no geographically diverse servers, and offers limited server locations (32 countries), it makes up for it with its ad blocking feature and seven simultaneous VPN connections.
Mullvad VPN
Mullvad VPN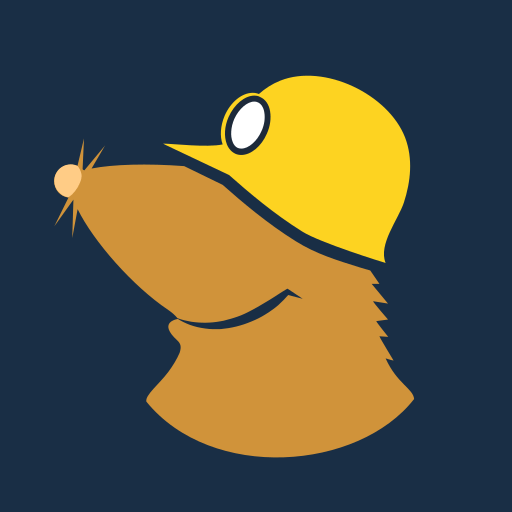 BGR may receive a commission
Pros
Requires no email or account information
Extremely affordable
Radically transparent
Some advanced features, including multi-hop and port forwarding
Cons
Awkward desktop interface
Servers in a small range of countries
The Pay-as-you-go system may confuse some users
This is another VPN service that offers impressive features at an affordable price. While its iPhone app might not have as much grace as its competition, it is simple and more straightforward to use than Mullvad's desktop client.
It has no ad blocking feature, free version, or geographically diverse servers. However, it has 500+ servers in 38 countries and five simultaneous VPN connections.
NordVPN
NordVPN
BGR may receive a commission
Pros
Uses WireGuard VPN technology
Multi-hop, split tunneling, and Tor connections
Numerous server locations
Unique Meshnet features
Cons
Expensive
Poor malware-blocking results
Occasionally cramped interface
The NordVPN app was excellently translated to the iPhone with many of its privacy tools. Although the service is expensive, NordVPN has a vast collection of privacy tools and a massive number of servers across the globe.
It has no free version, but with its Ad blocking feature, geographically diverse servers, 500+ servers in 59 countries, and six simultaneous VPN connections, you'll get a good deal.
Surfshark VPN
Surfshark VPN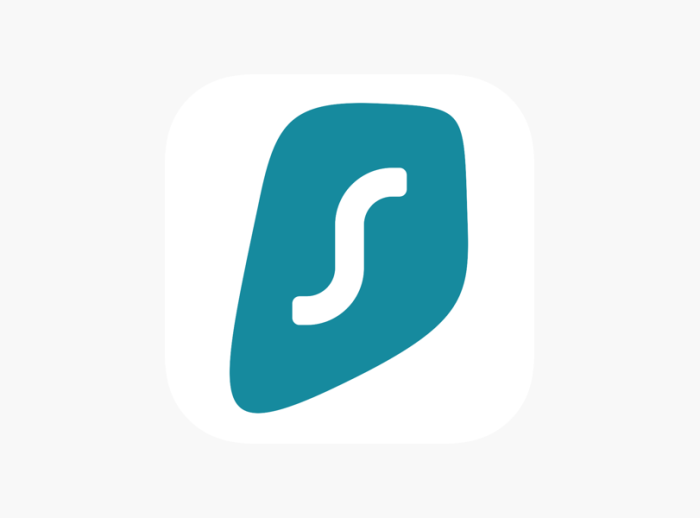 BGR may receive a commission
Pros
Unlimited simultaneous connections
Large global server presence
Multi-hop and split tunneling tools
Intriguing potential in Surfshark Nexus
Cons
High monthly price
The privacy policy needs clarification.
Confusing long-term subscription pricing
The Surfshark VPN might be costly, but it offers pure quality. Not only that, it efficiently adapts its desktop design to the iPhone for a familiar and highly polished mobile experience.
It has an ad-blocking feature, unlimited simultaneous VPN connections, 500+ servers in 65 countries, and geographically diverse servers but no free version.
TunnelBear VPN
TunnelBear VPN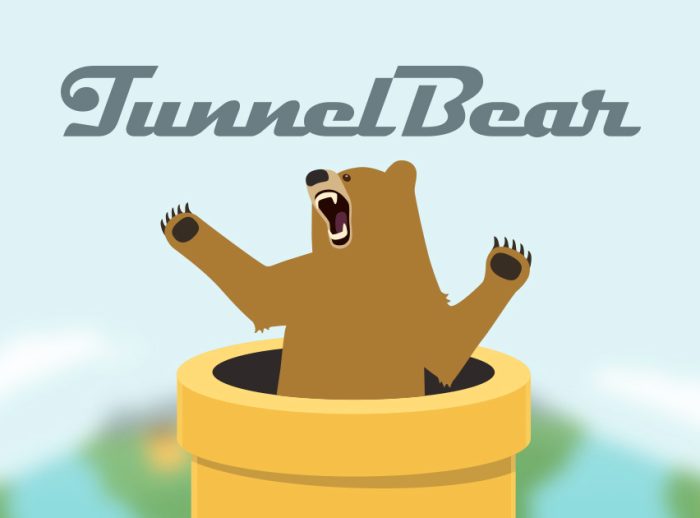 BGR may receive a commission
Pros
Affordable
Excellent privacy policies
Annual independent audits
Friendly, approachable design
Cons
No WireGuard support
Few advanced features
The fantastic thing about TunnelBear VPN is how serious it is about transparency and privacy, and its bright colors are especially pleasing to behold on iPhone.
It might not have geographically diverse servers, but it has five simultaneous VPN connections, 500+ servers in 23 countries, an Ad blocking feature, and a free version with a data limit of 500MB to 1.5GB per month.
CyberGhost VPN
CyberGhost VPN
BGR may receive a commission
Pros
Large, well-distributed server fleet
Allows up to seven simultaneous connections
Several add-ons, including antivirus
Outstanding speed test scores
Cons
Expensive
No third-party audit
Confusing privacy policies
This VPN service now has a new visual design on iPhone and offers the most extensive collection of servers yet to be seen.
It has 500+ servers in 90 countries, geographically diverse servers, seven simultaneous VPN connections, and an Ad blocking feature, but no free version.
ExpressVPN
ExpressVPN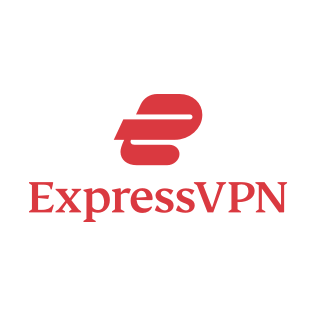 BGR may receive a commission
Pros
A large, diversely distributed fleet of servers
Strong privacy and security practices
Split tunneling
Stylish interface
Cons
Expensive
No multi-hop connections
This VPN service's extensive and robust network of servers makes it perfect for real or virtual travelers. A virtual redesign has made it possible to strengthen this service across all platforms, including iOS.
ExpressVPN offers five simultaneous VPN connections, 500+ servers in 94 countries, and geographically diverse servers, but no ad blocking feature or free version.
Mozilla VPN
Mozilla VPN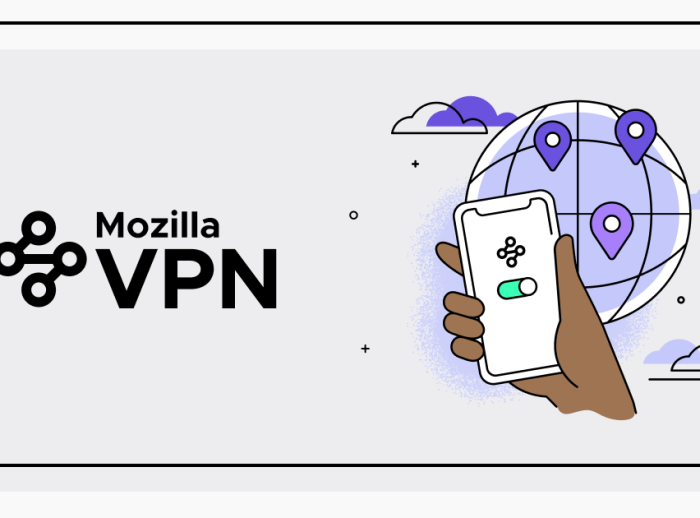 BGR may receive a commission
Pros
Helps support nonprofit Mozilla
Powered by privacy hawk Mullvad
Simple, striking design
Multi-hop and split tunneling
Cons
Few server locations
Expensive, limited compared with Mullvad
From the creators of Firefox, this app is powered by privacy hawk Mullvad VPN and supports the new WireGuard protocol. Mozilla VPN fits right in on iOS with its simple but snazzy look.
While it doesn't have a free version, 500+ servers, or geographically diverse servers, this VPN service has an ad-blocking feature, five simultaneous VPN connections, and 37 countries in terms of server locations.
Bitdefender Premium VPN
Bitdefender Premium VPN
BGR may receive a commission
Pros
Extremely affordable
Clean design
Split-tunneling
Part of the larger Bitdefender app ecosystem
Cons
Confusing pricing
Confusing privacy policy
Few additional privacy features
High latency in test results
The Bitdefender VPN iPhone app is simple, clean, and consistent in appearance with its Windows counterpart. The app is powered by Hotspot Shield VPN and uses Hotspot's custom Hydra protocol and OpenVPN.
It offers ten simultaneous connections at a reasonable price, 500+ servers in 48 countries, geographically diverse servers, and a free version with a data limit of 200MB per day and device. However, it has no ad blocking feature.
How to setup your VPN on your iPhone
Using a VPN provider
The easiest way to set up a VPN provider on your iPhone is by checking out the best VPN deals, signing up for a VPN provider, then installing the app. Continue the process by allowing permission for the app to add a VPN configuration to your phone. Then, enter your security details to permit a change in your VPN settings. Once the VPN is enabled, you can select and connect to it anytime without opening the app again.
To set it up:
Go to Settings on your iPhone and tap "General."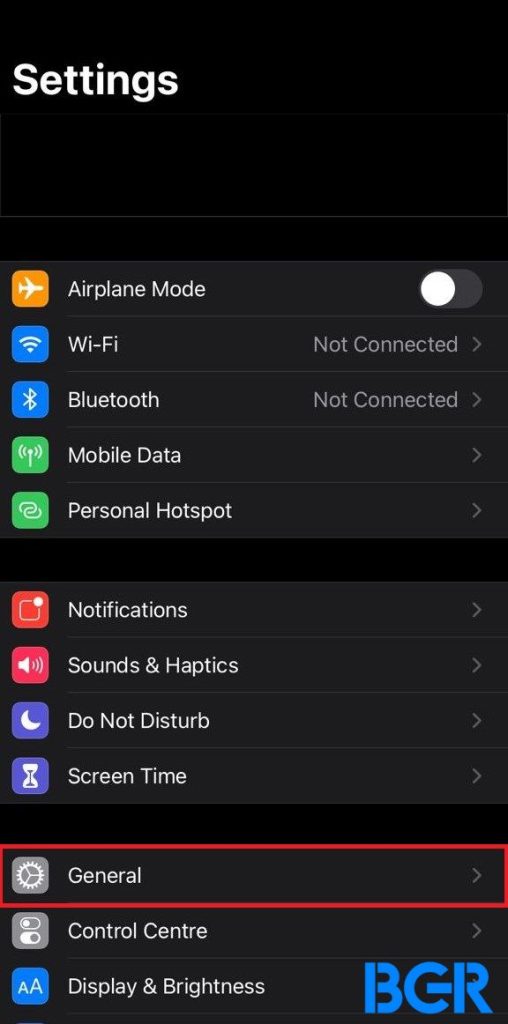 Select "VPN"; if you have more than one, choose the VPN client you want to use.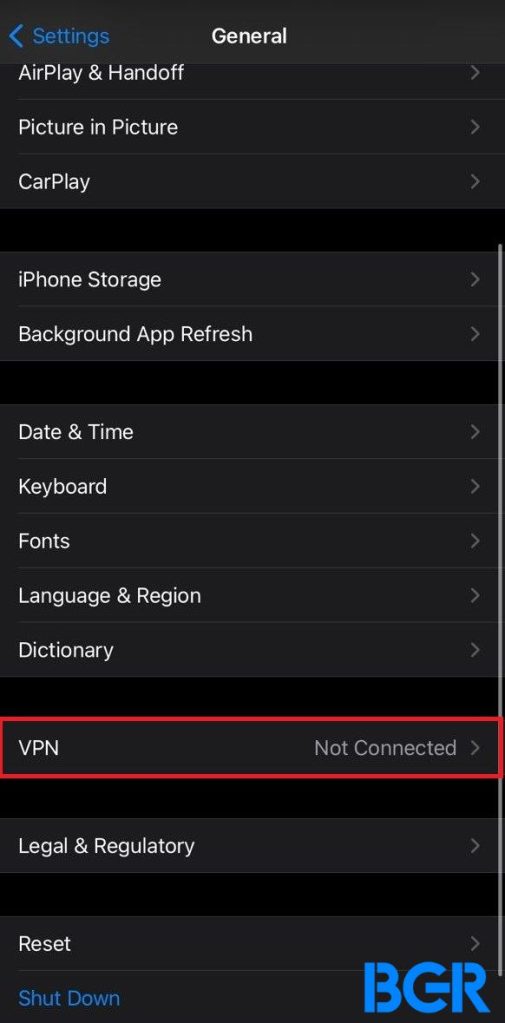 Toggle the "Status" switch on.
Tip: Do not forget to turn off your VPN, especially if you're on a free, limited plan. To turn it off when you're done, follow the instructions and toggle the "Status" switch off.
Configuring a VPN manually
Be sure to have your login information on hand before you can manually configure a VPN client on your iOS device.
Launch Settings on your device and tap "General."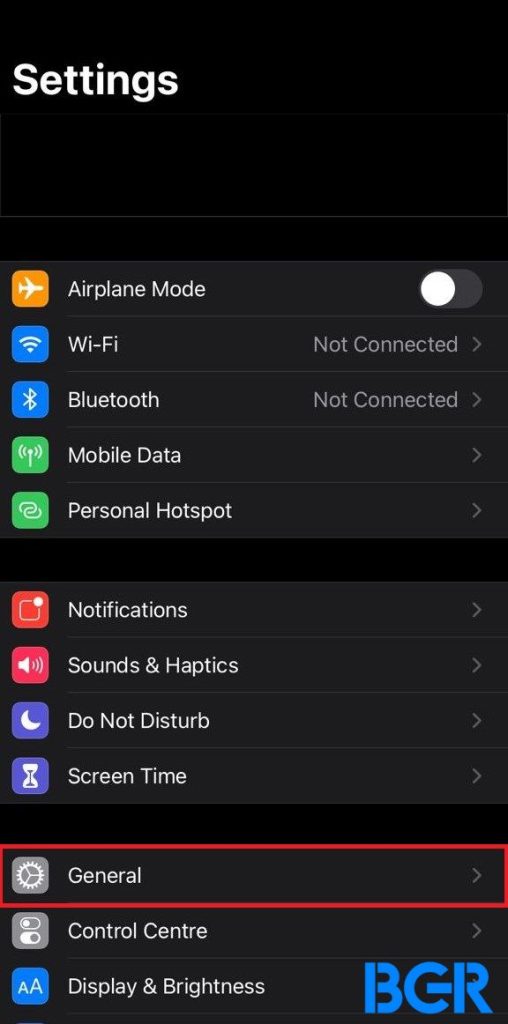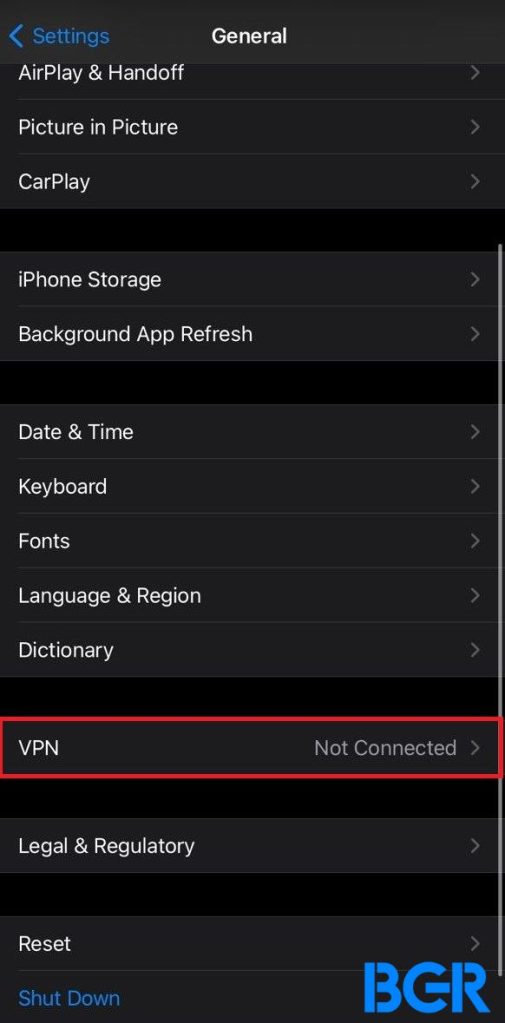 Choose "Add VPN configuration."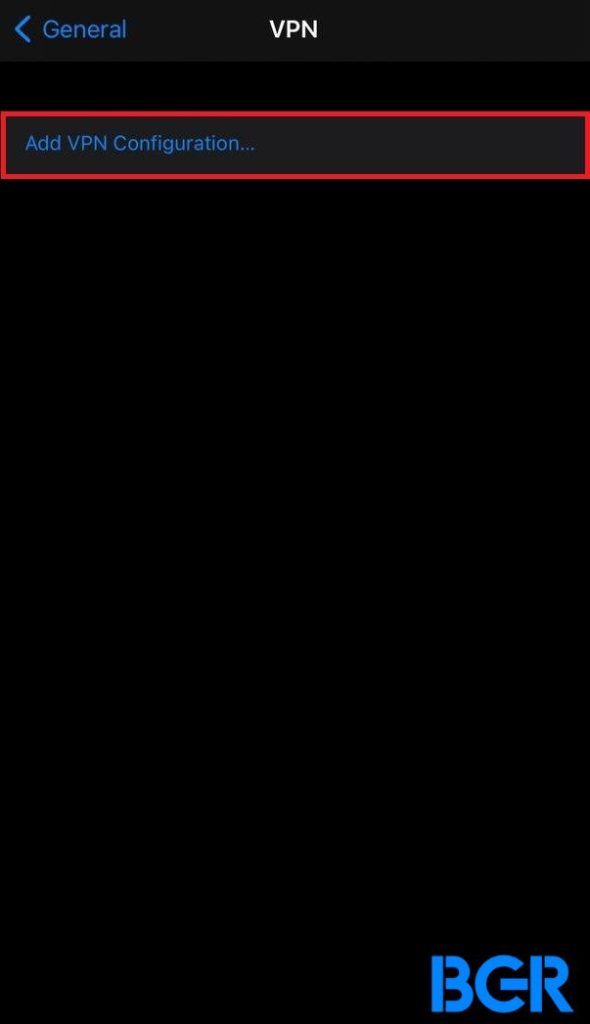 Tap "Type" to select your VPN type from IKEv2, IPSec, or L2TP.
Enter the VPN settings information, including description, server, and remote ID.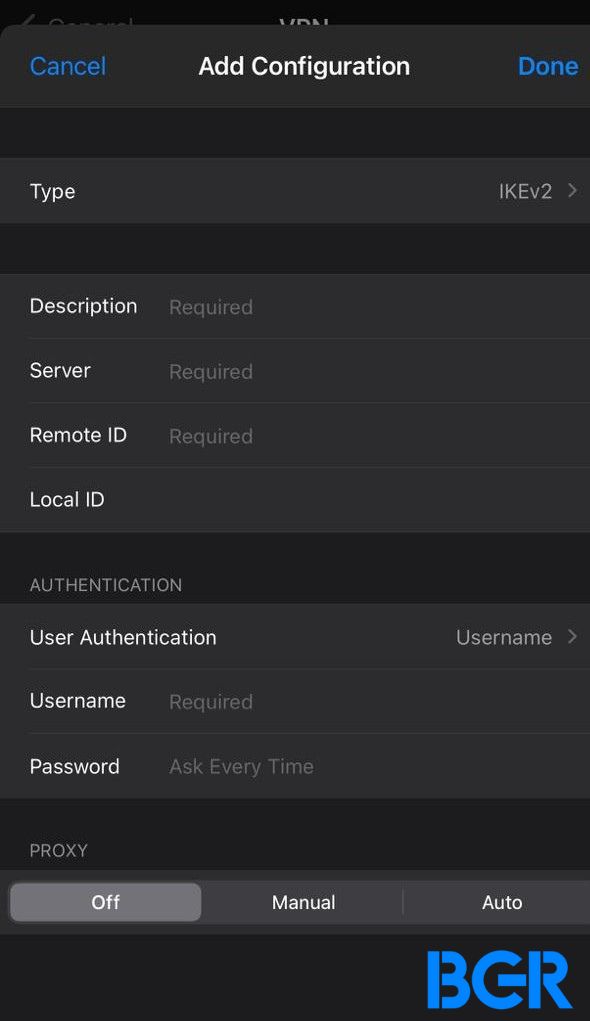 Input your authentication login, including password and username. If you use a proxy, you can enable it by choosing between Manual and Auto, depending on your preference.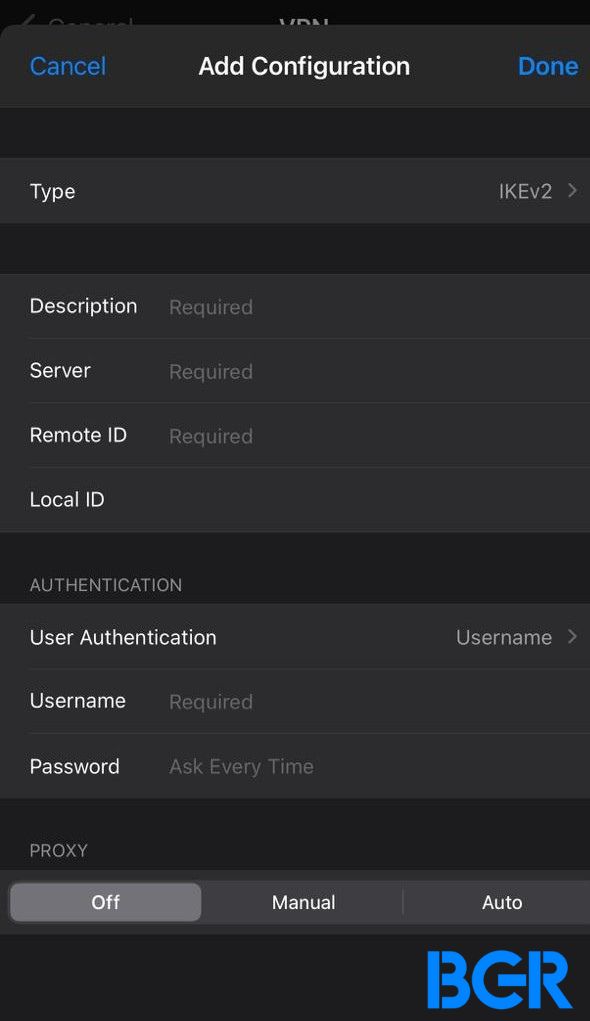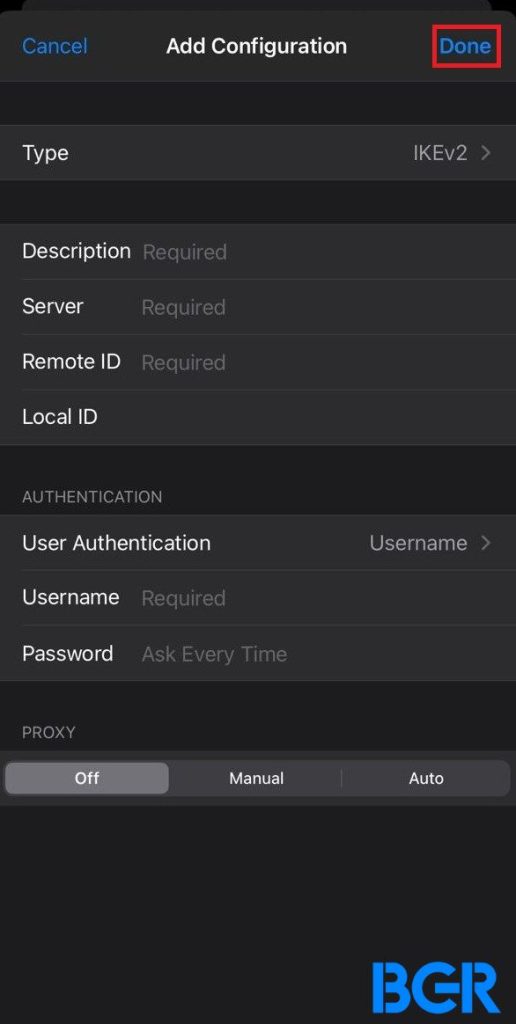 Under VPN Configurations, toggle the "Status" switch on. Follow the same steps, and toggle the "Status" switch off when you're done.
You can also read "The best VPN for iOS": https://www.vpn-mentors.com/best-vpn-for-ios/
FAQs
What happens when you enable VPN on your iPhone?
When you enable VPN on your iPhone, all the data traveling to and from your device will be encrypted. Hence, VPN protects your privacy and ensures secured online activities.
Should I leave VPN on all the time on my iPhone?
To prevent data leaks and cyber attacks, you can leave your VPN on at all times as it offers the best protection available in terms of online security.
Do iPhones VPN automatically?
Yes. This can be done after you have deployed and installed the VPN configuration profile on your iPhone. Then, you'll find an entry called "VPN if Wi-Fi" in your VPN connections. Next, select it. Your iPhone will automatically connect to a VPN whenever you're connected to any other Wi-Fi except your trusted Wi-Fi(s).
Should you use VPN all the time?
You should always keep it on, especially if you're using a VPN for privacy reasons or keeping yourself anonymous online.
Does VPN drain your battery?
The battery consumption of VPNs is no different from that of other apps. However, it is recommended that you turn it off if you're no longer using it, so it doesn't run in your phone's background.
Does VPN drain data?
Yes, it does. With VPN, you use more mobile data than you would when browsing the internet without using a VPN.
What happens if I turn off VPN?
When you disable your VPN, your Internet traffic becomes visible to your ISP. Your IP address tied to your physical location becomes visible to the websites you visit. Also, if you're connected to public Wi-Fi, your online data becomes visible to hackers and can even be stolen.
Why does my VPN turn off on my iPhone?
Try resetting your network settings to prevent this from happening again. It will turn off your cellular data connections and delete any additionally configured network settings.
You can also read on: Google Fi VPN is now available on iPhone