Puppies are cuddly, adorable little creatures that add more life and excitement to our homes. It goes without saying, a healthy pup that eats the best dog food for puppies would definitely mean a happy, energetic home.
Pet owners should avoid the mistake of feeding pups with adult dog food. Adult dog food does not have the balanced nutrition a puppy needs to grow. Also, feeding your pup the wrong food exposes it to severe protein deficiencies, malnutrition, or painful hip dysplasia.
As new pet parents, we understand that choosing from the many top pet food brands out there could get confusing. They all claim they have the best dog food for puppies, but you need the right one for your pup.
With our experience and passionate hours of research, we have pieced this guide just for you!
Read our article to find out what your dog is thinking.
What makes the best dog food?
There is quite a lot of special puppy formula to check for when trying to look up the best dog foods.
If your new puppy has a sensitive stomach, you may be looking for a grain-free diet; or dry puppy food for small breed puppies.
Or maybe you are searching for foods containing Glucosamine for large breeds prone to joint pains. Whatever it is, we would like to first clarify that you should consult your vet for a recommended puppy food if your pet has medical conditions.
It could even be mere concerns about the new pup's breed nutrition requirement or a particular behavior you have noticed. Either way, still contact your vet for better advice.
Do not let online adverts deceive you. An excellent puppy food must have an adequate supply of a balanced diet. It must also get the approval of your vet nutritionist.
Briefly, let's go over some recommended characteristics that you must look out for when getting your dog food.
Experts recommended characteristics to look out for in puppy foods
Growing puppies need adequate nutrition for stronger bones, joints, and muscles and a healthier immune system.
Your pup burns a lot of calories and needs much more protein, fats, carbohydrates, vitamins, and minerals. All these nutrients are necessary for their meals to boost their growth and keep them healthy.
All these would not be found sufficient in adult dog foods. So again, if you have been or are considering feeding your puppy adult food, stop it.
Satisfies AAFCO nutritional requirements
Firstly, try to get dog foods that have been labeled with a nutritional adequacy statement by the Association of American Feed Control Officials (AAFCO).
AAFCO is an organization that works tirelessly to ensure that your pet's food products are appropriately analyzed and have the right amount of pet nutrition.
As new pet owners, you can be sure your puppy food has the standard amount of sustenance if it has the AAFCO label.
The American Association of Feed Control Officials states that there are six vital nutrients that dogs need to live healthily and function better.
These necessary nutrients are:
Carbohydrates (should include fiber)
Proteins
Vitamins
Fats
Minerals
These seem like the end-products of your usual basic feed, but surprisingly, some products do not have all these in sufficient proportions.
Understanding what these nutrients do in growing puppies is not at all simple. As dog owners, you must take time to pay attention to these seemingly basic things.
AAFCO label requirements
The American Feed Control Officials properly label every pet diet and supplement to ensure a proper understanding of what nutrients your puppies need daily and for what life stages.
The eight requirements for pet labels by AAFCO are:
Brand and product name
This shows how the ingredients and product name may be combined to form the complete product name. E.g., Royal Canin Small Puppy Wet Food
Name of species for which the pet food is intended
This must be conspicuously displayed in words and may be combined with the product name, e.g., Proactive-Puppy dry dog food.
Quantity statement
This should tell you the net weight or volume of the feed.
Guaranteed analysis
This should list the correct proportion of each nutrient in the puppy food.
Ingredient statement
Your puppy foods must have their ingredients listed and approved "correct" by AAFCO.
Nutritional adequacy statement
This means your puppy foods must indicate that it is a complete and balanced diet for the various life stages of your pet. It must show if the product is meant for intermittent or supplemental feeding.
Feeding directions
All dog food labeled as a balanced diet for all stages of your pet must have feeding directions and feeding frequency.
Name and address of manufacturer and distributor
The pet food must tell the location and name of the company.
Factors to consider for puppy energy requirement
Remember that your dog's energy requirement depends on some of these factors. Equally important, you should often aim at meeting your dog's energy requirement if you want a healthy puppy.
Factors like:
Breed
Activity level
Medical conditions
Age group
Reproduction (altered or intact)
Tip: A significant portion of energy in puppy food comes from proteins, fats, and carbohydrates. High-quality food gives more energy content per diet and tells you how much such food should be consumed daily.
Look out for proteins.
Another characteristic to look out for when buying dog food is if the product has a high source of protein.
Your puppies need more proteins to maintain and form ligaments, tendons, and cartilages.
Additionally, feeding your pups more proteins helps form strong bones, healthy skin, shiny hairs, and strong nails.
So the end product of protein is Amino acids. Like in humans, puppy foods rich in protein help them build a stronger, healthier body overall.
What are some sources of protein in dog food?
The highest volume of essential amino acids is in animal protein. That said, you may want to be particular about puppy foods whose recipe contains some fish or chicken meal.
Animal meals are packed with the essential nutrients necessary for muscle growth and immune functions in dogs, especially large breed puppies.
How much protein does my dog need?
Your new puppy needs at least 18% of dry matter, while adult dogs would need a minimum of 8% dry matter. Although, this depends on if you are feeding the dogs high-quality protein meals.
AAFCO advises all pet parents to feed their pets daily with a minimum of 22% dry matter for pups and 18% dry matter for adult dogs.
Tip: Don't cheat yourself by feeding your puppies excess protein. It has no added advantages; instead, it could form health hazards.
Should puppies have fat in their diet?
Unlike humans, dogs are not bothered about compounding health issues or high cholesterol levels from eating fatty diets.
Low-fat levels in dogs, especially puppies, could lead to itchy skin, dull coats, and immune system problems. In some cases, heart disease or diabetes could occur.
Fats give a lot more energy than carbohydrates and other dog food nutrients. Puppies specifically need balanced ratios of some essential fatty acids, called omega fatty acids, daily. These are the first nutrient to be broken down by their growing bodies during feeding.
Also, fats and oils play a vital role in the function and development of body cells, tissues, muscles, and nerves.
In a nutshell, the best puppy foods must have a significant percentage of fats. Fats help your pups grow healthy, shiny coats and build their bodies with a strong immune system against diseases.
Tip: Not all fats and oils are suitable for your puppy's breed. Be watchful and educated on what you feed your dogs. More importantly, exercise your dog often to balance things out.
What are some common sources of fats and oils for dogs?
We advise you to first check the root of fats and oil ingredients in whatever dog food you plan on purchasing. Plants and animal fats are the two main sources of fats in dog food, and your dog needs these two nutrients to thrive.
But, animal fats provide a higher concentration of energy needed by the puppy for swift growth and healthy skin.
Some of the best puppy foods out there list the sources of their product's fats and the ratio of the omega fatty acids. The listed ratio must be a proper balance of omega-3 and omega-6 fatty acids.
Some primary dietary sources of omega-3 fatty acids are:
Fish oil, e.g., Salmon, Herring, Mackerel, Halibut, or animals that prey on these fishes.
Plant oils, e.g., Oils from plants like flaxseed. Flaxseed oils contain about 50-60% omega-3-fatty acids in the form of alpha-linolenic acid (ALA).
Some primary dietary sources of omega-6 fatty acids are:
Chicken fat, pork fat, or basically any other poultry fat, soybean oils, e.tc.
Water is an essential requirement
Water is essential to life. It is the most important nutrient in adult dog food or younger ones. Helping your puppies to get sufficient water intake daily regulates their body temperature and keeps their joints well-lubricated.
More importantly, water aids the digestion of food after feeding.
You can also mix whatever healthy supplement in your pet's drinking bowl and make him ingest it by adding water.
How much water should a puppy drink per day?
Your dog should drink as much water as his body (mass, gender, age) can permit.
Also, the amount of dry food your puppies consume should help you determine how much water they should drink.
Most dogs drink about 1 ounce of water per ounce that they weigh daily. Getting your puppies clean and fresh water as often as possible will do them a lot of good.
How do I know my puppy is getting the proper nutrition?
Contact your veterinary doctor to know the right nutritional product for your dog breed. Also, look out for the AAFCO logo on product containers or bags, as discussed in the paragraphs above.
Recommendations for the best puppy foods
Below are some of the recommendations for the best puppy food online.
Wellness Complete Health Puppy Food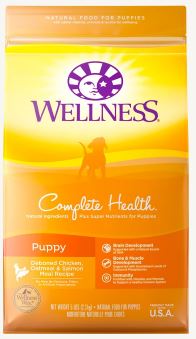 This puppy formula gets the bulk of its protein from the fresh chicken meal.
According to Dogfoodavisor, its estimated puppy's nutritional content holds about 32% protein, 20% fat, and 40% estimated carbs. This produces a fat-to-protein ratio of about 62%.
This grain formula holds the proper nutrients in an adequately balanced diet.
The ingredients are– Chicken meal, Deboned chicken, Oatmeal, ground barley, peas, etc.
It is strictly designed for growth in puppies, including giant breed puppies.
With this product, you can rest assured that your small breed puppies will grow into happier, healthier adult dogs. If you have large breeds, you would also get amazing results feeding them this dog food.
It is very affordable.
We placed this product first specifically for new pet parents or new puppies. It is a top recommended food for puppies. Perhaps one of the best dry dog food for puppies.
Ollie Fresh Dog Food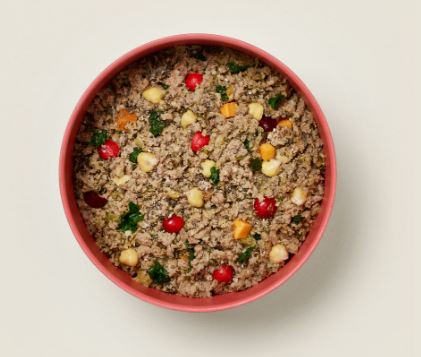 Ollie is another highly recommended grain-free food for puppies, 12 weeks old or older. The Ollie formula has about 36% Protein, 14% Fat, and approximately 42% carbs.
It also has about a 40% fat-to-protein ratio, with most of its protein derived from fresh chicken.
The ingredients are-Chicken liver, chicken, peas, carrot, e.tc
Ollie formula is one of such that can be called the "homemade" dry puppy food. Also, the Ollie formula is designed for all life stages of puppies, including large breed puppies.
It is affordable but could be quite expensive for some.
Victor Purpose Nutra Pro Dog and Puppy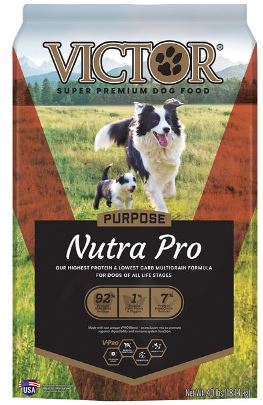 Victor Purpose Nutra is an economical but top-quality food that can be served as both puppy and adult food for all life stages of dogs. It gets the bulk of its animal protein from blood meals and chicken meals.
This dog food recipe contains 42% protein, 20% fat, and approximately 31% carbs. Additionally, this product should give a 47% fat-to-protein proportion.
The ingredients are- chicken meal, chicken fat, blood meal, whole grain millet, yeast culture, etc.
This puppy food is also very affordable.
Taste of the Wild Pacific Stream Puppy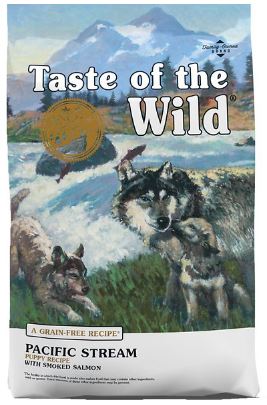 Taste of the Wild is a grain-free, highly-rich-in-Omega fatty acids-puppy food with balanced puppy nutrition support. This dry dog food has all the essentials needed to maximize a long period of perfect health for your puppy.
The product's recipe contains about 30% protein, 17% fat, and approximately 45% carbs. These would provide about a 56% fat-to-protein ratio.
The bulk of its animal protein is from fresh Salmon and Ocean fish meals.
The ingredients are- Ocean fish meal, Salmon, peas, sweet potatoes, potatoes, etc.
We highly recommend it because of its balanced nutritional diet and affordability.
Iams Proactive Health Smart Puppy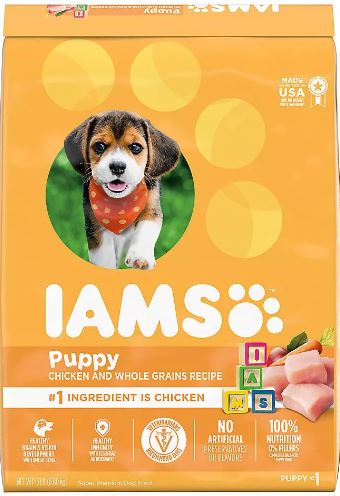 Iams proactive is probably one of the most economical puppy food out there. It derives most of its meat protein from fresh chicken.
Iams is ideal for new pet owners who just want to give owning a puppy the first try. You don't have to worry about quality as this product is also of good nutritional value. It is a whole grain corn option with chicken as its first ingredient. What's more, Iams brags about being one of the few to have no preservatives during production.
The ingredients are- Chicken, ground whole grain corn, chicken-by-product meal, corn gluten meal, dried beet pulp, etc.
It is suitable for small breed puppies.
Merrick Grain-Free Puppy Plate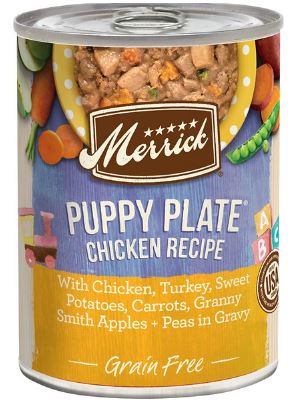 Merrick offers a great wet food alternative for your puppies. Wet food may be preferred by dogs sometimes because it's easier to chew and have more water content than dry food.
Also, wet food is great for dogs with obesity because of its lower carbohydrate nutrition and higher protein and fats. Additionally, wet food may help your obese dog lose some weight while keeping it hydrated at all times.
Merrick formula is grain-free puppy food, deriving its meat protein from fresh chicken.
This puppy food contains 50% protein, 28% fat, and approximately 14% carbs. That said, you should expect a fat-to-protein ratio of about 56%.
It has a rather pleasant smell for canned dog food and a juicy topper for enhancing the taste of any kibble.
The ingredients are- Deboned chicken, deboned turkey, chicken broth, sweet potatoes, carrots, etc.
Merrick formula is wet dog food for all puppies, including large breeds.
Wellness Complete Health Just for Puppy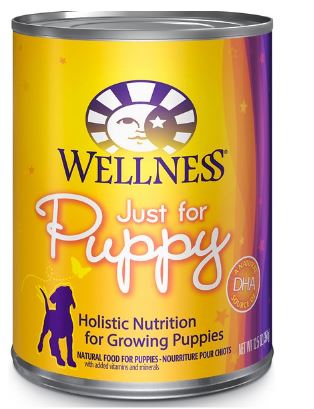 An alternative to its dry food version, Wellness Just for Puppy is known to be an exceptional wet puppy food. The bulk of its meat protein is from chicken and chicken liver.
This wet puppy food contains 41% protein, 27% fat, and approximately 24% carbs. This would mean it has about a 67% fat-to-protein ratio.
The product is for all dog life stages. Also, you can either use it as a small breed puppy food or serve it to large breed puppies.
It is quite affordable, and we recommend it.
The Farmer's Dog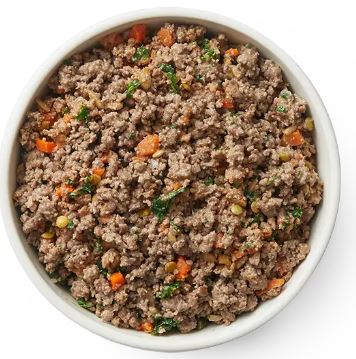 The Farmer's Dog is grain-free and derives its vast majority of animal protein from fresh beef. Its recipe contains about 39% protein, 29% fat, and approximately 24% carbs. delivering a fat-to-protein ratio of about 73% and 24% estimated carbs.
Your pup would definitely love any of the dog food on this list. Don't forget to check in with your vet if your dog has any medical conditions or allergies.
FAQ
What dog food is best for a 1-month-old puppy?
The best food for a month-old puppy is still the mother's breast milk. This milk has all the balanced nutrition for this new puppy.
How do I choose the best puppy food?
Check if the product has the approval of AAFCO
Consider your puppy size
Check the size of the product and be mindful of calories.
What should I feed my 8-week-old puppy?
At eight weeks, you can begin to feed your puppies soft foods like wet dog foods.
Can I give boiled eggs to my 1-month-old puppy?
Yes! Thoroughly boiled eggs are a rich source of protein, linoleic acid, and Vitamin A. Puppies love the taste of boiled eggs.
Can a 1-month puppy take a bath?
It is okay to submerge your one-month-old puppy in a bath. However, if it is a small breed puppy, you may have to reconsider the mode of bathing.
What is the number 1 healthiest dog food?
The healthiest dog food is based on preference amidst other factors, but we recommend The Farmer's Dog food for dogs that prefer wet foods and Wellness Complete Health Puppy Food for dry foods
How often should you feed a puppy?
You should feed large breed puppies three to four times daily. The medium-sized breeds can be fed meals thrice daily. While the Tiny-sized can be fed about 4 to 6 times daily. You should do this for the first three months of their lives.
What homemade food can puppies eat?
A homemade puppy diet should consist of the required balanced proportion of protein, like chicken and fish, carbohydrates like rice and sweet potatoes, and Fat like Salmon oil. Don't forget Vitamins or Mineral Supplements.