When I started BGR 10 years ago (it's been 10 years!), it was little more than a WordPress template with a custom logo and header, shared hosting, and a dream of revealing all of the mobile and tech industry's secrets. Today, we're introducing a new website that fully reflects where we are as a publication and as a brand.
The site is no longer just a blogroll, it's a collection of various types of content, each with their own homepage for easy viewing. Tech, Business and Entertainment — all incredibly big categories for us — in addition to Social and Deals, operate as independent but connected sites. This is important as we move forward and continue to expand our editorial team, hiring vertical-specific writers and editors to increase our focus on those aforementioned verticals, and to build them out.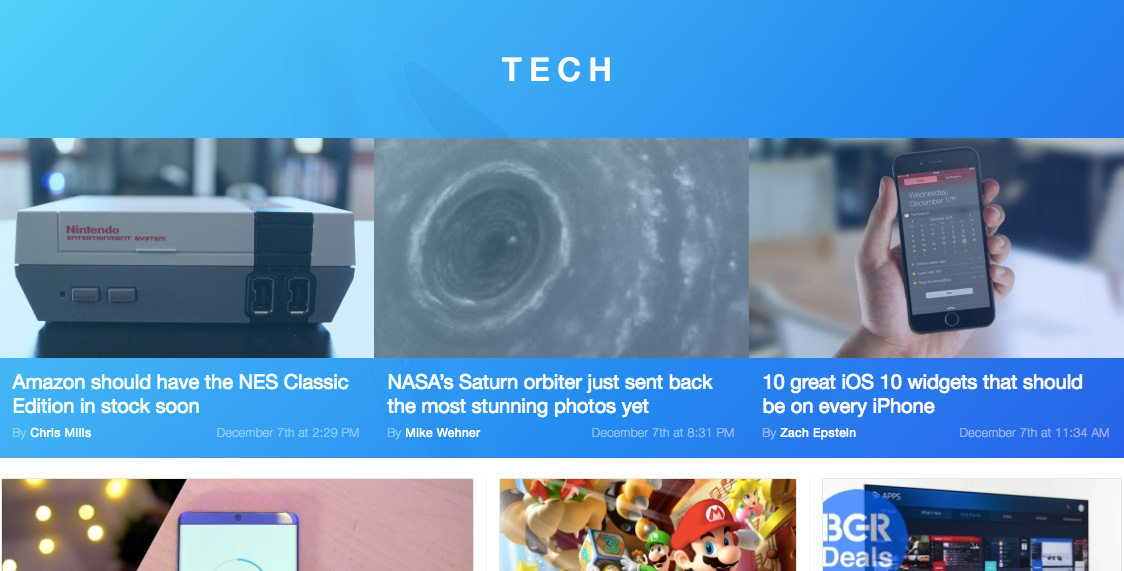 The homepage is now a grid system, allowing us to add in topical widgets around events, or to highlight featured coverage. But don't worry, because it also still offers chronological viewing for anyone who loves to visit the homepage and keep up to date on all the news.
Each grid of articles is in chronological order, just like you would expect. So, in the screenshot below, you have the most recent post in the top-left corner and the second-to-last post beneath it. Then the chronological order continues in the center column from top to bottom, and then again in the third column.
In between each grid we'll highlight various articles from our channels for easier discovery. Our article pages are clean and we have much less clutter, and images and videos are retina resolution and full-width. Upcoming important articles will get the elevation they deserve with gorgeous custom designs and functionality.
We have had a tremendous 10 years, and I'm incredibly proud of our current team for helping to make not only 2016 a record year, but five out of the last six months have been record traffic months. In fact, November was our biggest month ever, with over more than 14.5 million unique visitors — that number is bigger than most of our competition, and it doesn't even include the tens of millions more we reach through deals with our fantastic syndication partners. Continuing on, our mobile site is also brand new, reflecting a new design identity and offering up a fast load time and clutter-free experience.
Thank you to everyone for reading our articles, features, reviews, coverage — for reading us, for so long. Our roadmap is incredibly exciting and I can't wait to show you guys what we have in the pipeline in the near future now that our foundation is even stronger. Thanks also to our parent company PMC, which has been the most incredible and supportive partner, and amazing resource for us for many years, and to our Executive Editor Zach Epstein who has been with us since practically the beginning.
Special thanks to Daniel Bachhuber at Hand Built for doing such a great job with the relaunch integration, and thanks to Kubilay Sapayer, with whom I spent countless hours working with to refine and hone in on my design vision.
Feel free to send feedback to me directly at jonathan@bgr.com, as many of you already have.