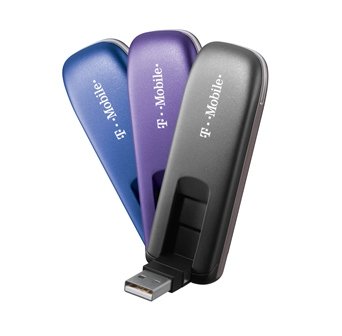 T-Mobile has just announced that the carrier is doubling the 4G network speed to a whopping 42Mbps in 55 markets. In addition to bumping the network's speed, T-Mobile is also launching a new product, the Rocket 3.0 USB data stick. The 55 markets that will be able to immediately take advantage of the $99.99 with contract 42Mbps-capable USB data stick are:
Albany, GA, Athens, GA, Auburn, AL, Augusta, GA, Austin, TX, Bentonville, AK, Boulder, CO, Chattanooga, TN, Chicago, IL, Dallas, TX, Deltona-Daytona Beach-Ormond Beach, FL, Denver, CO, Detroit, MI, Durham, NC, El Paso, TX, Fort Collins, CO, Gainesville, FL, Gainesville, GA, Greeley, CO, Honolulu, HI, Houston, TX, Jacksonville, FL, Long Island, NY, Los Angeles, CA, Long Beach, CA, Santa Ana, CA, Macon, GA, Mayaguez, Puerto Rico, Miami, FL, New Orleans, LA, Oklahoma City, OK, Olympia, WA, Omaha, NE, Oxnard, CA, Thousand Oaks, CA, Ventura, CA, Phoenix, AZ, Pittsburgh, PA, Ponce, Puerto Rico, Portland, OR, Salinas, CA, San Francisco, CA, Oakland, CA, Fremont, CA, San Jose, CA, Sunnyvale, CA, Santa Clara, CA, San Juan, Puerto Rico, Santa Cruz, CA, Watsonville, CA, Santa Rosa, CA, Petaluma, CA, Savannah, CA, Seattle, WA, Spokane, WA, Tampa, FL, Tulsa, OK, Valdosta, GA, Vellejo, CA, Fairfield, CA, Warner Robins, GA, Wichita, KS.
The Rocket 3.0 USB data stick, manufactured by ZTE, goes on sale starting tomorrow, May 25th, and T-Mobile expects over 150 million people to be covered in the company's increased 4G network speeds in 2011.