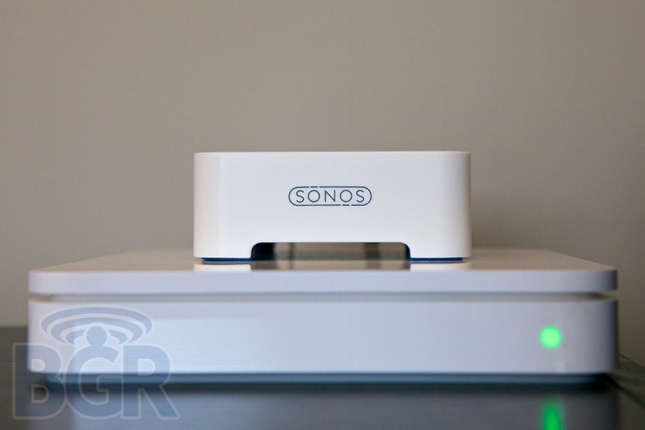 It's pretty incomprehensible that until about two weeks ago, I had never used a piece of Sonos equipment. Heard about it, and read about it? Sure, but never used it. What MP3s did for personal audio enjoyment 5 years ago, Sonos does for your home, office, or wherever you want today, ingeniously creating a seamless and practically unlimited expandable system. Sonos is literally one of the coolest things I've seen in years; not because they reinvented the wheel (even though they kind of did in some places), but because it works.
Our digital lives are consumed by software updates, OTAs, custom ROMs, and promised OS upgrades, and because of their absence in Sonos' system the entire experience is completely refreshing. You literally, in the words of Ron Popeill, "set it and forget it." Once you unbox the sucker you have access to potentially limitless amounts of music spanning dozens of genres and styles.
We were sent two Sonos S5s, which are incredibly powerful units, and include speakers, subwoofers, and the ability to transmit/receive data and signal in addition to a ZoneBridge and Sonos Controller 200. If you want your S5 in the room where your internet router is, great, you just plug it in, and off you go. If you don't have Ethernet in the room you'd like to host the system in, you can simply buy a ZoneBridge ($99), which will bridge your wireless network to your Sonos base for you. From there on out it is as simple as pairing the additional components.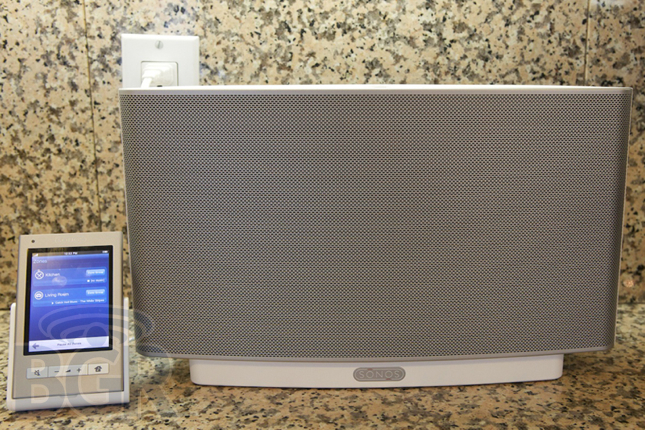 I started off setting up the ZoneBridge to my network, I then added a Sonos S5 in the kitchen two rooms away. Set up was a breeze. I ran the Sonos software, touched a button or two on the S5, and it paired immediately and connected to my network. Once networked, I had instant access to my Pandora account, Last.fm account, Rhapsody account, Napster account, and Sirius radio account, in addition to whatever music was on my network. Instantly. Before I got too excited and immersed in some music from Billboard charts from 1995, I decided to add the other S5 to the network; this time unit was headed for the living room. The second S5 also seamlessly connected in about one minute. I now had independent control over the music/volume in the kitchen as well as the music/volume in the living room from my computer. So wild. If you're having a small get together, or raging party, and want the music to play all over your apartment or house, you can simply link the zones together — all your zones will play the exact same thing perfectly in sync. You can also control the volume of linked zones together or independently.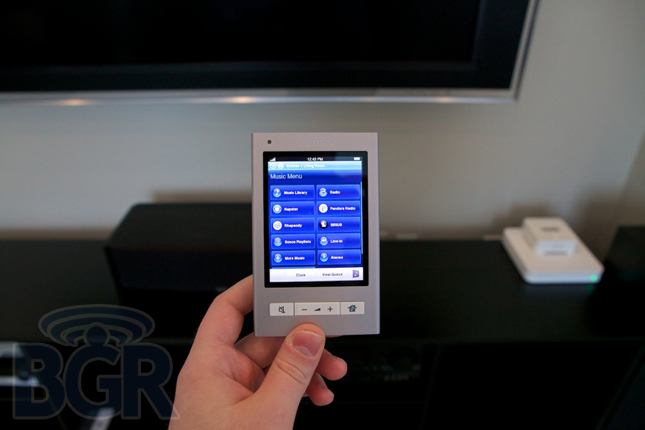 We're not done…there's more. Sonos' new controller is so thoughtfully designed that I'm really not sure what to compare it to. It seems like it should cost $1,000 instead of $349; it even includes a capacitive screen. You have the ability to control the entire system — including changing your playlists, music queue, stations, volume, zones, and everything else — right from the controller. Computer not required. But, Sonos went even further. They basically replicated the entire experience they offered on the remote into an iPhone application. This transforms your iPod Touch or iPhone into another controller, complete control over everything, computer not required (you need to be in range of your WiFi network though, duh).
In terms of the actual music, the Sonos S5 unit itself sounds absolutely amazing and really packs a punch. For something that can be literally picked up and plugged in anywhere it's pretty remarkable. During the tests I didn't ever miss having my actual home speaker systems hooked up, the S5s sounded that good.
While it's great that the hardware and wireless network side of things work so incredibly well, what good would all that be without quality music sources, right? Here's how Sonos' music breaks down:
If you have a PC or Mac on your network, Sonos can make use of any existing library pending of course the music is DRM-free. This includes all of your iTunes music, ripped music, downloaded music — whatever is stored locally on your computer
Rhapsody (subscription based access with free trial, streaming)
Napster (subscription based access with free trial, streaming)
Pandora (streaming)
Last.fm (streaming)
SIRUIS (streaming)
Internet radio (25,000 stations, streaming)
All in all I loved listening to a seemingly endless catalog of music that I could tailor to my daily routines, activities, and moods. Times when you'd normally just forget about turning on tunes dissolve away when there's a Sonos remote nearby — hopefully the neighbors aren't too mad at me. Check out some more photos in our gallery, and definitely hit up Sonos directly to learn more!