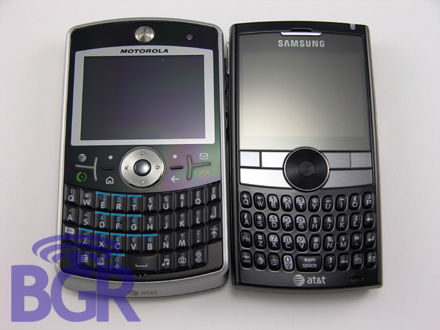 We've been using the BlackJack II since yesterday, and we have mixed feelings about it. We love the Motorola Q9, and spec-wise, the BJII and Q9 are almost identical. Both have UMTS/HSDPA radios (the BlackJack actually has a tri-band UMTS radio for world-roaming), 2 megapixel cameras, integrated GPS, full QWERTY keyboards, both run Windows Mobile 6 Standard, and well, you get the point. Size is a difference, with the BlackJack a lot sleeker than the Q9, but oh man, the Q9's keyboard! We've broke down our thoughts comparing the BJII and the Motorola Q9 after the jump, so let us know what you end up picking up!
Signal:
Samsung BlackJack II:
We're not sure if this might be just our unit, but it has had major issues with data connections. Sometimes it even switches down to GPRS! Our device doesn't hold a candle to the old BlackJack which was a 3G monster. That thing could pickup a 3G signal 20 stories underground.
Motorola Q9:
Really nothing to complain about. The Motorola Q9 holds a 3G signal like Britney is trying to hold on to her kids…
Q9 wins here.
Keyboard:
Samsung BlackJack II:
Sammy's keyboards have always disappointed us. No matter what you do, if you're a real fast typer, the keyboard will skip key presses. It is not a software thing, it is a hardware issue. It's happened way back from the Verizon Samsung i730 and was definitely an issue on the last BlackJack. We're pretty sure it is fixed on the BlackJack II, but we need to test some more. Additionally, the keys are really narrow on the BJII, but they are a little improved from the previous version.
Motorola Q9:
The Q9's keyboard is one of the best in the biz! The trade off is that the device is incredibly wide to accommodate the full QWERTY 'board, but the layout, buttons, and anything else are top notch.
Q9 wins here again.
Navigation:
Samsung BlackJack II:
Samsung finally ditched that shady "scroll wheel" from the original handset and added a scroll wheel which also functions as a 5-way directional pad. This works really well, even better than the T-Mobile Shadow. It makes navigating the phone, web pages, emails, and anything else you need to zip through a breeze. The back button and home button are adequately placed and sized. We're not mad at them.
Motorola Q9:
Motorola also ditched the scroll wheel from the first Q and instead added up / down keys, a select key, and back button on the right side of the handset. These are alright, not perfect, sometimes a little hard to reach due to the wideness of the Q9, but do work pretty well. There's no fancy schmansy navigational wheels or accelerometers here, just a 4-way directional pad and a center select key. The home, back button, and send and end keys are also adequately sized and placed.
We're giving the BJII the win here!
Screen:
Samsung BlackJack II:
The BJII's screen is very nice. It's crisp and bright, but is a little washed out. It doesn't have an ambient light sensor like the Q9 so the backlight will not automatically adjust based on your lighting conditions.
Motorola Q9:
Both screens are 320×240 but the Q9 provides a richer, brighter, more pleasant display to look at. Add in the ambiant light sensor and we've got a winner.
Moto Q9 wins here.
Speaker loudness / quality:
Samsung BlackJack II:
One word describes the BlackJack's speakers…disappointing. They sound very muffled and are not as loud as we had hoped. Speakerphone volume was pretty low for us and we even missed some email alerts because of the volume. One good part about the tiny, tiny speaker is where it's placed. It's made so when you lay the phone on a flat surface like a desk or table, the speaker won't be covered and you should still hear the majority of what you're supposed to.
Motorola Q9:
Hate to say it, but best speakers on any Windows Mobile device we've ever heard. Period! Volume and sound clarity and quality overshadow anything else. Just Blaze, back me up on this one!
Motorola Q9 wins yet again.
Call quality:
Both made very good calls, and were equally clear, but talking on a Motorola is talking on a Motorola, and we found it offered a better conversational experience (?).
Built-in apps:
Samsung BlackJack II:
The BlackJack comes loaded with a lot of things. From a nice Windows Media Player skin, to a built-in RSS feed reader, to a converter, world clock, and one of the best searching programs, it's ready to rock out!
Motorola Q9:
The Q9 didn't come with as many pre-loaded applications, but the stand out one would be the inclusion of the Opera Mobile browser for free.
Samsung takes the win.
Device speed:
If you just want the actual CPU speed, the Samsung runs a TI OMAP CPU at 260MHz, and the Motorola Q9 runs a TI OMAP CPI at 325MHz. If we're talking about which device feels faster, we'd have to say it really is close, but the Q9 feels faster from our unscientific experiments.
Battery:
Samsung BlackJack II:
Unlike the first BlackJack, Samsung doesn't give you an extended battery this time. We haven't had enough time to really test the battery, so we're going to guess the fact they didn't include the larger battery was because the standard one should do fine.
Motorola Q9:
The battery in the Q should be called the Energizer Bunny because it keeps going, and going, and going. Sorry. For the extreme hardcore freaks, Moto even includes an extended battery which should last you a couple hot air balloon flights around the globe…
From early impressions, the Moto wins, but we didn't have enough time to really test the BlackJack. We'll call it a tie (that's being more than fair).
Charging cable / USB cable:
Samsung BlackJack II:
Dudez, we don't live in Korea, and no one uses your messed up charging cables. If Nokia can manage to start transitioning to microUSB ports, so can you. Enough of this crazy nonsense, please!
Motorola Q9:
While it's not the miniUSB we all know and love, microUSB will do just fine. Thanks for the included adapter too, Moto.
Motorola hands down wins.
Look:
This is totally subjective so we're not going to declare a winner here. The Motorola Q9 is more of a beast, with a sharp next-gen look. The glowing blue lights when charging are enough to freak out your grandmama. The blue keyboard backlighting is awesome as well. The BlackJack II is completely glossy, less wide, and over all more pocketable. The screen and device keys have a mirrored finish, and we can't really say anything bad about it.
We won't declare a final winner because that's going to be up to you guys. If you do end up going with the BlackJack II or the Motorola Q9 this holiday season, hit us up and let us know which one!