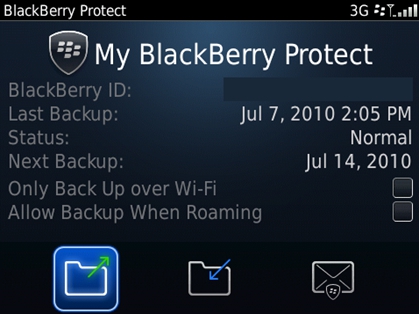 RIM's consumer-grade protection software for BlackBerry smartphones, dubbed Blackberry Protect, has just been officially announced. Rumored for months, the new service lets customers not attached to a BlackBerry Enterprise Server:
Protect important information on a lost BlackBerry smartphone by remotely wiping or locking the device from your desktop
Remotely add contact information to the home screen of a locked BlackBerry smartphone so it can be returned if found
See your BlackBerry smartphone's location and pinpoint the current whereabouts of a lost or stolen device with cell tower and GPS device tracking
Find a nearby misplaced BlackBerry smartphone by remotely activating a loud ringer
Back up data from your BlackBerry smartphone (including Contacts and Calendar; Memos and Tasks; Browser Bookmarks and Text Messages) over Wi-Fi
Restore your data to a new BlackBerry smartphone, or simply switch from one BlackBerry smartphone to another
We recently got a demo of the Protect software, and — to be honest — we think it's pretty solid. It will be in beta starting this week, and a more open beta later this year.