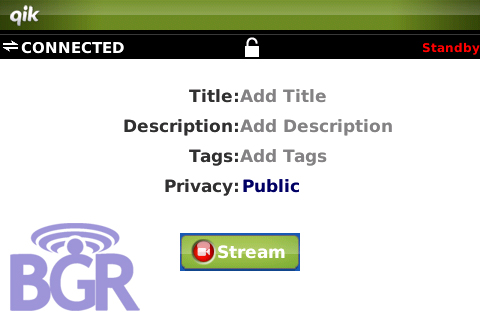 Sure, there are other services that try and do the same thing, but Qik holds a special place in our hearts. Ever since they announced and released the first streaming client for the Nokia N95, we've been pressuring them to release a BlackBerry client. As you are all well aware, RIM doesn't exactly give you access to everything you need as a developer so this was almost impossible until recently. It's still not 100% as Qik would like even more integration into the device, but for now, this is an incredible feat and we're thrilled. The client is available starting now in alpha form, so don't get your panties in a bunch if it's not perfect — Qik is banging out releases faster than you can stream a 10kb movie. We'll update you when the client comes out of the alpha/beta, but for now, hit the jump and behold every BlackBerry user's dream: broadcasting live video from your device! Press release is after the jump.
Qik, Inc., the leading live mobile video streaming platform, today announced alpha support for Blackberry devices including Blackberry Pearl, Blackberry Curve, BlackBerry Bold and BlackBerry Flip. Available today in alpha, Qik's service is now live on a number of BlackBerry handsets, including the very latest models from Research In Motion (RIM). With Qik's free service, users can stream video live to the Internet in just two clicks from their mobile phone. Those watching the videos on the Web can take part in live interactive chat with the person broadcasting.
"We are excited to bring our lifestyle technology to the millions of Blackberry users worldwide," said Ramu Sunkara, co-founder and CEO of Qik. "In our quest to bring mobile live video sharing to the masses, we now support the broadest range of platforms including Symbian, Windows Mobile, Blackberry, and Java-enabled mass market phones."
BlackBerry mobile phones are one of the most popular smartphones in North America. BlackBerry handsets are especially favored for allowing fast and easy access to email. The addition of live video streaming to the phones' capabilities brings a whole new dimension of functionality to BlackBerry handsets. Qik is initially launching in alpha on the following handsets running Blackberry Operating System 4.5 and above: Blackberry Perl 8120, Blackberry Perl 8130, Blackberry Perl 8220, Blackberry Curve 8330 and the upcoming Blackberry Bold.
Owners of the above devices can get Qik by registering at http://qik.com/ . Support for these devices is expected to enter beta in the coming weeks, and support for additional BlackBerry handsets is expected soon after.
The Pope, Senator Barack Obama, Bono, and Steve Jobs are just a few of the notables to be streamed live to the web by Qik users in more than 150 countries. Journalists are using Qik to be more transparent in their reporting, and politicians worldwide are employing Qik as they campaign on a more engaging Web platform. Parents around the planet are easily sharing family events as they happen through Qik on their cell phones. With simple but robust software and a feature-rich site, tens of thousands of Qik users are streaming important moments live to the people with whom they want to share.
Qik, in addition to being the live mobile to web video service of a number of popular technology bloggers and journalists, is also delivering exciting footage shot by a wide selection of users across entertainment, business, sports, and technology. Recent Qik videos of note have included behind the scenes footage from Sarah Palin and Joe Biden's vice presidential debate, interviews with comedian Dane Cook, the launch of Apple's new notebook computers, and British Prime Minister Gordon Brown's speech reacting to the global economic climate.