Just in time for Black Friday, Nintendo is releasing two special-edition New Nintendo 3DS models for $99.99 a piece on November 25th. This is the first time any of the New 3DS models have dropped below $100, and brings the price of the full-featured portable closer than ever to the $79.99 Nintendo 2DS.
MORE GAMING: Generation 2 Pokemon discovered in the code of the latest Pokemon Go update
There will be two models available for this price while supplies last — one black and one white, both featuring a unique Mario-flavored design. You can see what both models look like in the image below, shared by Nintendo on Monday: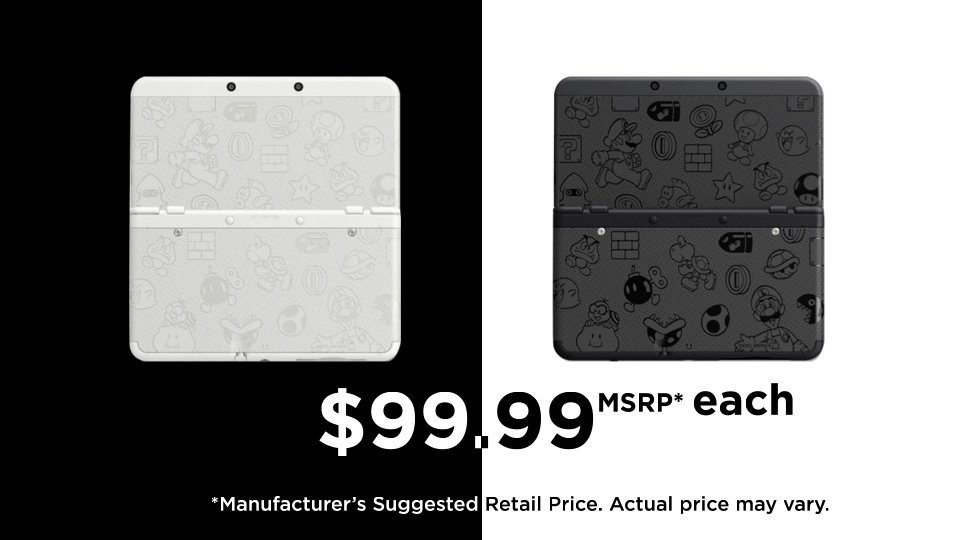 While Nintendo has struggled to maintain a consistent release schedule for the Wii U, several worthwhile games have launched for the 3DS in recent months, including Dragon Quest VII: Fragments of the Forgotten Past as well as first-party titles like Kirby: Planet Robobot and Metroid Prime: Federation Force.
Plus, by the end of the month, both Super Mario Maker for Nintendo 3DS and Pokemon Sun and Moon will have arrived on 3DS — two of the most anticipated unreleased games of the holiday season.
If you've been waiting for the right time to finally pick up a Nintendo 3DS and dive into its incredibly deep catalog, this holiday season might be your best bet. After all, Microsoft and Sony are releasing console refreshes and Nintendo's Switch won't be available until next March, so it's not like there's a whole lot of competition when it comes to worthwhile console purchases, especially for this price.