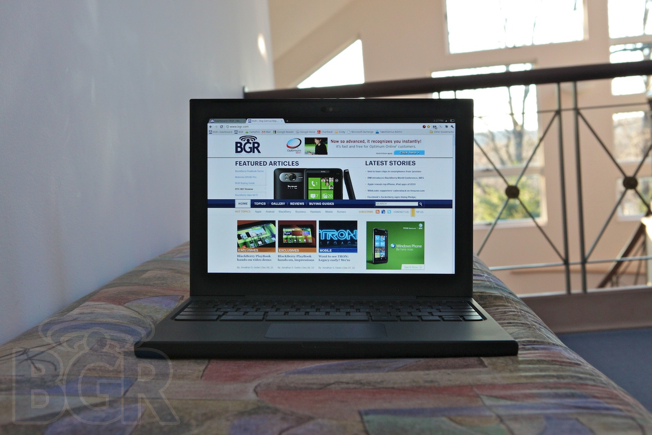 We just said adéu to our friendly FedEx delivery person and ripped into our care package sent by Google. On first glance, the Google Cr-48 Chrome laptop looks very similar to Apple's black MacBook. The screen is 12.1-inches, the entire computer is done up in a soft-touch rubberized finish, and — while it's a bit thick (we're used to using a MacBook Air) — we have had some fun typing on the well thought out (and well spaced) keyboard. Here are our first impressions:
We can't get over how instant this thing is — it boots and wakes from sleep literally in one second max!
The soft-touch rubber finish, which at first didn't sound very appealing, works really well on this super stealth, never-being-released notebook.
This is more of a preference, but we'd take a glossy display over the matte one on here any day… although the matte finished does fit into the anti-gloss vibe of the machine.
We can't begin to explain how great of a feeling it is to have Verizon cellular support built in and how simple and easy the set up process is. Activating our 100MB/mo free account was extremely simple. One or two more steps than signing up for AT&T's prepaid iPad plans — very solid.
Switching between open windows (think Spaces on a Mac with less jazz) is incredibly quick.
It's so hard to get used to the fact that everything is browser-based, but it all has seemed to work very well for us so far.
Guest accounts rock!
All of our Google Chrome extensions and bookmarks were transferred over instantly for us — super cool.
The speed of the machine, in general, is obviously slower than we'd like and for a 12-inch (read: large) computer. But again, this isn't meant to be released to the general public.
We had some wonkiness with the upper part of the LCD screen when we first turned it on, but we're thinking that might have been due to the extreme temperatures this poor sucker had to endure on its journey to us this morning.
The trackpad hates us. It's incredibly annoying and difficult to use. First off, it feels cheap, and second, unless you are scrolling with two fingers, don't even try and have more than one finger at a time on here.
We're cranking away and exploring Google's first Chrome OS laptop and we will be sure to report back with more findings over the next couple days. In the meantime, hit up our hands-on gallery while we go make some insanely hot hot-chocolate!