The Galaxy Note 7 has been nothing short of a nightmare for Samsung. Despite a series of initial positive reviews, it didn't take long before we saw an influx of reports regarding Note 7 devices either exploding or catching fire while charging. Now we seemingly can't go a day without hearing about a new crazy incident involving Samsung's phablet.
Over the past few weeks we've seen stories of Note 7 explosions destroying cars, charring homes, and damaging hotel rooms. Most recently, a 6-year old kid had a Galaxy Note 7 explode in his hands mid-use. The kid was rushed to the hospital but is reportedly doing fine now.
DON'T MISS: Apple gave an iPhone 7 Plus to an NFL photographer and the results are stunning
Without question, the Note 7 debacle and Samsung's subsequent recall has done a tremendous amount of damage to Samsung's brand and bottom line. Pictures like the one below, after all, can't be good for business.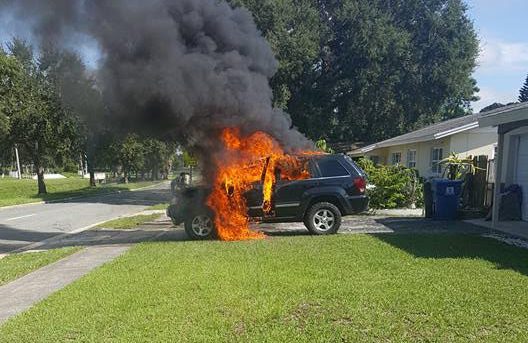 While precise figures remain up in the air, some estimates peg the total cost of Samsung's recall in the $1 billion range. And that's to say nothing of the hit Samsung shares have experienced recently.
In light of Samsung's recall and the recent FAA directive imploring Note 7 owners not to turn on their device mid-flight or even tuck it away with their checked-in baggage, Samsung shares have been in something of a free-fall lately.
At the opening of trading today, Samsung shares were down nearly 6.9% from last Friday.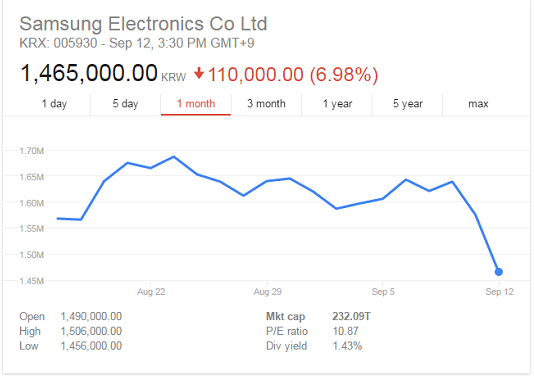 All the more jarring is that Samsung's market cap has endured a whopping $26 billion hit since Samsung first announced its intention to initiate a worldwide recall of the device.