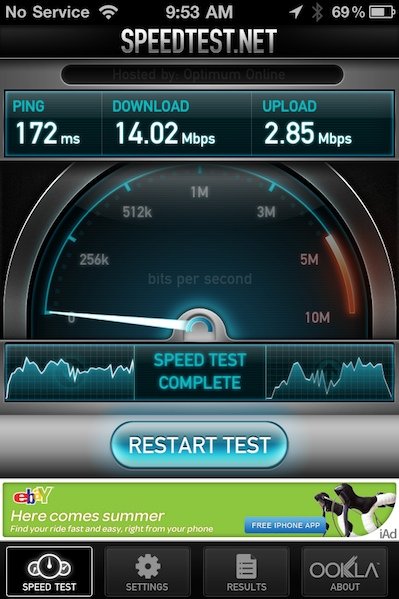 Cablevision's Optimum Wi-Fi service, free for subscribers, has been extremely popular in the New York, New Jersey, and Connecticut tri-state area, giving customers access to fast Wi-Fi from tens of thousands of locations. Today, Cablevision is announcing that the company has bumped up speeds at all Wi-Fi locations to 15Mbps down and 4Mbps up — the same speeds home subscribers get with entry-level Optimum Online service. Over 500,000 people use Optimum's free Wi-Fi service, and this move makes Optimum's Wi-Fi faster than any 3G or 4G network, barring Verizon Wireless' 4G LTE network, which we've seen trump those numbers from time to time. Additionally, Cablevision previously partnered with Time Warner and Comcast to allow customers of all three providers to roam onto all three provider's Wi-Fi networks, so this change affects Time Warner and Comcast subscribers as well which is great. The full press release is after the break, and the new download and upload speeds are already available across the tri-state area.
CABLEVISION HITS THE GAS PEDAL ON OPTIMUM WIFI – NOW DELIVERING UP TO 15 MBPS DOWNSTREAM AND 4 MBPS UPSTREAM OVER NATION'S LARGEST AND MOST ADVANCED WIFI NETWORK

Downstream Speed Of Optimum WiFi Now Matches Company's Flagship Residential Service, And Far Exceeds 3G and 4G Cellular Networks

BETHPAGE, NY, June 14, 2011 – Cablevision Systems Corp. (NYSE: CVC) today announced that it had significantly increased the speed of its Optimum WiFi network, which spans tens of thousands of outdoor access points and thousands of indoor locations across the New York metropolitan area. Optimum WiFi, available to the company's Optimum Online high-speed Internet customers at no additional charge, now delivers up to 15 megabits-per-second (Mbps) downstream and up to 4 Mbps upstream, matching the downstream speed of its flagship wired high-speed Internet service, and far exceeding the network's previous speeds of up to 3 Mbps downstream and 1.5 Mbps upstream. Optimum WiFi is dramatically faster than cellular data over 3G and 4G networks, and more than three times as fast as the nation's average residential wired broadband service.

"This is a huge enhancement for our customers and a significant step forward for mobile online access. With this increase, Optimum WiFi not only blows away 3G and 4G cellular data speeds, it's three times faster than the average wired residential broadband service across the country," said Kevin Curran, Cablevision's senior vice president of wireless product management. "With awareness and usage continuing to increase, we think this is the perfect time to hit the gas pedal on Optimum WiFi and deliver unbeatable speed on the nation's largest and most advanced WiFi network, by geographic coverage."

"This new higher speed Optimum WiFi is like 4G on steroids," commented Berge Ayvazian, Senior Analyst at Heavy Reading. "It offers a better mobile Internet experience to consumers

and mobile professionals virtually anywhere in Cablevision's market who have become increasingly dependent on and enabled by wireless broadband to access their media content, multi-player gaming and business applications in the cloud."

More than 500,000 Optimum Online high-speed Internet customers have already accessed the Internet when away from their home or small business connections over Optimum WiFi. The Optimum WiFi network spans tens of thousands of access points focused on high-traffic outdoor locations like downtown areas, commuter rail platforms and parking lots and parks. Additionally, in partnership with Optimum Business, Cablevision has activated WiFi access points inside more than 7,000 businesses that subscribe to the company's high-speed Internet and phone services as a free value-added enhancement benefiting both the businesses and their customers.

Top outdoor usage areas for Optimum WiFi continue to be downtown areas and commuter rail station parking lots and train platforms. Cablevision has submitted formal proposals to both the MTA and NJ Transit, in response to Requests for Proposals, to extend Optimum WiFi access to commuter trains across the New York Metropolitan Area as well. Top indoor locations wired in partnership with Optimum Business are restaurants and health clubs. Cablevision has also expanded the reach of its own WiFi network by interconnecting with WiFi deployments by other cable providers Comcast and Time Warner Cable, so customers of all three companies can roam freely across these three distinct WiFi networks and enjoy a superior mobile data experience.

More information on Optimum WiFi, including detailed coverage maps, is available at http://www.optimumwifi.com.