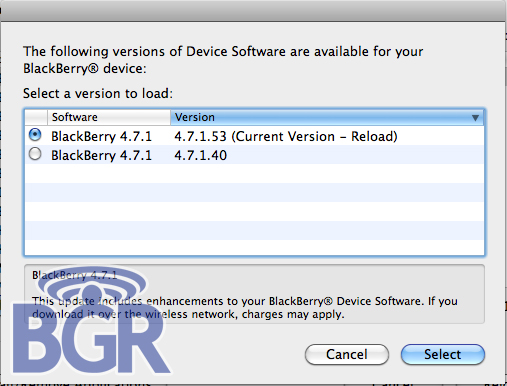 If you didn't catch the leaked version of 4.7.1.53 that appeared yesterday for the BlackBerry Tour, you'll be pleased as punch to know that Verizon has officially kicked off the first software maintenance release for the device. The version which we told you about does fix and improve many different aspects of the operating system, yet it's still not quite perfect. Here's an official list or change log we put together:
Improved MMS notifications
Improved Visual Voice Mail app
Improved sound quality for Bluetooth headsets and voice calls
Fixed geo-tagging error in the camera application
Fixed an error with DRM music skipping
Improved video player
Added BlackBerry Messenger update notifications — check for new BBM updates automatically or manually.
Fixed an issue with device restarting after activating morning alarm
Fixed an issue with memory cleaning and sluggishness
The first character is no longer duplicated when dialing from the
home screen.
Your smartphone may not have detected headset removal, causing it
to remain connected to a disabled headset.
When prompted to add an email account in the Setup Wizard, your
smartphone may have jumped to "Bluetooth® Setup," leaving you
unable to navigate back to email setup.
If you tried to save changes to a contact that only contained a
company name, you may have received the error message "Contact
updated externally. Changes will be lost and the view closed."
Thanks, to everyone that sent this one in!