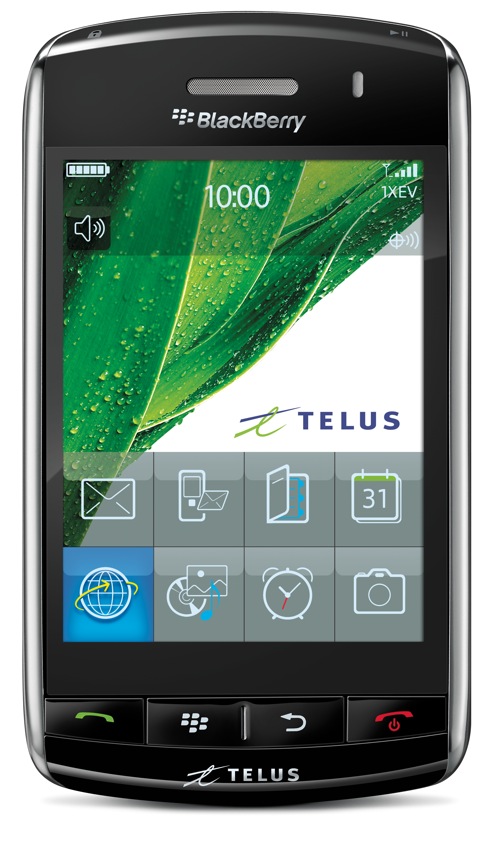 Man, we might have to send our runner out to get another carton of cigarettes — this is getting ridiculous! In addition to our leaked embargoed Storm info for Verizon and Vodafone, we're also hitting you with the official press release that TELUS will be touch-Clicking their way to a BlackBerry Storm pretty soon. Same shit, different carrier basically. No launch date, no pricing at the moment. We had heard $199 for Verizon with a 2-year agreement, but the Mounties would stop us if we tried to predict a price for TELUS. Press release after the jump, enjoy.
UPDATE: TELUS just hit us up to let us know that they are actually not the exclusive carrier in Canada which would make sense given that we've heard of a launch on Rogers and then there's that Bell rumor… That should give all you Americans hope there will be a tri-band HSDPA unit to unlock.
TELUS first to bring revolutionary touchscreen BlackBerry® StormTM 9530 smartphone to Canada
TELUS is thrilled to announce that it will be the first in Canada to offer consumers the revolutionary BlackBerry Storm 9530 smartphone from Research In Motion. The addition of this world edition smart phone to TELUS' line-up cements TELUS' position as Canada's smartphone leader with the most smartphones on Canada's largest 3G network.
A revolution in the palm of your hands
The revolution begins with the BlackBerry Storm's advanced high resolution (480 x 320) 3.25" touchscreen. This is the first touchscreen on a BlackBerry device and features an innovative clickable surface for precise and responsive text input. The touchscreen is also intelligent enough to present users with a virtual QWERTY or SureType® keyboard depending on the orientation of the device.
The familiar communications experience that clients have grown to love about their BlackBerry smartphones has also been enhanced as e-mails and Internet browsing are rendered in rich HTML format, with embedded images and one-click hyperlinks.
Clients will also appreciate the feature-packed multimedia capabilities of the device including a high resolution 3.2 MP camera to take pictures and videos and 1GB of memory with an expandable micro SD ™ memory slot to store those images. Best of all, those images can be uploaded quickly with high speed access to YouTube streaming videos for mobile devices and one touch access to popular social networking sites like Facebook. And battery life is not an issue as the BlackBerry Storm boasts an extended life battery, which is replaceable.
Chase the storm with TELUS
TELUS will be making the BlackBerry Storm available just in time for the holiday shopping season.
Join the revolution and chase the BlackBerry Storm! Visitors to can register to learn more about the innovative TELUS applications, services and offers that will be launching with the BlackBerry Storm to make it a unique experience for TELUS clients.