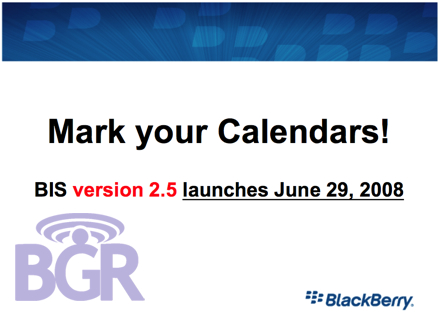 By now you all have heard that BlackBerry BIS 2.5 is rolling out to U.S. carriers on June 29th. Heck, there's even going to be some downtime. But, maybe that isn't enough? Maybe you'd like more information. We've definitely got you covered in that area. We just got a hold of this presentation outlining BIS 2.5 and all the various features. The sad part? As some of you know, all the sexy stuff requires BlackBerry OS 4.5 which according to the presentation will not be available until September. That's not to say some of you aren't running it already, but September guys? For reals? Head on over to the gallery to check it out for yourself, but we'll break down the more interesting stuff here for all you lazy bums:
You can save attachments including audio and video formats.
Full list of supported downloadable attachments are: .doc, .ppt., .xls, .wpd, .txt, .html, .pdf, .zip, and the aforementioned audio / video formats.
File size of attachments is limited to 3MB.
The 4.5 OS will be "available for all BlackBerry's in September." This includes the 8100, 8800, 8820, 8300, 8310, 8120, and the 8110. No 8320 love?
"If a BlackBerry launches before September, it will have 4.5 software."
Addition of push AOL email and Hotmail/MSN accounts.
Click on over to our BlackBerry BIS 2.5 presentation gallery!