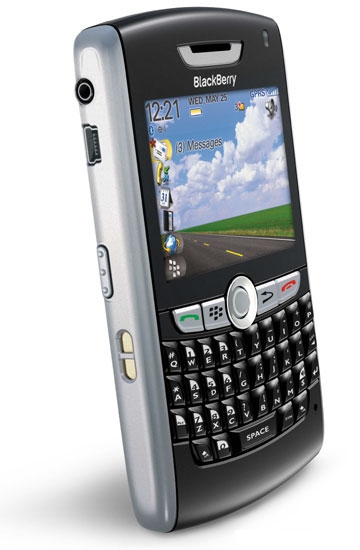 Whoa, that took a while! The big Orange has finally gone and officially let the BlackBerry 8820 out of the bag. We know the specs by now…Yes, this one does have GPS and Wi-Fi. The usual BlackBerry 8800 features also make an appearance with the BlackBerry 8820. Some of these include: XM Satellite Radio, online subscription music from eMusic, push-to-talk, and AT&T Mobile Music. The phone should be available for ordering and available in stores tomorrow. As we first reported, it will sell for $299 with a 2-year agreement. Full press release after the jump!
Thanks, Shlammed
Wi-Fi® is coming to AT&T's BlackBerry® handset customers. AT&T Inc. (NYSE: T) and Research In Motion (RIM) (NASDAQ: RIMM)(TSX: RIM) have announced that the first cellular and Wi-Fi BlackBerry handset – the BlackBerry 8820 – will be available beginning Sept. 20 through the nation's largest wireless provider.
The global Wi-Fi capabilities of the BlackBerry 8820 from AT&T complement AT&T's industry-best domestic and international wide area wireless data coverage. AT&T enterprise customers can use the BlackBerry 8820 with their corporate campus Wi-Fi networks for additional data coverage. Individual customers can use it in their homes and, for an additional charge, at thousands of Wi-Fi locations(i) throughout the U.S., including any of the 10,000 AT&T-owned or branded hot spot locations in the U.S. Users can also take advantage of tens of thousands of hot spots around the globe through such services as AT&T Wi-Fi roaming.
AT&T is the leading provider of BlackBerry services worldwide and boasts the broadest domestic and international coverage area for wireless data services of any U.S. carrier. The BlackBerry 8820 is powered by AT&T's nationwide(ii) EDGE network, the largest high speed national wireless data network in the U.S., with availability in more than 13,000 cities and towns and along some 40,000 miles of major highways. The quadband BlackBerry 8820 from AT&T keeps users who are abroad connected with wireless e-mail, Internet access and other mobile applications through data services in more countries – more than 135 – than any other U.S. carrier. Customers can also use the BlackBerry 8820 to make or receive wireless phone calls in more than 190 countries.
"The new BlackBerry 8820 builds on AT&T's leading domestic and international coverage footprint by giving customers the ability to link with their company's wireless campus network or access e-mail and browse the Web at Wi-Fi hot spots even in the few countries in which we do not have data roaming agreements," said Jeff Bradley, senior vice president- Marketing and Operations for AT&T's wireless unit. "That makes the BlackBerry 8820 from AT&T an exceptional world phone for global use by business customers and individuals alike."
"The BlackBerry 8820 builds upon the sleek and performance-driven BlackBerry 8800 that has been embraced by business professionals around the world," said Mike Lazaridis, president and co-CEO at RIM. "This powerful new model has been eagerly anticipated by the market, and we are very pleased to be working with AT&T to launch the first cellular and Wi-Fi BlackBerry handset for customers in the U.S."
The BlackBerry 8820 provides support for 802.11a, b and g with enterprise security features, extending the BlackBerry platform to business customers at public hot spots and on wireless local area networks. Customers can use a BlackBerry 8820 to link to their enterprise through home Wi-Fi networks. They also will be able to access broadband services, such as the nation's leading service from AT&T – AT&T Yahoo! High Speed Internet.
The BlackBerry 8820 adds Wi-Fi capabilities to its industry-leading set of features, which includes extensive call management and premium phone features, built-in Global Positioning Satellite (GPS) – with support for such solutions as TeleNav GPS Navigator(TM) and TeleNav Track(TM) – AT&T's Push-to-Talk service, Bluetooth® 2.0, built-in media player and a microSD expandable memory slot for music, photo and video storage.
The BlackBerry 8820 also supports AT&T Mobile Music, an integrated, on-the-go music experience that delivers "your music, your way" by providing simple access to a robust collection of music content, including access to online subscription music content from eMusic, XM Satellite Radio and more.
In addition, the BlackBerry 8820 comes with a full QWERTY keyboard, an intuitive trackball navigation system and a large, bright landscape (320 x 240) display. Customers have a vivid and easy-to-use interface for the many popular capabilities of the BlackBerry solution, including mobile access to corporate and personal e-mail, text messages, Web browsing, an organizer, multimedia and corporate data applications.
Pricing and Availability
The BlackBerry 8820 will be available for $299.99 – with a two-year contract and rebate – in all 1,800 AT&T retail stores nationwide, online at http://www.wireless.att.com and through select national retailers and AT&T business-to-business sales organizations.
Customers who want personal e-mail access and Web browsing with BlackBerry® Internet Service can choose the BlackBerry Personal Unlimited plan for as low as $29.99 a month with a qualified voice contract. Unlimited corporate e-mail access via BlackBerry® Enterprise Server is as low as $44.99 a month when a qualified voice plan also is chosen. Customers who travel overseas can select an unlimited international e-mail access plan for as low as $64.99 a month with a qualified voice plan. Unlimited Push to Talk service is available for an additional monthly charge of $9.99 for each handset and $19.99 for Push to Talk Family. AT&T Push to Talk also features a pay-per-use option of 15 cents a minute. XM Satellite Radio and MusicID, which are features within AT&T Mobile Music, require monthly subscription fees of $8.99 and $3.99, respectively. TeleNav GPS Navigator is available for additional monthly charges of $5.99 for 10 trips and $9.99 for unlimited trips. TeleNav Track service plans are $12.99 to $21.99 for each device.
For more information about the BlackBerry 8820 from AT&T, please visit http://www.wireless.att.com/blackberry8820 or http://www.blackberry8820.com.