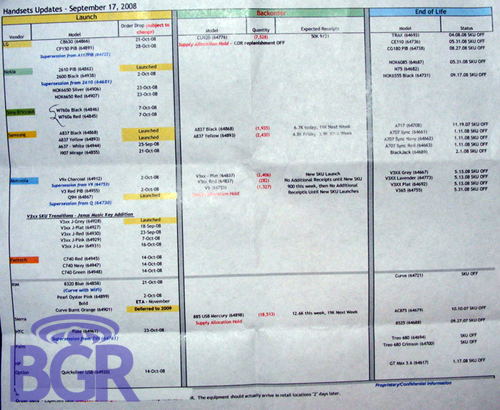 Bear with us folks. We've just got ahold of an AT&T product sheet dated September 17th. Also known as "the most up to date doc you've seen". Before we get into the BlackBerry Bold nonsense, here's a break down on what the sheet says:
HTC Fuze will launch on October 23nd
Motorola V9x (new V9 with GPS) launches on October 2nd
Samsung Mirage i907 (basically our version of the Omnia) launches on October 21st
Pantech C740 in red, navy, and green launches on October 14th
Nokia 6650 launches in red and silver on October 23rd
BlackBerry 8320 in that totally cool color launches on October 21st
BlackBerry Pearl in pink launches on October 2nd
The BlackBerry Curve in "burnt orange" is pushed to "2009".
The regular BlackBerry Curve is discontinued
The Palm Treo 680s are discontinued
Now for the weird stuff… this sheet lists the BlackBerry Bold with a November ETA. We're not so sure what's going on, but we're sticking very firm to our October 2nd launch date on AT&T. There you have it, guys! Larger image after the jump.