Let's get some feedback from anyone out there in the mean streets of Appleville, waiting in line for an iPhone. We want pics, videos, sketches, audio, or anything else you want to send us! We'll update this post as more content rolls in. Send whatever you got to iphone at boygeniusreport dot com For now, where is everyone at, or thinking about going to try and hit up some iPhone stock? We'll be personally at a couple locations across the country. Check out the pictures everyone is sending in after the jump, and leave locations and reports from where you are in the comments!
From Gamze, in New York City: 8 Hours away, outside of a mid-town AT&T store. Only a few people waiting here, and around 100 or more at the 5th Ave store. Around 10:30 AM EDT.
Fulton Street AT&T store, Brooklyn, NY: Around 12 people. 1:00 PM EDT.
From Daniel, in Emeryville, CA. "About 100 people in line. Asked Apple employees how many phones they had, and they said enough." Around 1:28 PM PDT.
From Ken, at an AT&T store in Linwood Plaza in Ft. Lee, New Jersey. Around 30 people in line. 1:41 PM EDT.
From Winster, at an AT&T store in Clifton, NJ. Around 2:10 PM EDT.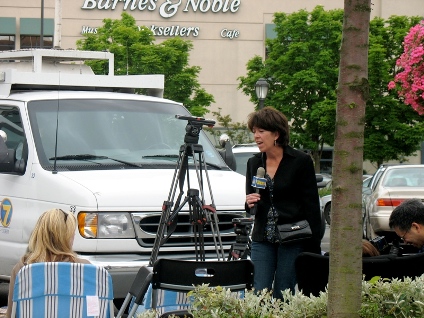 From our very own Joshua Karp, in Seattle, Washington. "Probably 60-75 people." Around 11:39 AM PDT.
From Christopher, at an AT&T store in Delray Beach, Florida. About 30 people in line. 2:50 PM EDT
From Jason, at an Apple store in Northbrook Court, IL. "I'm sitting at the Apple Store at Northbrook Court – arrived at 9:30am and I'm number 41 in line. They have a corral set up, which is now full, and a second line has been started by mall security staff. Coldstone employees handed out ice cream samples, and Apple employees handed out free bottles of SmartWater at 12:15. Brookstone employees are selling foam cushions to sit on for $10. People have already offered me $200 for my spot in the line. Apple won't release any information regarding quantity, but an employee did ask us not to hold spots for people who were not here waiting with us ( i.e. a friend joins the front of the line at 5 p.m.) The group of people is generally well-behaved, and a level of camraderie has already formed. Update: at 1:30 p.m. a second round of water was handed out by Apple employees." 1:58 PM CDT
From James, at an AT&T store in Columbia, South Carolina. About 15 people in line, all male. Around 3:15 EDT.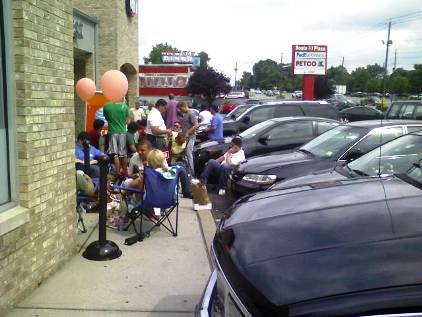 From Winster, at an AT&T store off RT 3, in Clifton, NJ again. "The manager came out and told us not to worry because they will have enough phone for us. There are around 60 people right now." Around 3:40 PM EDT
From Dave, at an AT&T store in Mansfield, New Jersey. They are "playing pranks on the line of 10 outside. Here is the manager Dina holding a "iPhone sold out sign'" So messed up! Around 4:05 PM EDT
From Chris, at the Lenox Road AT&T store in Atlanta, Georgia. "It is dismally hot, I'm getting sunburned, and I broke down and bought a 3G data card to keep myself entertained, but less than 2 hours to go!" Around 4:10 PM EDT.
From Adam, at an AT&T store in Smithtown, NY out on Long Island. "There are about 40 people in line, and the first person got here at 6:30 AM today. There is an Apple store 4 blocks from here in the mall and someone told me that the line in there is twice as long. Rumor has it that this AT&T store has about 50 or so iPhones inside, but the store employees won't tell the people exactly. Hilarious!" Around 4:20 PM EDT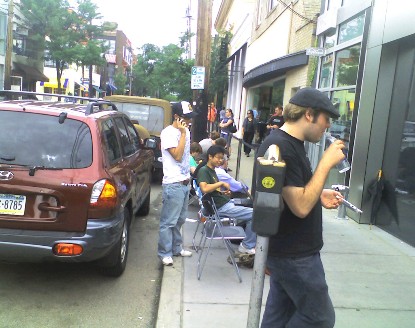 From John, at an Apple store in Pittsburg, PA. "About 150 people spanning about 7 store fronts" Around 4:30 PM EDT
From Scott, in Katy, Texas. "Less than 20 folks here in line at the Katy, TX AT&T store. Katy is just outside Houston." Around 4:55 PM CDT