When Microsoft said its E3 2017 briefing would be packed, it wasn't kidding. We saw over 40 games in just over an hour and a half, including more than 20 console exclusives. We were also introduced to the Xbox One X, which will play games in true 4K and launches on November 7th for $499. But that's just the tip of the iceberg. Scroll on to see everything that happened at the briefing.
Meet the Xbox One X
As promised, Microsoft kicked off its E3 keynote with the unveiled of the Xbox One X. Coming out on November 7th, the Xbox One X will play games in true 4K, has a built-in 4K Blu-ray drive and is compatible with all Xbox One games and accessories. It will actually improve visuals and load times for Xbox One games as well and features "the most advanced processor to ever power a console." Incredibly, it's also the smallest Xbox One on the market, but it'll run consumers a pretty penny at $499.
---
Forza Motorsport 7 looks incredible in 4K
https://www.youtube.com/watch?v=Dokpy_KIuyA
"Experience the danger and beauty of competitive racing at the limit in Forza Motorsport 7. Enjoy gorgeous graphics at 60fps and true 4K resolution in HDR. Collect over 700 Forzavista™ cars, including the largest assortment of Ferraris, Porsches, and Lamborghinis ever. Master over 30 famous environments with race conditions that change every time you race. Available October 3, 2017 on Xbox One and Windows 10."
---
Metro Exodus brings the franchise to the new generation
"Metro Exodus is an epic, story-driven first person shooter from 4A Games that blends deadly combat and stealth with exploration and survival horror in one of the most immersive game worlds ever created. Flee the shattered ruins of dead Moscow and embark on an epic, continent-spanning journey across post-apocalyptic Russia in the greatest Metro adventure yet. Explore the Russian wilderness in vast, non-linear levels and follow a thrilling story-line inspired by the novels of Dmitry Glukhovsky that spans an entire year through spring, summer and autumn to the depths of nuclear winter. Metro Exodus will be departing 2018 on Xbox One, PlayStation 4, and PC!"
---
Assassin's Creed Origins travels to Egypt to restart the series
Ubisoft's press conference isn't until Monday, but the developer brought Assassin's Creed Origins to Microsoft's briefing on Sunday to give fans a first look at the game running on Xbox One X. As good as it looks in 4K, from what we saw, it looks a lot like an Assassin's Creed game (with a few new wrinkles to fit the locale of Egypt). It'll be out on PS4, Xbox One and PC on October 27th.
---
PlayerUnknown's Battlegrounds is coming to Xbox One
https://www.youtube.com/watch?v=m0Tnp-3W3z4
One of the biggest PC games of 2017 is coming exclusively to Xbox One later this year. Of all the third-party exclusives Microsoft announced, PUBG might be the most important for the Xbox One.
---
Deep Rock Galactic is Gears of War + Minecraft
"In Deep Rock Galactic, join a team of badass space dwarves in this stylish one to four player co-op first-person shooter. Fight, dig and explore your way through enormous procedurally generated cave systems, uncover the riches, and make it out alive." A console launch exclusive on Xbox One.
---
State of Decay 2 will make you care about zombies again
"18 months after the zombie apocalypse, the military abandons a refugee camp in small-town America. Those left behind must band together to survive the fall of civilization and the rise of the undead. In State of Decay 2, it's up to you to gather survivors, build a community, and redefine what it means to survive."
---
The Darwin Project is a survival arena game with style
"The Darwin Project is reinventing the battle royale sub-genre. It challenges players to survive the cold and fight to the death in a treacherous, snow-covered arena. In the Darwin Project the environment is as dangerous as the players themselves."
---
This summer, Minecraft multiplayer is going cross-platform
https://www.youtube.com/watch?v=Nq_Q77bJ3H0
Later this year, whether you're playing Minecraft on Xbox One, Nintendo Switch, PC or iPad, you'll be able to connect with players on every other platform. That's what the Better Together Update brings to the game. There's also going to be a Super Duper Graphics Pack to bump the game up to 4K.
---
Black Desert is migrating to Xbox One
Free-to-play MMOs on console have become a trend this generation, but Black Desert Online is one of the most graphically intense MMOs on the market, and it's coming to Xbox One.
---
The Last Night might be the best-looking game of E3
"The Last Night lets you explore a two-dimensional cyberpunk open world, built with four unique districts each with distinct architecture, cultures and industries. Experience action and infiltration gameplay in the great tradition of cinematic platformers and travel between districts using taxis, ferries, or monorail while trying to keep a low profile and remain undetected."
---
I don't know what The Artful Escape is supposed to be
"The Artful Escape of Francis Vendetti is a video game about great expectations, famous folk singers, lingering shadows, space Gods, hallucinogens, individuality, reptile shops, and wild imaginations. It's an action, adventure, exploration, narrative driven, musical-laser-light-battle kind of game and is the debut of release from Beethoven & Dinosaur."
---
Sea of Thieves still looks like an awesome Xbox exclusive
There weren't many first-party games at the Xbox briefing, but Sea of Thieves still looks like a fascinating return to form for Rare. In Sea of Thieves, up to four players become the crew of their own ship, on which they set sail to discover treasure and battle other players. Today, we got to see a little bit more of the exploration, which includes diving underwater and trekking through desert islands.
---
Tacoma is coming out in a couple of months
"Discovery. Exploration. Isolation. What is life like 200,000 miles from Earth? Uncover the mysteries held by Lunar Transfer Station Tacoma and its crew, living at the edge of humanity's reach. Tacoma, the next game from the creators of Gone Home."
---
Super Lucky's Tale is technically not Bubsy
"Super Lucky's Tale is a playground platformer for all ages. Join Lucky, the ever-optimistic, energetic, and lovable hero on his quest to find his inner strength and help his beloved sister rescue the Book of Ages from Jinx. Jinx, the scheming and mysterious villain, is trying to reshape the world…but for what reason?"
---
What is this, the 4th E3 where we've seen Cuphead?
Cuphead is finally coming out on September 29th. Supposedly.
---
Terry Crews introduced Crackdown 3, which was awesome
https://www.youtube.com/watch?v=k_9fG8hPCi0
Crackdown was my favorite Xbox 360 game. Therefore, Crackdown 3 is one of my most anticipated Xbox One games of 2017. And it's coming out on November 7th alongside the Xbox One X.
---
A bunch of indie titles are coming to Xbox One in 2017
ID@Xbox showed out this year with a bunch of great-looking titles, new and old, coming to Xbox One.
---
Ashen has a very distinct look
"Ashen is an action role-playing game is about a wanderer in search of a place to call home. There is no sun, and the only natural light comes from eruptions that cover the land in ash. This is a world where nothing lasts, no matter how tightly you cling to it. At its core, Ashen is about forging relationships. Players can guide those they trust to their camp — together, you might just stand a chance."
---
Life is Strange: Before the Storm is a prequel
"Life is Strange: Before the Storm is a new three part standalone story adventure set three years before the events of the first game. This time play as Chloe Price, a rebel who forms an unlikely friendship with Rachel Amber in dramatic new story in the BAFTA award winning franchise. Life is Strange: Before the Storm Episode 1 releases August 31, 2017 on Xbox One, PlayStation 4 and PC."
---
Let's meet a bunch of the Shadow of War baddies we're gonna kill
The best innovation of Middle-earth: Shadow of Mordor was the Nemesis system, which gave bad guys personalities. In Shadow of War, the team has expanded on the system, allowing players to build armies and take down Nemesis Fortresses. Mordor is going to be way, way bigger this time around.
---
Ori and the Will of the Wisps can't come out soon enough
If you've read my review, you know that Ori and the Blind Forest is one of the best Xbox One exclusives to date. Today, Microsoft's revealed that it's going to get a sequel by the name of Ori and the Will of the Wisps. No release date yet, but it'll be enhanced on Xbox One X.
---
Original Xbox games will be playable on Xbox One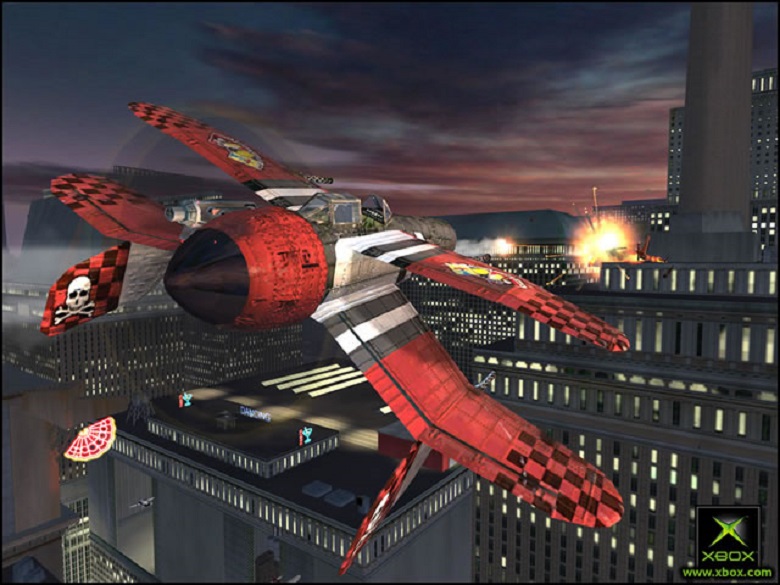 After introducing Xbox 360 backward compatibility back in 2015, Microsoft revealed this E3 that original Xbox games will be joining the program before the end of 2017 as well. Crimson Skies: High Road to Revenge is the only OG Xbox game that we know for sure is going to be backward compatible, but Phil Spencer said that any Xbox games that do join the program will "look and play better."
---
4K updates are coming to several Xbox One games
Several major first-party and third-party games are going to be Xbox One X Enhanced when the console launches, including Gears of War 4, Halo Wars 2, Killer Instinct, Final Fantasy XV and Rocket League.
---
And finally, a look at BioWare's new game, Anthem
All of a sudden, Destiny has some competition. EA announced BioWare's new game Anthem at EA Play on Saturday, but we didn't get to see the game in action until Microsoft's briefing on Sunday. As it turns out, Anthem is an open world third-person shooter that looks a lot like Destiny. Players can team up to explore the world, complete dynamic missions, collect loot and more. Luckily for Bungie, it won't be out until 2018 at the earliest, so Destiny 2 will have this holiday season to itself.