It is happening again, but perhaps not how any of us expected it to happen. The first two parts of an 18-part Twin Peaks limited event series aired on Showtime last night, reintroducing us to characters from the first two seasons and throwing us headlong into a world that stretches far beyond the boundaries of the fictional Washington town. Twin Peaks: The Return is both incredibly faithful and drastically different.
Many prestige dramas kick off every season, or even every episode, with a short recap of the previous season or episode in order to catch viewers up on what happened last time on the show. All David Lynch gives us in the first part of the new Twin Peaks is a flashback to the scene when Laura Palmer told Special Agent Dale Cooper that she would see him again in 25 years before the opening credits start rolling. If you aren't familiar with the first two seasons of Twin Peaks, you are going to be utterly lost.
https://www.youtube.com/watch?v=ujDB5ao1JCg
In true Lynchian style, the opening moments of Twin Peaks: The Return are quiet, indulgent and seemingly pointless. The first thing we see once the iconic Angelo Badalamenti score fades out is the Giant sitting across from Agent Cooper. An inexplicable exchange takes place and Cooper fuzzes out of existence.
Suddenly, we're looking at a house out in the woods. Dr. Lawrence Jacoby — Laura Palmer's eccentric psychiatrist — steps out of the house to accept a shipment of shovels from a delivery man. That's the last we'll see of him for the next two hours.
We then jump to New York City where a young man on a couch in an empty room in a building in midtown Manhattan stares at a glass box pressed up against a wall. There are several cameras pointed at the box, and after a moment, a voice over the intercom says "camera 3," prompting the man to remove and replace the camera's SD card. He stores it away alongside dozens of others.
A woman arrives to drop off some coffee, but the guard by the elevator tells her she can't go in the room with the man. She says she'll be back with more coffee around the same time tomorrow.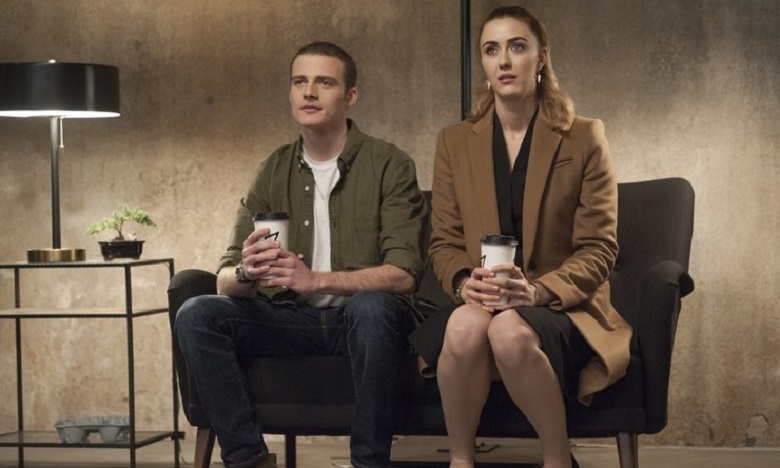 We spend a majority of the next hour jumping between various locales, both familiar and foreign. In fact, we spend less time in Twin Peaks than any of the other locations, but things are more or less the same. Ben Horne is still running The Great Northern Hotel in Twin Peaks, but his brother is no longer involved, having moved on to the more lucrative business of selling marijuana. Lucy is still a ditz at the Sheriff's Department. The Log Lady is still calling people to deliver messages from the log.
But the most compelling stories are happening away from the titular town. Back in New York, Tracy (the curious woman) returns to the empty room with another cup of coffee. This time the guard is missing, so the man invites her to comes into the room with him. They stare at the box for a moment, but quickly become distracted by one another and start having sex. Moments later, the box begins to turn black and a terrifying humanoid creatures appears inside. The two notice the creature seconds before it breaks free, slashing them to shreds in a genuinely shocking, horrifying scene.
In South Dakota, a woman named Ruth has been brutally slaughtered in her bedroom. The police find her head on her pillow, but the body under the covers is someone else's. The fingerprints of a local high school principal named Bill Hastings are found all over the room.
After being placed in a holding cell, Hastings tells his wife that he had a dream he killed Ruth, but swears he didn't actually do it. His wife doesn't believe him, but it appears as though an evil spirit from the Black Lodge — similar to Bob — possessed Bill, at least temporarily.
We also spend a great deal of time with Dale Cooper's doppelganger, who is as evil as ever and has no problem offing people who give him grief. Evil Cooper knows that he's supposed to return to the Black Lodge soon, but will do everything in his power to change fate and stay on earth.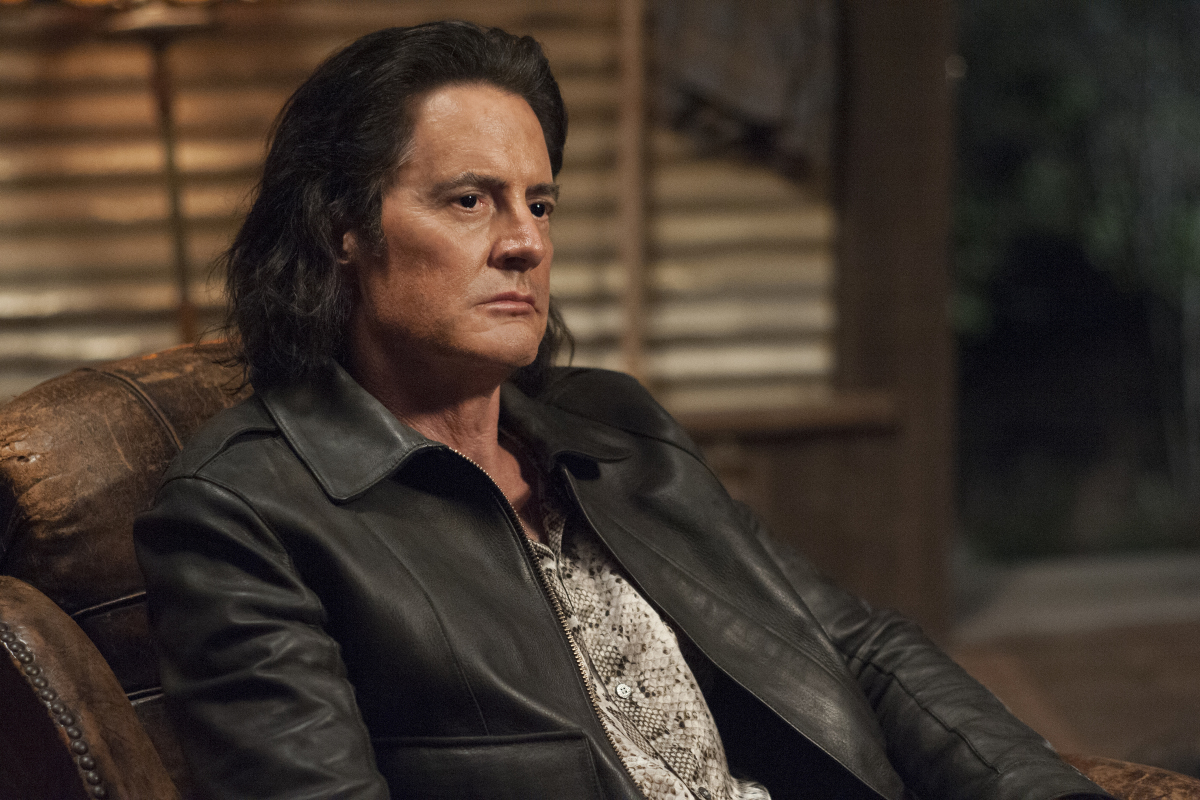 Finally, we're reacquainted with the real Dale Cooper, who is still trapped in the Red Room of the Black Lodge 25 years later. Laura Palmer tells Cooper that it's finally time for him to leave, and then Mike, the one-armed man, leads him to a dead tree with a lump of skin on it in another part of the Red Room. The lump calls itself "the evolution of the arm" (aka The Man from Another Place), and informs Cooper that he won't be able to return to the real world until his doppelganger returns to the Black Lodge.
Evil Cooper continues his killing spree in the real world, taking out a woman who he learns was hired to kill him before making a phone call to a man who tells him that he will go back to the Black Lodge.
Back in the Red Room, Cooper listens to a few more words from the arm before being sent away. He then gets separated from Mike, sees Leland Palmer momentarily, pulls back a curtain to see Evil Cooper driving down a highway and then turns around to see the arm shaking and screaming. At this point, the floor opens up and Cooper falls into water, which sends him down some kind of wormhole that spits him out in the glass box in New York. Seconds later, he disappears down another wormhole.
In the final two scenes, we see Laura Palmer's mother watching an excessively violent nature show on TV before cutting to The Bang Bang Bar in Twin Peaks, where Shelly Johnson is having a beer with some friends and James Hurley walks in while the Chromatics play a live show on stage.
Twin Peaks: The Return is more than a revival of a 26-year-old series. It's a platform for David Lynch to explore whatever ideas spring into his mind, and thus it doesn't look, sound or feel much like the Twin Peaks from the early '90s. This is a bigger, broader, even stranger story than that of Twin Peaks — one which will surprise and delight those who are willing to take the journey, no matter where it leads.