The New England Patriots and the Philadelphia Eagles will face off in Super Bowl LII on Sunday, but that's not necessarily the event everyone will be interested in this weekend.
You see, the hit NBC show This Is Us, which usually airs on Tuesdays, has a very special episode planned for right after this year's Super Bowl game ends. It's probably the most anticipated episode of the whole show, as it'll finally tell us how Jack Pearson dies – beware, some spoilers follow.
First things first, what time does the episode 14 (Super Bowl Sunday) air? Well, that's 10:15 PM EST, but it might be a bit later, depending on when the game will end. The episode is three minutes longer than usual, but Entertainment Weekly explains your DVR will have it listed at running 80 minutes, to account for the game's duration.
Why does the episode air on a Sunday? Because Super Bowl 2018 will mark the 20th anniversary of Jack's death, a tragic event that took place on the night of Super Bowl 1998, scaring the Pearsons for life.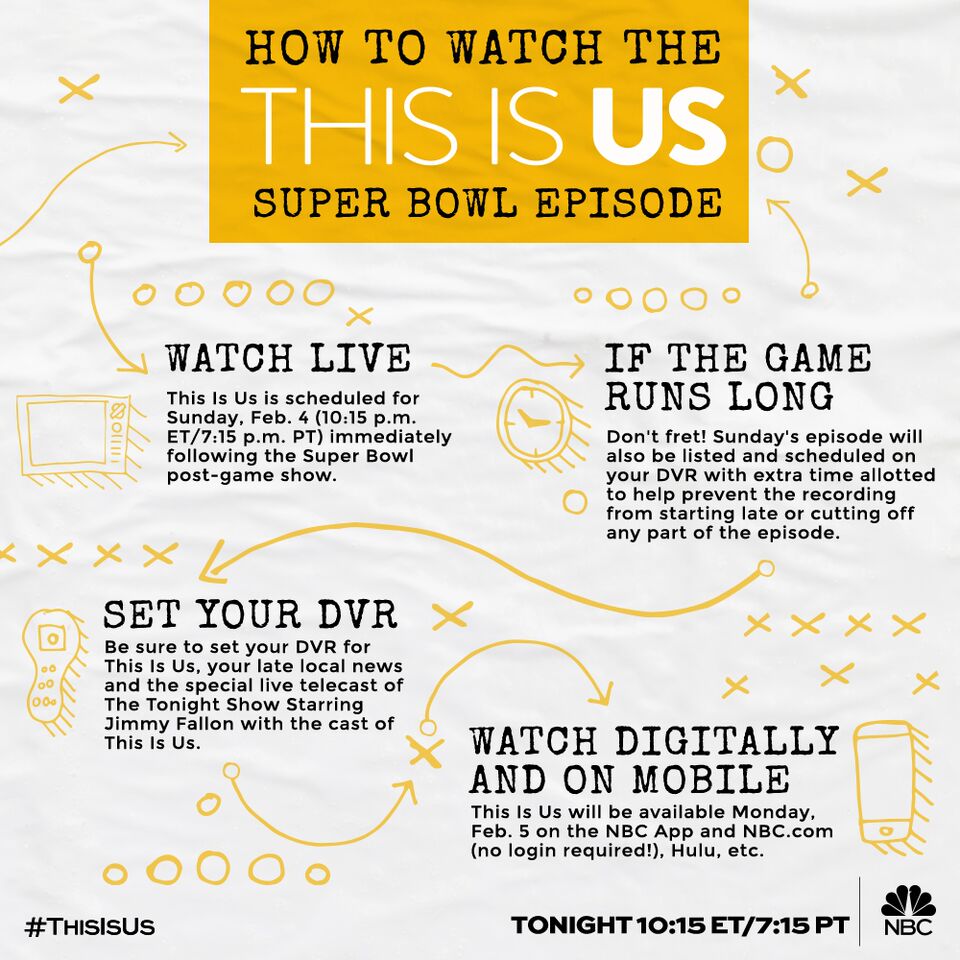 In episode 13 (That'll Be the Day) that aired on January 23rd, the pieces of the puzzle started coming together. A broken crock pot caught on fire right after everybody went to sleep, igniting the Pearson residence. Jack and Rebecca are at home sleeping and so are two of their children, including Randall and Kate. Kevin, meanwhile, is over at his girlfriend's house Sophie.
Super Bowl Sunday will switch back and forth between this year's game night and the 1998 Super Bowl.
"All of the stuff people might be theorizing about regarding Jack's death will get wrapped up in this episode," show creator Dan Fogelman told USA Today. "I think people are going to be satisfied and, in … ways they don't see coming, they're going to be really surprised."
"[It's] a continuation of where we left off (in the Jan. 23 episode) with the fire starting to spread," Fogelman says. "In the present day, we're connecting with characters as they're contemplating the 20th anniversary of that fire."
"Kate is self-examining, Randall is, in his own way, celebrating his father and Kevin (considers) his history with his father," he added.
The episode has some "heartbreakingly sad" moments, as well as "hold-your-breath thrilling" scenes, particularly the opening six-minute one, the exec revealed.
We're also going to find out why Kate has a problem with dogs, something the show creators "have been setting up for quite a while."
Even if you haven't seen This Is Us so far, you could just watch the Super Bowl special episode after you're done with the game and still get the gist of it. "This isn't Lost. It's not so complicated. I think it's pretty easy to dive in if you want to," Fogelman says. "I think it's very possible to watch this as the first episode you've ever seen, and then (go to) episode 1."
So there you have it, folks! Don't forget to watch This Is Us after Super Bowl LII on Sunday, or set your DVRs to record it. It's finally time to find out how the best imperfect father figure in current TV series, the drunk who'd do anything for his family and whom you've grown to love over the past two years, will actually die.
Here's the trailer for this week's episode: