The parent company of Snapchat is working on something new, along the lines of this AR "game" I've swiped across a few different lenses in the app to get to — past the morbidly obese cat dancing to some jams, past the lens that gives me a goatee. It's one of those games to the far left in the app, this one having me "tap" on falling animated water bottles to keep them from polluting a beach.
After getting mercilessly hammered by its much larger competition that's copied the app's key features with abandon, Snap Inc. is getting ready to launch a gaming platform inside the app. That's according to a report in The Information, which says the platform coming this fall will let outside developers create games to play in the app and that the company has already lined up at least one gaming publisher to participate.
This is reportedly an attempt for Snap to finally put some distance between it and especially Instagram, which has surged past 1 billion users thanks in part to a seamless integration of the Stories idea that Snap pioneered.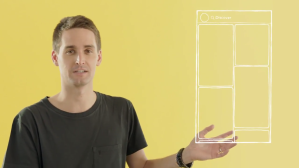 The report in The Information also makes note of Snap CEO Evan Spiegel's admiration for Tencent, the business model of which sees the Chinese multinational score almost 40 percent of its revenue from WeChat in-game purchases.
Wall Street didn't seem too impressed by the news of the coming platform today, as Snap's share price of $12.96 rose about 1 percent this morning on the news but is still not trading very high above the stock's 52-week low of $10.50.
Zuckerberg & Co. will no doubt be watching this closely, as many of the better features that have materialized in the FB empire lately have been inspired by Snap. (To be sure, you can already play short games inside something like FB Messenger.)
As noted, such as with the water bottle experience, Snap has also already been dipping its toes into the world of simple AR games called Snappables. They tend to incorporate Snap's camera in a way that makes you, say, raise your eyebrows a certain number of times or fast enough to accomplish a task. You do that, and then you can also challenge a friend to do the same.
Per TechCrunch, "Snap simply seems to be striving to be the app that's home to several of these experiences. This is an advantage Snapchat still seems to hold over Facebook and Instagram's in-app cameras, which anecdotally don't seem to be used very heavily by users, though the companies have not released usage numbers."