Over two months after the launch of Pokemon Sun and Pokemon Moon, the Pokemon Bank application has finally been updated to work with the latest portable entries in the series.
For those of you who have never heard of the app, Pokemon Bank is a paid service that allows Pokemon players to transfer their Pokemon from one game to another. Starting this week, players will be able to transfer creatures from virtually any Pokemon game on the 3DS, including the Virtual Console versions of the Game Boy games Pokémon Red, Pokémon Blue, and Pokémon Yellow.
Before you start transferring your Pokemon all willy-nilly, you should read the fine print:
"If you transfer a Pokémon to Pokémon Bank and then on to Pokémon Sun or Pokémon Moon from Pokémon Omega Ruby, Pokémon Alpha Sapphire, Pokémon X, or Pokémon Y, you'll be unable to transfer it back to Pokémon Omega Ruby, Pokémon Alpha Sapphire, Pokémon X, or Pokémon Y."
Here's a graphic explaining how the transfer process works from game to game: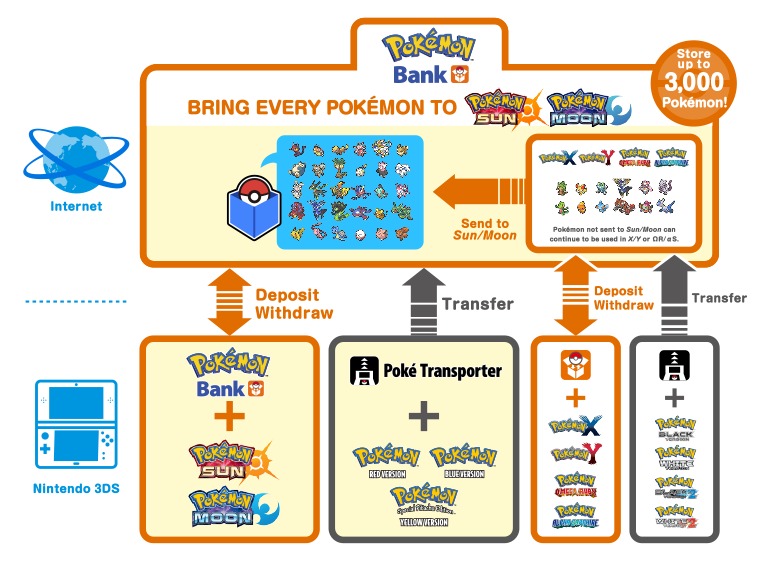 Subscriptions for Pokemon Bank accounts cost $4.99 a year, but Nintendo is sweetening the pot for anyone who signs up soon. According to a post on the Pokemon Sun and Moon website, Nintendo is offering Mewnium Z — a Z-Crystal for Mew — to all subscribers. Just be sure to use Pokemon Bank before October 2nd, 2017 and you'll receive your own Mewnium Z via the Mystery Gift function.
No word yet on whether or not the app will eventually work with Pokemon Go as well.