Nintendo doesn't plan on sharing any more information about the Switch until next year, but over the weekend, a listing for the console was discovered on Toys R Us Canada's website. That's not surprising in and of itself, but what is surprising is that the listing included a price — which is one vital piece of information that Nintendo hasn't officially revealed yet (and likely won't for months).
DON'T MISS: The 5 best new features coming to your iPhone in iOS 10.2
According to the listing, the Nintendo Switch will launch at a price point of $329.99 in Canada, which would likely translate to around $250 in the United States and €250 in Europe. Here's a screenshot of the listing from Wccftech: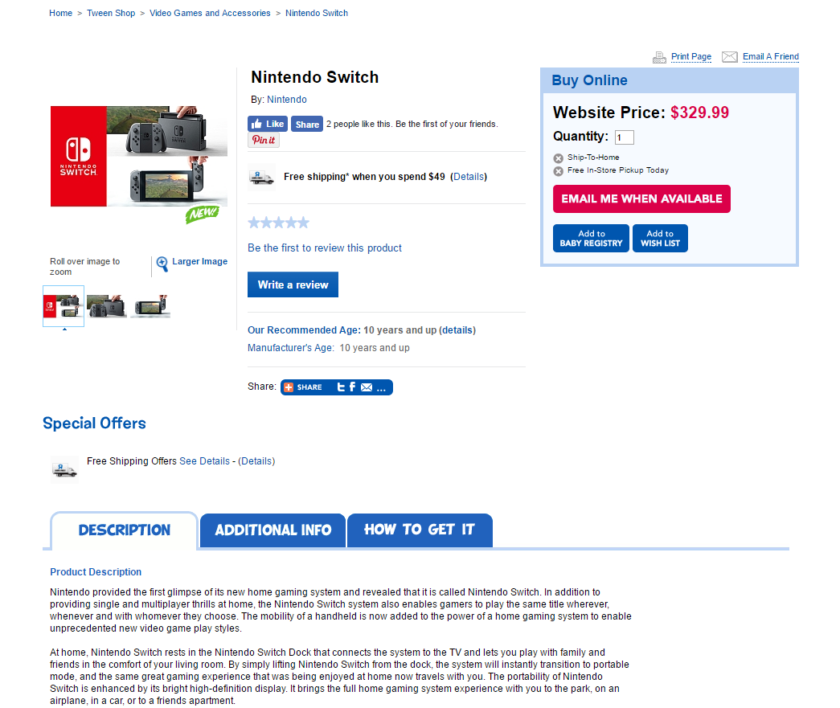 The listing has since been removed, but if the leaked price turns out to be real, many Nintendo fans (and gamers in general) will be able to breathe a sigh of relief. As I noted in an earlier piece about the Switch, Nintendo has no choice but to price the console competitively. You can buy an Xbox One S or Slim PS4 bundle for $250 this Black Friday — $300 or more could be a deal-breaker for the Switch.
On the other hand, the Switch isn't expected to launch until next March. Whether or not Toys R Us Canada has actually received any information from Nintendo about the price of the console or not, there's no way to verify the accuracy of the listing. So for now, we'll keep our expectations low and wait for more substantive leaks (or an official announcement from Nintendo itself).