When word emerged last week that Friends was poised to leave Netflix at the end of the year, fans of the hit show made their disappointment abundantly clear across all of social media. Indeed, the backlash was so strong and pervasive that it didn't take long for Netflix to cave and ink a $100 million deal to keep Friends available through the end of 2019.
The saga above helps illustrate the predicament Netflix seems to be finding itself in with increasing regularity these days. Because the company doesn't own some of its most popular content, and because content owners are finally starting to view Netflix as a legitimate competitive threat, some of the more popular shows on Netflix have either already left or are poised to leave in the near future.
That's the bad news. The good news is that Netflix is churning out enough compelling content as to outweigh the negative impact experienced when a popular show leaves the platform. In other words, there will likely be grumbling when Friends finally does leave Netflix, but it shouldn't have much of an impact on Netflix's overall subscriber numbers.
The following chart from 7Park Data courtesy of Yahoo is particularly illustrative.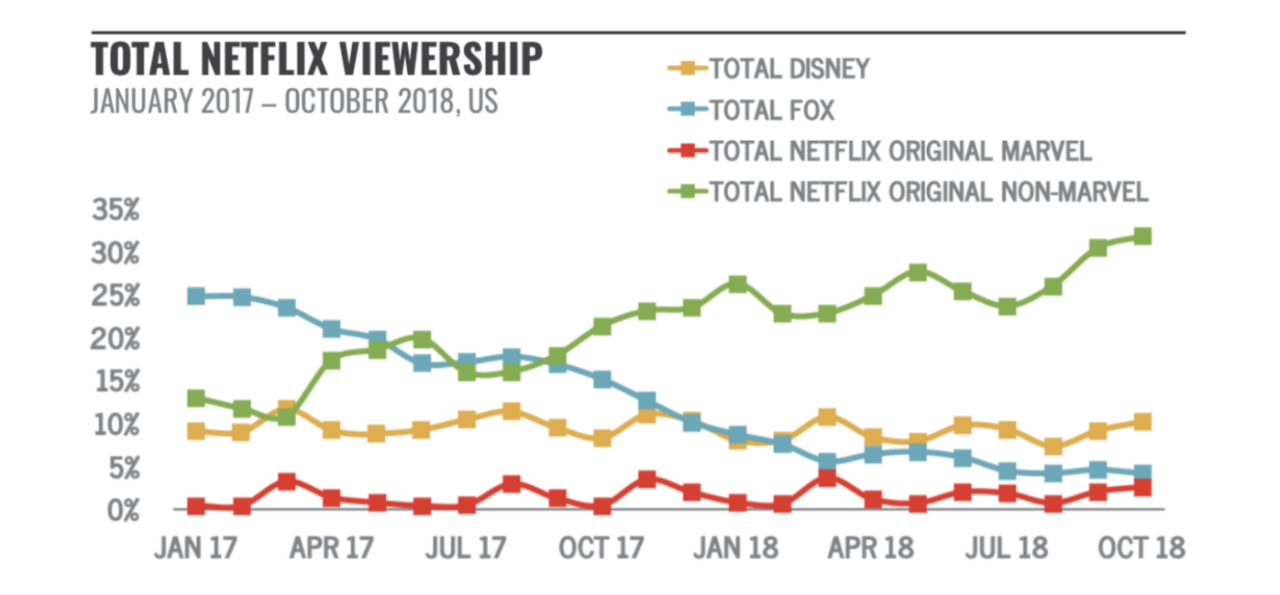 As you can see above, viewership has increased even as hit shows have left the streaming giant.
The viewership decline in Fox content on Netflix over the same time period is largely attributed to "Family Guy" and "How I Met Your Mother" being pulled for placement on Hulu instead. Following Disney's acquisition of 21st Century Fox, the media giant is poised to own nearly all of Hulu. Disney is also preparing to pull its own content, including Marvel titles, from Netflix to be featured on its own streaming service called Disney+ when it launches in 2019.
Indeed, there's a long list of Fox shows that left Netflix over the past two years, including popular titles like Futurama, Malcolm in the Middle, Prison Break, and more. Still, the encouraging thing for Netflix is that an increasing percentage of its hit shows are Netflix originals. With this in mind, it's hardly a surprise that Netflix in 2018 released an astounding 676 hours or original content.
On a related note, Netflix chief content officer Ted Sarandos a few months back indicated that the company is aiming to spend 85% of its content expenditures on original content. Sarandos also added that Netflix by the end of 2018 will have upwards of 1,000 original programs, an impressive figure given that Netflix only got into the original content game just a few years ago.
All that said, Netflix's subscriber base shouldn't take much of a hit, if any at all, as popular shows from other media entities inevitably leave the platform over the next few years.