Netflix may be the best place to watch original programming, but if you're a movie buff in the United States or the UK, Netflix doesn't really have a whole lot to offer you. Thanks to Netflix's increasingly laser-like focus on developing original content, the streaming giant hasn't been afraid to say goodbye to expensive licensing deals with movie studios expire. As a prime example, Netflix last year opted not to renew its deal with Epix, and in turn lost thousands of films, including blockbuster hits like The Wolf of Wall Street and The Hunger Games: Catching Fire.
DON'T MISS: Google's new Pixel XL is no match for iPhone 7 Plus in one key area
Now the quantity and quality of Netflix's movie library varies from region to region, and according to a recent study carried out by Streaming Observer, Netflix's movie selection in the U.S and the U.K. is particularly shoddy.
After taking a look at the top 250 ranked movies on IMDB, the site discovered that Netflix in the U.S. and the UK only housed 33 and 28 of them, respectively. In stark contrast, Netflix Brazil houses 85 movies from IMDB's vaunted list.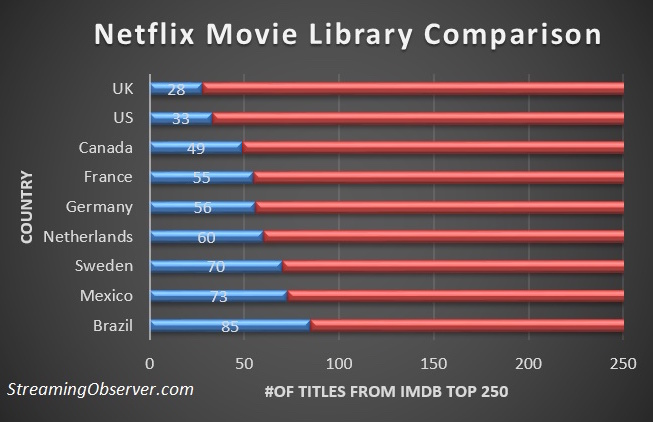 This of course may not come as too much of a shock given that Netflix's content library is 40% smaller today than it was four years ago.
As Exstreamist pointed out a few months ago:
Over the past four years Netflix has seen a massive decline in the number of titles available to stream through their service. At our last count, with numbers pulled from uNoGS, Netflix in the US currently has just over 5,100 movies and TV shows available. Back towards the end of 2012 and early 2013, according to sources formerly at Netflix, the title count was nearly 9,000, meaning we have seen the total title count drop over 40% in the past four years.
That said, the significance of this is debatable given Netflix's ongoing ability to introduce incredibly addicting original programming at an impressively consistent rate.