Netflix tends to be seen as the most high-profile among the streaming video content providers — the one with the most cachet, the one with the buzziest original productions, the one actors and directors increasingly pursue projects with. You get the idea. Except, well, that doesn't really tell the most accurate story about the streaming video landscape.
A new study has found that Hulu, not Netflix, dominates when it comes to the streaming TV content on offer — both in terms of quantity and quality.
Online streaming guide Reelgood decided to crunch some numbers related to the five major streaming services (Netflix, Hulu, Amazon's Prime Video offering, HBO and Showtime) to see which one gives consumers the best bang for their buck. Here's what they found:
Hulu is far and away the leader in terms of quantity, with a catalog of 1,784 TV shows, while Prime Video has the largest inventory of movies to watch (more than 10,700).
Quantity is one thing, of course, but what about quality?
For purposes of their study, Reelgood turned to IMDb scores, which they decided to set at 7.5 or higher as a metric for "high-quality" movies and 8.0 or higher for shows. Using that as the yardstick, Netflix and Prime Video come out on top when ranking movies, with 105 each that the study classifies as "high-quality."
"Meanwhile," according to the study, "Hulu continues to dominate in the field of TV with 167 shows deemed high quality, with Netflix coming in next in line with 158 quality titles. Seeing Netflix serve up such a high number suggests their increased original content strategy might be paying off after all."
Here's a look at the results in chart form: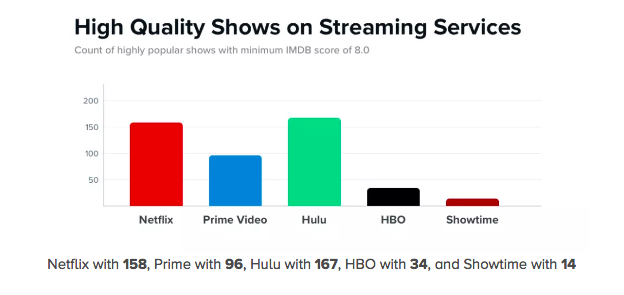 If you drop the minimum IMDb score down to 6.5 for shows, Hulu still comes out on top.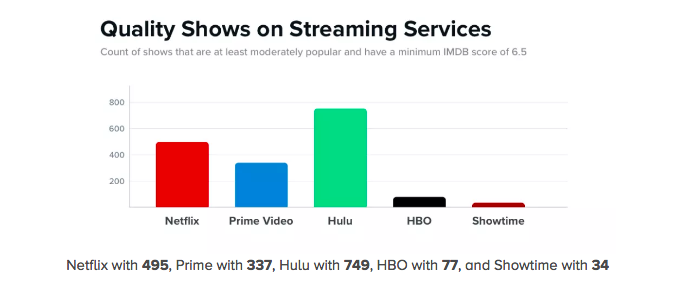 The study goes on to investigate which service gives you the best quality television offering at the best value. While Hulu is of course slightly more expensive than Netflix ($12 a month, compared to Netflix's $10.99), the study found you get the best bang for your buck with Hulu in terms of the total number of quality shows for each dollar spent. In terms of the number of "high-quality" shows you get for each dollar you spend, Hulu and Netflix tie there.
One thing all this reinforces is that Netflix stopped trying to be the Walmart of streaming content a long time ago, where the game is now to try to have the best content instead of chasing the long tail of something for everyone. You also see that in terms of Netflix's huge investment in quality original content, a game Hulu is also trying to excel at with its critically acclaimed offerings like The Handmaid's Tale.
"Ultimately," the study concludes, "every viewer is unique, and you have to make subscription decisions based on what you'll actually watch. If you're looking for data-based results, then Hulu and Netflix are the best bargains in the streaming world when it comes to top-notch series and films."