Cord cutting is happening faster than anyone predicted, and it's taking down the big cable companies with it. AT&T lost nearly 400,000 traditional cable subscribers last quarter, more than even the most pessimistic forecasts. The company posted a net loss of 90,000 pay TV subscribers, which when you factor in the 300,000 DirecTV Now subscribers added, means that 390,000 traditional TV subscribers jumped ship in just 3 months.
A lot is being made of "skinny bundles" and streaming services, $35-a-month lite alternatives to the traditional cable bundle. But according to the CEO of Activate, one of the biggest tech and media consulting firms, skinny TV isn't going to save anything.
"We don't think that this is gonna really take off," Activate CEO Michael Wolf said during the WSJ.D Live conference this week. Wolf doesn't see the value difference between skinny TV and traditional internet-cable bundles. When you add a streaming service (typically $35 to $40 for around 50 channels, with an additional $15 for extras like HBO or Showtime) to the base cost of broadband — prices of which are slowly being jacked up — you're not really better off than a traditional TV bundle.
Activate points to the "churn rate," or turnover of customers, to support its thesis. Virtual Pay TV, or streaming TV bundles, have a churn rate of around 50%. That's far in excess of the 1% that traditional cable sees.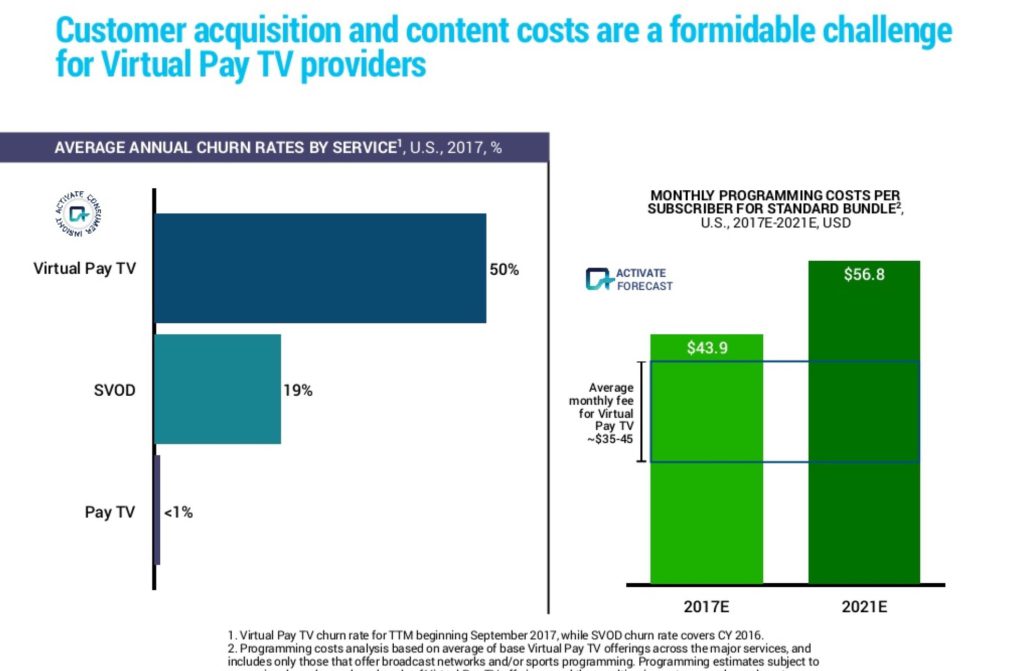 Another problem is that the big content owners — who often overlap with the big cable companies, like Comcast/NBCUniversal — have no incentive to promote skinny bundles. Many content providers have "minimum penetration policies" in place that force video and cable providers to bundle expensive channels like sports into any bundle that reaches more than 15% of its customers. As cord cutting becomes more prevalent, those kinds of policies will likely lead to skinny TV bundles getting fatter and fatter, until they look exactly like cable.
Real change isn't going to come from a cable TV alternative that just matches existing cable packages, but serves them over the internet rather than cable. Instead, it's the shift in who owns the content that will be the real driver for change. Netflix is already investing in original content at a blistering pace, as is Amazon. Disney is also planning on releasing a streaming service for its own content in the near future, which will be a massive shift.
Moving away from a middle-man system of cable companies, onto a system where you buying streaming rights directly from the content owner is the only thing that will really cut the cord once and for all. Let's just hope we can all afford it.