The masterminds behind the mobile smash hit Angry Birds are back with a game that has nothing to do with birds. Battle Bay is the most interesting new free game on the App Store this week, but the toys-to-life game Lightseekers has gotten some buzz as well. There's also a pretty slick looking CCG on the list for those of you who are sick and tired of getting crushed by Pirate Warriors in Hearthstone.
Battle Bay
Face off against real opponents and own the waves in real-time team battles.

A real-time multiplayer battle arena in your pocket. Choose a ship, slap some guns on it and take to the waves with your fleet of teammates to trounce live opponents in five-on-five PvP contests of seafaring strategy and firepower. Smile and wave goodbye to your enemies!

Mobile Multiplayer Mayhem
The thrilling competitive fun of a team battle arena, right on your mobile device. Join a fleet of allies and take on competitors the world over in bite-sized battles among the rolling waves – all while you wait for the bus.

Choose A Ship
Choose between 5 ships, each with their own speciality – the Enforcer packs a powerful offensive punch, the Defender is a nearly indestructible floating tank, the Shooter can equip more weapons than you will ever need, the Speeder stays in the action with acceleration and agility, and the Fixer keeps your teammates floating. Upgrade your ships for more health, defence, speed, and firepower!

Weapons, Armor, Items, Abilities
Cannons, torpedoes, grenades – Collect, fuse and modify items with almost infinite variations. Choose from an arsenal of destructive or defensive items to fit your fighting style. Whatever it takes to keep you and your team afloat.

Get Strategic
Attack your enemies with a full on offensive assault, or play defense and capture the point. With different classes of ships to choose – each with their own unique abilities, and a motherload of weapons, armor, items, and perks, there is plenty of room for a wide range of battle strategies.

Join a Guild
Team up with your friends in a guild to chat with your guildmates while you conquer your enemies in combat. Guild leaderboards pit your crew against other bands of blast-happy captains. Who will be the best?

Quests, Achievements and Tournaments
Finish quests to earn gold and sugar or go on a quest marathon for a chance to earn rare loot! Achievements like destroying an enemy boat with your burning husk will earn you pearls you can exchange for just about anything! Also, prove your mettle by competing in a new tournament every 2 weeks for exclusive rewards!

VIP Subscription
Battle Bay offers a VIP subscription service that grants VIP Members exclusive benefits every week or every month.

VIP Subscription Benefits:
– +50% Ad-Free bonus to Battle Rewards
– 20% faster Crew Training
– One free Daily Shop Refresh
– Access to the VIP Chat Channel.
Download Battle Bay free on the App Store
---
Blitz Brigade: Rival Tactics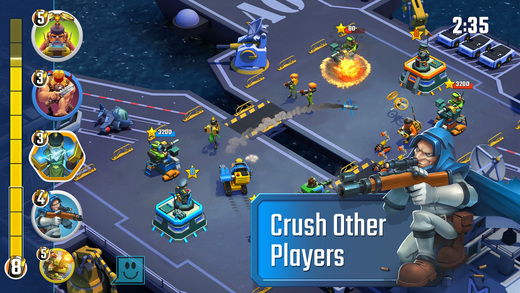 The most badass gun show on mobile just got upgraded with the latest in real-time tactical combat!

In Blitz Brigade: Rival Tactics, deploy unit after unit in a fast-paced tactical game that lets you build an 8-man squad of doom from a pool of dozens of heroes, vehicles and power-ups. Will you deploy a steady stream of light and agile troops or bet it all on a few crushing waves of armored vehicular carnage? Will you run in guns blazing through the enemy frontline or battle them from afar with rockets and artillery? The combinations and strategies are infinite!
Supplies and goodies provided by Central Command will keep your army growing and open up new pathways to destruction. Do well on the battlefield, and you will be rewarded with crates full of weapons and tools of mayhem to collect and upgrade.
Expand the Blitz Brigade saga as you recruit iconic heroes like the notorious Satoru Hokama, the always dapper Duncan McCracken, and the explosive Albert Donati to your squad!

Join old friends and new allies in a vibrant reimagining of the Blitz Brigade universe and become the greatest commander of all!
• Fight in skirmishes with rivals from all around the world.
• Unlock, upgrade, and deploy dozens of units and power-ups in all-out war.
• Join a Faction and build a strong community of allies.
• Receive gifts and donations from Faction buddies and help them advance up the ladder.
• Collect and use iconic characters from the world of Blitz Brigade.
Download Blitz Brigade: Rival Tactics free on the App Store
---
Clash Tank.io
Clash Tank.io, a game with gunpowder!

The classic Tank Battle from your childhood has upgraded to Clash Tank.io. With its epic battlefield, unique gameplay, simple operation, the game has opened a new era of casual competitive game. Drive your tank and fire as your wish!

In the vast battlefield, you need both operation and strategy! At the beginning, everyone starts from a junior tank driver, with endless efforts, you will have great chance to be the invincible commander!

Gameplay
When the game begins, you need to control the joystick to let your tank covering little dots on map, which will increase your experience and get your tank upgraded.
You can control your tank to fire and speed up to chase enemy or evacuate.
Watch out those attacks from other tanks! The best defense is offense! Fire toward your enemy and destroy them!
It is necessary to use repairing items on map properly.
When you try to destroy BOSS, you can turn into Boss's tank. You will be given mighty power to ruin other tanks all.
If you achieve a great score, don't forget to share with you friend. You will be surprised after sharing!
Download Clash Tank.io free on the App Store
---
Gladiator Heroes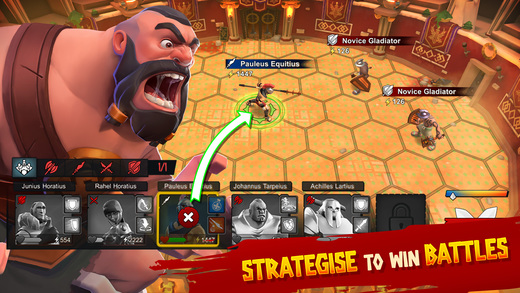 Construct gladiator academies, armories, infirmaries, government buildings, and arenas as you unlock a diverse map, with jungles, deserts, mountains, and volcanoes. Build, manage, and defend your territory, as you conquer new worlds and solidify your place in history. What you do in life echoes in eternity, so step into the arena and defend your empire, in Gladiator Heroes! You are both a warrior and an emperor in this new and exciting strategy game.

The more prosperous your empire becomes, the better the gladiators and weaponry that you acquire. Design, train and outfit your warriors, and then lead them into deadly battles where they can show off their newly acquired skills and weapons. Bask in the glory as your small village grows into a formidable empire, and your young, untrained gladiators become the most fearsome opponents.

Show your strength and defend your honor in Gladiator Heroes. Those who are about to die, salute you!

GAME FEATURES:
* MULTIPLAYER! Play with friends and compete in the rankings. Discover new player divisions and the auto combat feature.
* You control the construction and growth of your cities.
* Fight in a variety of impressive arenas throughout the empire, from sweltering deserts to snowy tundra
* Win gold, weaponry, and new skills in deadly showdowns
* Place your gladiators strategically to take out their opponents
* Design, name and train your gladiators, then watch at they evolve into indomitable killers
Download Gladiator Heroes free on the App Store
---
Lightseekers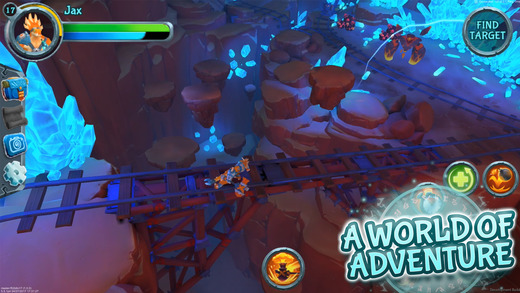 Lightseekers – the next generation action adventure RPG that connects smart action figures, trading cards and more!

Join the Lightseekers, save Tantos from the invading umbron and become a legend!
Explore beautiful and fantastic lands, meet colorful characters, battle feared beasts and quest to uncover the world's mysterious past.

Grow your powers through epic gear and new abilities. Collect pets & companions that fight alongside you. Supercharge your weapons with the elemental powers of rare Lightstones and become the most powerful Lightseeker ever! As your hero evolves, so does the world around you. New lands to explore, quests to face, enemies to defeat and powerful gear to equip are added often based on what you, the Lightseekers community, tell us you want.

Add optional smart action figures, interchangeable weapons, motion controlled flight packs and augmented reality trading cards (sold separately) to take your play to the next level! The game, cards, and figures can each be enjoyed on their own, but together they create next level connected play.
Download Lightseekers free on the App Store
---
rvlvr.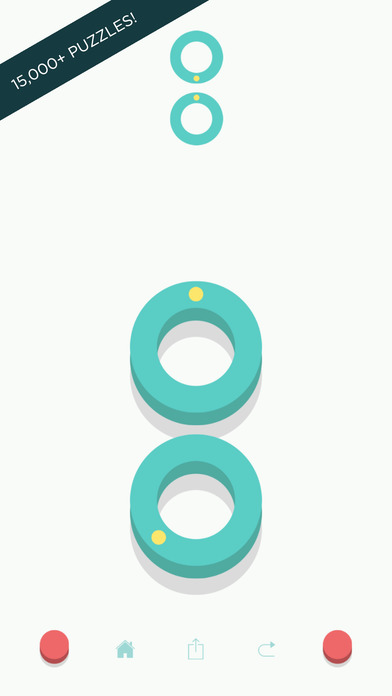 Welcome to a whimsical journey of thousands, and thousands, and thousands of puzzles.

With a lovely visual palette, quirky soundtrack, smile-inducing sound effects, intuitive controls, and a seemingly endless array of puzzles, rvlvr. will keep you engaged for days on end with it's clever rotating game mechanic and progressive difficulty system.

Tap. Rotate. Furrow your brow. Scratch your head.

Wash. Rinse. Repeat.

And don't forget to check Game Centre leaderboards to see who has completed the most puzzles!

FEATURES:

• Unique rotating puzzle mechanic
• Lovely, clean visuals
• Simple, intuitive controls
• Over 15,000 (yes FIFTEEN THOUSAND!) puzzle combinations
• Free to play
• Whimsical soundtrack
• Game Centre Leaderboard
• Social sharing with friends
• Option to skip levels
Download rvlvr. free on the App Store
---
Storm Wars CCG
Lightning-fast card battles. Captivating deck building. Infinite strategy.

Recruit heroes, build decks and watch battles instantly. Deep card mechanics and insane deck strategies, with hundreds of cards to collect. Battles are automated and resolve as quickly as you wish to view them – for fans of MTG, Duelyst and Hearthstone, it's a whole new way to get your CCG rush!

New players trying out their first CCG will find decks easy to build and card-battles fun to watch. Pros will love the thrill of intense PVP battles, beautiful graphics, and unlimited strategies. Welcome to Storm Wars!

• Deep Deck Building Strategy•
With over 250 unique cards to place in your deck (each with their own stats and special abilities), 24 powerful heroes, and no deck building limits, the strategic possibilities are endless! The immense variety of heroes, cards, equipment slots, and other features provide a depth of strategic options unparalleled in other CCGs and TCGs.

• Lightning-Fast Battles •
Epic battles in under a minute! Build your custom army, choose an opponent, and watch the chaos as the battle unfolds. Your deck takes center stage as the intensity of the fight picks up. Play alone, or take up arms in PVP tournaments. Whether you are playing at home or on the go, victory is as close as a click of a button.

•Immersive Campaign •
Explore a detailed fantasy universe complete with 6 distinct races and an extended single-player campaign. Fans of Hearthstone will love the engaging story and visual experience. Develop your favorite card-battle strategies while unlocking more content – use your newfound skills to conquer the world!

• Intense PVP •
Face off in ranked matches against real opponents all around the world in the Arena, participate in daily tournaments, or engage in direct challenges with friends and foes. Join a crew (guild) or found your own, and battle your way to the top of the leaderboards to achieve fame and glory!

• Unlimited Strategy •
With the hundreds of unique cards, artifacts, and heroes to choose from, no two decks are alike! Discover new heroes, experiment with card strategy, and destroy your opponents. What strategy will you use to conquer Atlantea?