Whether you want to shoot zombies, crash cars into inanimate objects or punch Batman in the face, we've got you covered with this week's selection of free iOS games. Injustice 2 is the big name this week, but don't sleep on Crash Club. It's one of the more entertaining multiplayer games I've played on my iPhone in a long time. Oh, and there's a Pirates-themed Clash of Clans too, if you're into that.
Armor Riders
Armor Riders is a side scrolling Shoot 'Em Up with hours of intense action. Run, ride, and SHOOT your way across hundreds of levels, crazy boss fights, and 6 different game modes!

FEATURES
◉ Intense SHMUP action
◉ 8 characters, 12 armors, 12 vehicles, and 2 pets to collect
◉ Rich progression and power-up system
◉ Huge variety of enemies to battle
◉ Extremely exciting BOSS fights
◉ Over 900 levels across 6 different game modes. You'll be playing for hours!
Download Armor Riders free on the App Store
---
Bit Heroes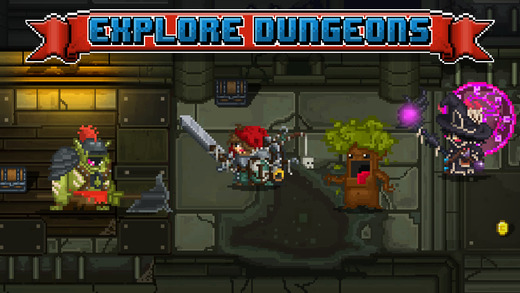 Explore a vast new MMORPG world inspired by your favorite 8-bit & 16-bit dungeon crawlers.

Bit Heroes captures that charm and nostalgia of your favorite RPGs, delivering them seamlessly to your mobile device.

Collect and craft thousands of pieces of loot to increase your power. Build your team by capturing monsters and bosses to fight at your side in old school, turn-based combat. Prove you're the mightiest hero in the land by competing in the PvP arena, Raids, and weekly events for awesome prizes! Take your most powerful friends and guildmates along to battle at your side!

Key Features:
*Retro dungeon crawling adventure!
*A statue in the main town of the top global PvP player!
*Four vast zones with over 52 randomly-generated levels and raids.
*Thousands of mix and match pieces of loot to upgrade, craft, and recycle.
*Capture and evolve over 100 creatures to fight by your side! (including powerful bosses).
*Equip fantastic pets such as floating pizza, tiny unicorns, and more!
*Team up with friends to tackle ultra-difficult dungeons to find great treasure!
*Level up your guild to unlock a special shop with powerful bonuses.
*Share stories and swap strategies with World Chat and Guild chat.
*Original chiptunes soundtrack that sounds like it was ripped straight from a NES cartridge.
Download Bit Heroes free on the App Store
---
Crash Club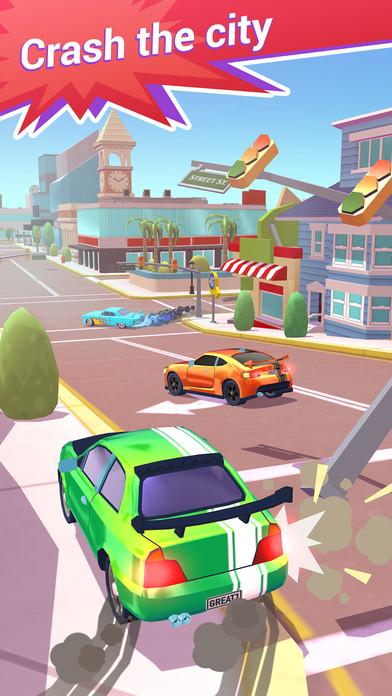 No races, no rules! Drive anywhere you want in a big coastal city, break everything and take down other drivers for points to rule the leaderboard!

Massively multiplayer action with over 30 players live and real time in every game. Everything can be crashed, with weapons and abilities available right in the middle of the action.

Over 25 unique car makes and countless model varieties, with infinite paint, decal, accessory and emoji options. Manage your garage and sell old rides to make way for better vehicles. Pimp them out with upgrades and powers to define your unique style and get the upper hand!

This is Crash Club – a living, breathing world from Prettygreat to take online mobile multiplayer to new heights!
Download Crash Club free on the App Store
---
Injustice 2
Enter the Universe of Injustice 2 and unleash the powerful fighting style of your favorite DC Super Heroes and Villains. Expanding on the hit game Injustice: Gods Among Us, Injustice 2 delivers brand new characters, tons of exciting new modes, and the look and fighting style that NetherRealm Studios is known for. Leverage the all-new Gear System to build and progress your roster like never before – then enter the arena and become the ultimate DC fighter in blockbuster 3-on-3 action.

BEST FIGHTING MECHANICS ON MOBILE

Injustice 2 is a massive leap forward in every way possible. Master new, dynamic fighting controls that allow you to jump, duck, shoot projectiles, and execute epic Super Moves that has defined Injustice combat.

EVERY BATTLE DEFINES YOU

Injustice 2 offers you more ways to build, level up, and progress your roster of iconic DC characters. Upgrade with a Combination Level and Star Rating system by collecting characters and unique gear. The Gear System provides new looks for your character, as well as bonuses to your health, abilities and strength.

EPIC, CINEMATIC STORYLINE

Injustice 2 continues the story set in motion in Injustice: Gods Among Us. Set in the future, Batman and his allies work towards putting the pieces of society back together but struggle against those who would restore Superman's Regime. In the midst of this chaos, a new threat appears that will put Earth's very existence at risk.

Injustice 2 features high quality visuals and performance is not optimized for devices with less than 1GB of RAM. Injustice 2 also requires that your device can run iOS 10 or higher. A minimum of 1GB of space is required on your device.
Download Injustice 2 free on the App Store
---
Kill Shot Virus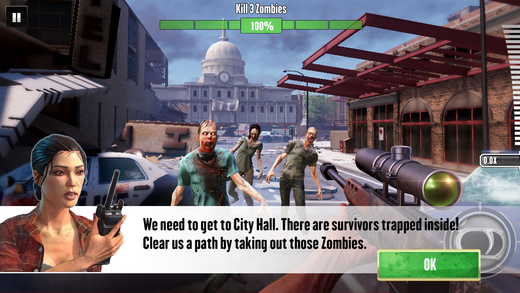 STOP THE VIRUS! Play the #1 Zombie Shooter on Mobile!
Protect Survivors, Eliminate Undead and Stop the Spread!

IT'S A ZOMBIE PLAYGROUND OUT THERE!
* Play through 100+ adrenaline-pumping first person shooter missions to prevent the spread of the zombie virus.
* Terrorize the Undead up close and personal with a huge arsenal of Assault Rifles, Shotguns, Sniper Rifles and Machine Guns.
* Push the limits with stunning next-level graphics showcasing the zombie-infested chaos and infected city.
* Fight and overcome hordes of zombies including Screechers, Jumpers, Exploders and other horrible types of zombie monstrosities.

KILL ZOMBIES AND LOOK DAMN GOOD DOING IT!
* Get decked out with a wide variety of apocalyptic gear to survive the zombie invasion.
* Need a boost? Unleash hell with power ups including Health Packs, Slow-mos, and Armor Piercing rounds.
* Equip epic apocalyptic gear and weapons to unlock your full Zombie killing potential.

JOIN WITH OTHER SURVIVORS
* Create a survival faction and obliterate the Undead together! Climb the Leaderboards!
* Compete against players and factions all over the world for Zombie glory!
* Chat with your friends and allies as you battle your way through the Zombie Apocalypse!
* Urban Onslaught and Urban Pandemic event modes have been included to survive against hordes of the infected and powerful boss-like super zombies.
Download Kill Shot Virus free on the App Store
---
Pirates of the Caribbean : Tides of War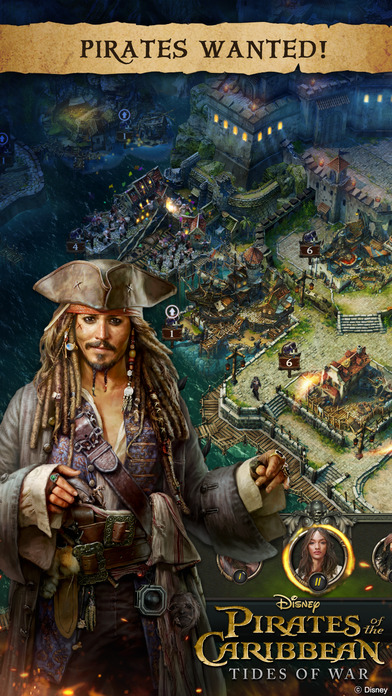 You are the captain of your pirate haven in Pirates of the Caribbean: Tides of War.
Recruit notorious marauders to your mighty corsairs to dominate the ocean!

THE OCEAN IS YOURS TO RULE
Become a legendary pirate captain and plan out assaults against millions of other pirates from all around the world in the most original pirate war game!

PREPARE FOR THE FIERCE PIRATE BATTLE ROYALE
Create or join a pirate alliance to rally forces to battle against supernatural creatures and other sea rovers on the vast open seas.

RELIVE THE ADVENTURES OF CAPTAIN JACK SPARROW
Immerse yourself in the story mode experience. Stand by Captain Jack Sparrow, Will Turner, Captain Barbossa, and all your other favorite pirates to partake in the great tales of Pirates of the Caribbean.

KEY GAME FEATURES
– BUILD fleets and RECRUIT fearless pirates for the battle to come
– PLUNDER your enemies to become the one and only PIRATE CAPTAIN of the Caribbean
– DOMINATE the ocean by forming ALLIANCES with pirate captains from all around the world
– Dive into EPIC QUESTS featuring Pirates of the Caribbean movie plots and characters
Download Pirates of the Caribbean : Tides of War free on the App Store