In the list of free iOS games you're about to scroll through, you're going to see a card game that could compete with Hearthstone, a MOBA designed specifically for mobile devices and a strategic game about giant robots. In other words, you're probably going to want to clear some space on your phone or tablet.
Buccaneers, Bounty & Boom!
A strategic board game set in the treacherous world of goblin pirates!

When the cutthroat worlds of piracy and goblins clash, the result is an underhanded race of skullduggery to be crowned the Goblin Pirate King. Hire Buccaneers, amass Bounty, and build cannons to Boom! your opponents out of the water.

Build up your Goblin cities to harvest the rare bounties of the pirate islands. Deck out your ships with the most underhanded Goblin crew. Stack your cities and ships with cannons and armour to blast your enemies from the seas!

Who can reap the most treasures from the bountiful pirate islands?
Who can mount the most cannons on their fearsome ships and cities?
Who can seek out the most scurvy sea Goblins to join their crew?
Who will be named the one and only Goblin Pirate King?
[Download Buccaneers, Bounty & Boom! free on the App Store]
---
Faeria
The next generation in card games has arrived! Discover Faeria, the PC card battler perfected for mobile.
Build your deck, shape the battlefield and defeat your opponents in epic battles!

– BATTLE: build your deck, shape the battlefield as you play and defeat your opponent in epic battles
– EASY TO LEARN: start in a heartbeat and get rewarded every step of the way
– HARD TO MASTER: experience insane depth with 270+ collectible cards mixed with 5 unique land types
– CHOOSE YOUR PATH: enjoy 20+ hours of exciting solo content, and challenge others in casual and competitive multiplayer modes
– MAKE FRIENDS: join an amazing community that has shared over 9,000 decks and guides
– PLAY HARD, GO PRO: compete against the very best each month for a chance to win $3,300
[Download Faeria free on the App Store]
---
Forge of Titans: Mech Wars
Forge and collect powerful MECHS, assemble your ultimate SQUAD, unlock devastating SKILLS and fight TITANIC real time battles to rule over the planet EDEN.

Forge of Titans combines real-time strategy combat with addictive RPG mechanics: only the strongest will become true masters! Are you ready for the challenge?

FEATURES
• Collect fierce robots and assemble the best squad
• Amazing tactical battles in real-time
• Build alliances and battle with players from around the world
• Defend your colony with fearsome weaponry

FORGE & IMPROVE YOUR TITANS
• Forge powerful pieces
• Fuse them to enhance their power!
• And assemble the strongest mechs

FIGHT TITANIC BATTLES
• Master your robots' power and abilities
• Strategically plan your next attack on the battlefield
• Build your alliance and battle in multiplayer mode

COLLECT NEW PILOTS & UNLOCK NEW SKILLS
• Hire the best pilots for your squad
• Gain experience in battles and level up your pilots
• Unlock new skills to increase their strength

DOMINATE & EXPAND YOUR COLONY
• Defeat your enemies and acquire more power
• Grow your colony to the largest empire and overcome the Dark Lords!
[Download Forge of Titans: Mech Wars free on the App Store]
---
Planet of Heroes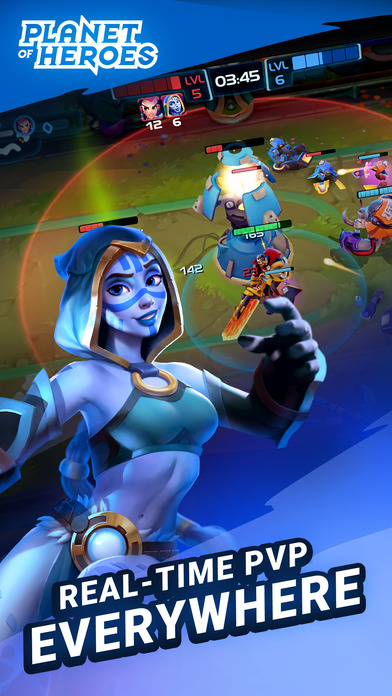 Looking for an exciting real time war game for smartphones? Welcome to Planet of Heroes: stunning graphics, strategic depth and gripping fights in breath-taking 7-minute matches. Thousands of players are already fighting: are you up for the challenge?

Brawl in PVP with friends, explore challenging missions in the PVE Campaigns, and craft items to make your heroes more awesome!

There is no reason to miss your Moba when away from home – we've got a Casual eSports League with an ELO-like system, real prizes within events, offline tournaments, a PVE Campaign with your champions of the arena, all packed into a fun, action game in your pocket. Of course, playing is free forever!

Want to know our Features?

=== Action Gameplay ===
• Use your mobile like a controller – left thumb steers, right thumb executes!
• Jungle, Lane, Ganks, Dragon-like boss: all features from MOBAs inside your pocket!
• Fantasy Story Campaign with your favourite heroes in 3 difficulty modes!

=== Strategic Customization ===
• Choose Runes to build your unique skill combinations
• Over 200 runes leading to more than 20.000 different setups!
• Determine your heroes' role, be a tank, support, healer, carry or assassin!

=== Rewarding Engagement ===
• No shop content that has impact on PVP – fairness first!
• Play more to earn more – you determine the pace!
• Summon your friends to win in Team Tournaments!

=== Fun without Limits ===
• Challenge players from all around the world – Planet of Heroes is truly global!
• Outdoor? Connection shaky? Doesn't matter: the PVE Campaign and Practice happen on your phone!
• Craft Items, hunt Monsters and Bosses, clash with players, strike down bots, and collect new heroes!

=== An exciting Future ===
• Player Profiles and Ranked Leagues allow tracking of you owning the arena!
• Great new voice overs and sound effects for even more immersion!
• More unique heroes – we want to introduce more tanks and warriors, and magic assassins next!
• A clan or guild system as preparation for eSports on your phone!
• Direct Streaming into Mobcrush & YouTube!
[Download Planet of Heroes free on the App Store]
---
Pocket Arcade
Colorful, simple, and whimsically fun, Pocket Arcade brings the physical arcade experience to players' fingertips! With beloved and popular mini-games reinvented for the small screen, experience your favourite arcade games whenever you wish.

Pocket Arcade includes four riveting and delightful mini-games to test players' arcade skills and prowess:

Alien Whacker, a modern spin on whack-a-mole.

Mayan Coin Pusher, where you strategically drop coins to push them (and prizes) into the bin for points.

UFO catcher, where you control a claw to pick up different prizes.

Hoop Hero, our very own version of shoot-that-basketball.

Utilise resources and power-ups between all the mini-games, combining them into a larger-scale arcade experience. Collect dozens of cool prizes across the four games!