The Infinity War sequel will hit theaters in late April next year, so we don't expect Marvel to reveal the actual title of the movie anytime soon. We saw Thor actor Chris Hemsworth troll fans a few days ago during a pre-recorded award acceptance stunt, but he didn't actually let the title slip out. Also, we know from the filmmakers that the title of Avengers 4 title isn't spoken during Infinity War — which means Avengers: End Game isn't it. But the Russo brothers, who are co-directors of both Infinity War and Avengers 4, just teased the title in the most peculiar way.
A few days ago, they posted the following image on their joint Instagram account, which reads "Infinity Mirrored Room – Aftermath of Obliteration of Eternity:"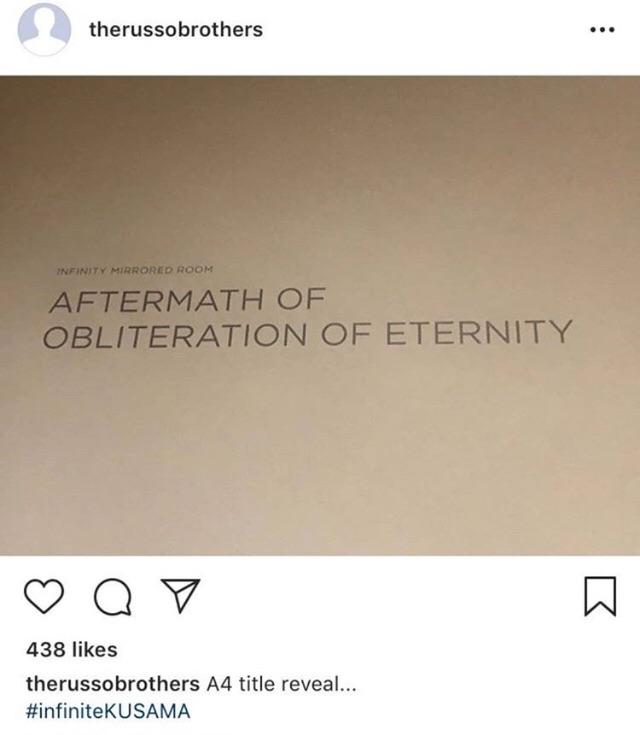 Yes, they intended to troll the audience — just look at the caption they used: "A4 title reveal…"

 When I first saw it a few days ago, I immediately dismissed it as silly. I also found out that Aftermath of Obliteration of Eternity is actually a work of art from Yayoi Kusama. But then, something strange happened. The Russos deleted that picture from their Instagram (though a Redditor saved it,) which doesn't have a lot of content to begin with. And that's why things got interesting.
Is it possible that "Infinity Mirrored Room – Aftermath of Obliteration of Eternity" is something that can provide additional clues about what happens in the next Avengers movie? Are any of those words in the Avengers 4 title?
Avengers: Aftermath sounds a lot better than Avengers: Obliteration or Avengers: Eternity, but I'm just firing shots in the dark here. Maybe the "mirrored room" part is more revealing, as it could imply that Avengers 4 will revert to traveling through time and/or other dimensions so that the remaining Avengers can defeat Thanos.
On the other hand, we may simply be looking at trolling from the Russos on an even bigger scale than we first thought. What's the best way to keep people talking about the directors' Instagram post and its connections with the next Avengers movie? Why, delete it from the Instagram feed soon after you've posted it, of course!
Revealing the title too early might spoil the film, although we already know plenty of things about Avengers 4. For starters, most of the dead Avengers are coming back to life. We also know that the Quantum Realm will play a significant role in the movie, since it can offer heroes a way to travel back in time that doesn't involve access to the Time Stone.