If you purchase an independently reviewed product or service through a link on our website, we may receive an affiliate commission.
If you're on the lookout for a good site where you can buy face masks online to protect you from the novel coronavirus, we've got some great recommendations.
By now we would hope that everyone knows the CDC recommends that we all wear face coverings anytime we leave our homes.
Amazon's best-selling face masks are by far the most popular option and tens of thousands of our readers have bought them in the past month.
---
Check out the CDC website and you'll see the recommendation clear as day: everyone should wear a face mask anytime they go out in order to slow the spread of the novel coronavirus. Of course, that doesn't mean you should go out and spend $20 or more on a single N95 respirator mask that can't even be reused. In fact, the CDC says specifically that you should NOT purchase or wear medical-grade masks at all. Healthcare workers and people on the front lines of the fight against COVID-19 are in desperate need of PPE including face masks, so you should never reward opportunistic stores that sell them directly to consumers. In fact, you absolutely should report them.
The bottom line is that you don't need a medical-grade face mask to protect yourself because you don't spend hours at a time treating coronavirus patients like doctors and nurses do. You're smart, so when you go out you always make sure to practice social distancing and good hygiene. For those reasons, there is a wide range of face masks that will provide you with more than enough protection while shopping in a supermarket or making other quick essential runs out of your home.
The favorite options right now among our readers are Jointown 3-Layer Face Masks, which cost just $0.60 each, and the MagiCare KN95 masks that are $3.45 each when you buy a box of 20. Both options are in stock and ready to ship right now at Amazon, and they happen to be the best-selling face masks on the retailer's entire site. If you're handy, you can also make your own DIY coronavirus face masks quickly and easily using materials you already have lying around your home. If you'd rather just buy face masks and you want some options aside from the best-sellers we just told you about, you'll find five great places to buy face masks listed below.
Amazon
Head over to this face mask page on Amazon's site and you'll find a wide range of face masks that are available right now, including the best-sellers we mentioned above. There's a good mix of 3-layer masks and various types of cloth face masks, and several of the most popular options are ready to ship soon and will be delivered within a week.
Jointown Face Mask, Pack of 50 (5081)
List Price:
$11.30
Price:
$29.99 ($0.60 / mask)
You Save:
$3.04 (27%)
Available from Amazon, BGR may receive a commission
Price:
$68.99 ($3.45 / mask)
Available from Amazon, BGR may receive a commission
Face Masks and Protective Face Covers Hub on Amazon
Price:
$8.99+
Available from Amazon, BGR may receive a commission
Amazon Handmade
Did you know Amazon has a whole like Etsy that's full of handmade products? There are tons of handmade face masks available right now over at Amazon and you'll be surprised at how affordable some of the options are.
Handmade Face Masks
Price:
$10.00+
Available from Amazon, BGR may receive a commission
Arm the Animals
Arm the Animals is a brand that doesn't normally make face masks, but it's making plenty of them right now. The shop will also donate one face mask to California hospitals for every mask purchased.
Arm the Animals Face Masks
Price:
$18.99
Available from a partner


BGR may receive a commission
Swaddle Designs
Swaddle Designs has shifted some of its manufacturing capacity away from baby products so it can offer face masks. The company's masks fit very well and they're made of comfortable material that contours to the face.
Swaddle Designs Face Masks
Price:
$9.99+
Available from a partner


BGR may receive a commission
eBay
If you want KN95 face masks for high-risk situations like riding public transportation or flying, there are two things you should know. First, eBay is the easiest way to get them. Second, you'll have to be willing to pay ridiculously gouged prices. As is the case with anything you shop for on eBay, only buy from sellers with plenty of positive feedback.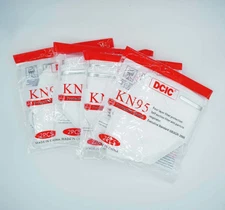 KN95 Face Masks On eBay
Price:
$9.99+
Available from a partner


BGR may receive a commission
---
Follow @BGRDeals on Twitter to keep up with the latest and greatest deals we find around the web. Prices subject to change without notice and any coupons mentioned above may be available in limited supply.