The Nintendo Switch video game console has been flying off store shelves ever since it was first released back in 2017. With that in mind, it shouldn't come as much of a surprise that the Switch almost never goes on sale with any discounts. That's especially true for the newer Nintendo Switch OLED model, which has a price tag that's $50 more expensive than the regular Switch.
The Nintendo Switch OLED console is priced at $349.99, and it has never gone on sale with any discount. But if you pick up the European version of the Switch OLED, you can currently save up to $20 on Amazon. Just note that you may need to check the "Other Sellers on Amazon" section in order to get the lowest price on this popular Nintendo console.
The only difference is that the Euro model comes with a power cable that won't fit in US outlets. But since you likely have a dozen USB-C cables and adapters lying around your home right now, that shouldn't be a very big deal.
There's no question that the Wii is Nintendo's most revolutionary video game console in recent history. But I would argue that the Nintendo Switch OLED is the company's best console ever by a wide margin.
I bought my first Switch right after it came out back in 2017. Then, when the Nintendo Switch OLED model was released, I got one of those as well.
I'm a huge Nintendo fan, so I probably would've bought one no matter what. But the larger OLED screen is definitely worth the upgrade. It's also nice to have a kickstand that doesn't feel like it's going to snap off every time you touch it.
The only downside about the Nintendo Switch OLED is the price. While the original model costs $299.99, the OLED upgrade has a higher price tag of $349.99. On top of that, it never goes on sale with a discount — unless you know where to look, that is. And I'm going to show you how to pick up a Nintendo Switch OLED console with a rare discount.
In addition to the regular listing, Amazon has a separate listing for the European Version of the Nintendo Switch OLED. It's the exact same physical console, and it plays all the Switch games you buy here in the US.
The only difference is that the European Version of the Nintendo Switch OLED comes with a European wall plug for the power cable. Needless to say, you can use a different USB-C power adapter you have lying around your house, and it will work perfectly.
While the regular Nintendo Switch OLED costs $349.99, you can save up to $20 by picking up the European Version instead. Just make sure you check the "Other Sellers on Amazon" section to find the lowest price.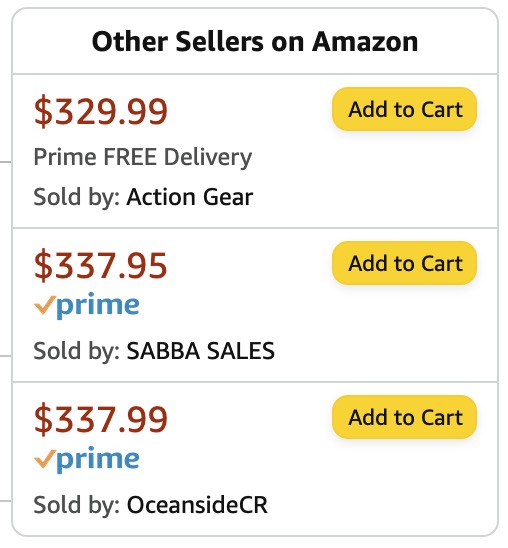 It might take a little longer to ship unless you pick a seller that offers Prime shipping. But it's worth the wait to save some cash.
Also of note, the best Nintendo Switch game of all time happens to be on sale right now with the biggest discount ever.
I've been playing The Legend of Zelda: Tears of the Kingdom since the day it came out, and I'm totally hooked. It's one of the most expensive Switch games ever at $70, but it's totally worth it.
Of course, just because it's worth $70 doesn't mean you should pay $70. Right now, Tears of the Kingdom is on sale for $54.99 on Amazon. That's a 21% discount, and it's the lowest price I've seen so far.