When it comes to headphones, there are two types of people: audiophiles, and everyone else. Audiophiles will test a dozen different options or even more, and then ultimately spend hundreds of dollars on whatever they deem to be the perfect pair of headphones. The rest of us can't be bothered to take the time testing all the options out there, and there's no way we're willing to spend that kind of cash.
Of course, being smart with your money doesn't necessarily have to mean dealing with the awful earbuds that came with your smartphone. And just because you're not an audiophile doesn't mean you should have to deal with low-quality sound. Today, we're going to introduce you to a pair of earbuds that offer terrific sound quality and an outstanding fit at a price you won't believe. It's high time you learned about the iRAG S801 In-Ear Earbud Headphones, which cost just $9.99 on Amazon.
Design
The iRAG S801 earbuds might look like any other earbuds from afar, but the devil is in the details.
If you're looking for a design that's sleek and stealth, you're going to love these earbuds. The polished ends give them a sophisticated look while they're in your ears, and the classic round earbuds sport a nice conical shape. The tips are angled perfectly to ensure smooth sound delivery without sacrificing comfort.
These in-ear iRAG headphones feature a nice long 4-foot cable that isn't cheap or flimsy, so it won't easily tangle or kink like some headphones do — in fact, the company is so confident in the quality of the S801 earbuds, they come with a 24-month warranty. There's also an in-line mic with a standard control button that allows you to play and pause, skip forward or back, and answer or end calls.
Sound Quality
The 10mm drivers inside iRAG's S801 earbuds aren't like the low-quality speakers in the cheap headphones hanging all over the checkout line at your local Walmart. These are high-quality drivers that deliver deep bass, full mids and crisp highs.
The "extra bass" technology ensures that kick drums and bass lines will thump just like you want them to, but the bass isn't so overbearing that it causes distortion or drowns out mids and highs. These aren't $1,000 in-ear monitors we're talking about here, but we guarantee that you'll be surprised at how good the sound quality is across all genres, including hip hop, EDM, rock, and just about anything else you might listen to.
Also important is the quality of the mic iRAG uses in the S801, which provides nice clear sound for the person on the other end of the line during phone calls.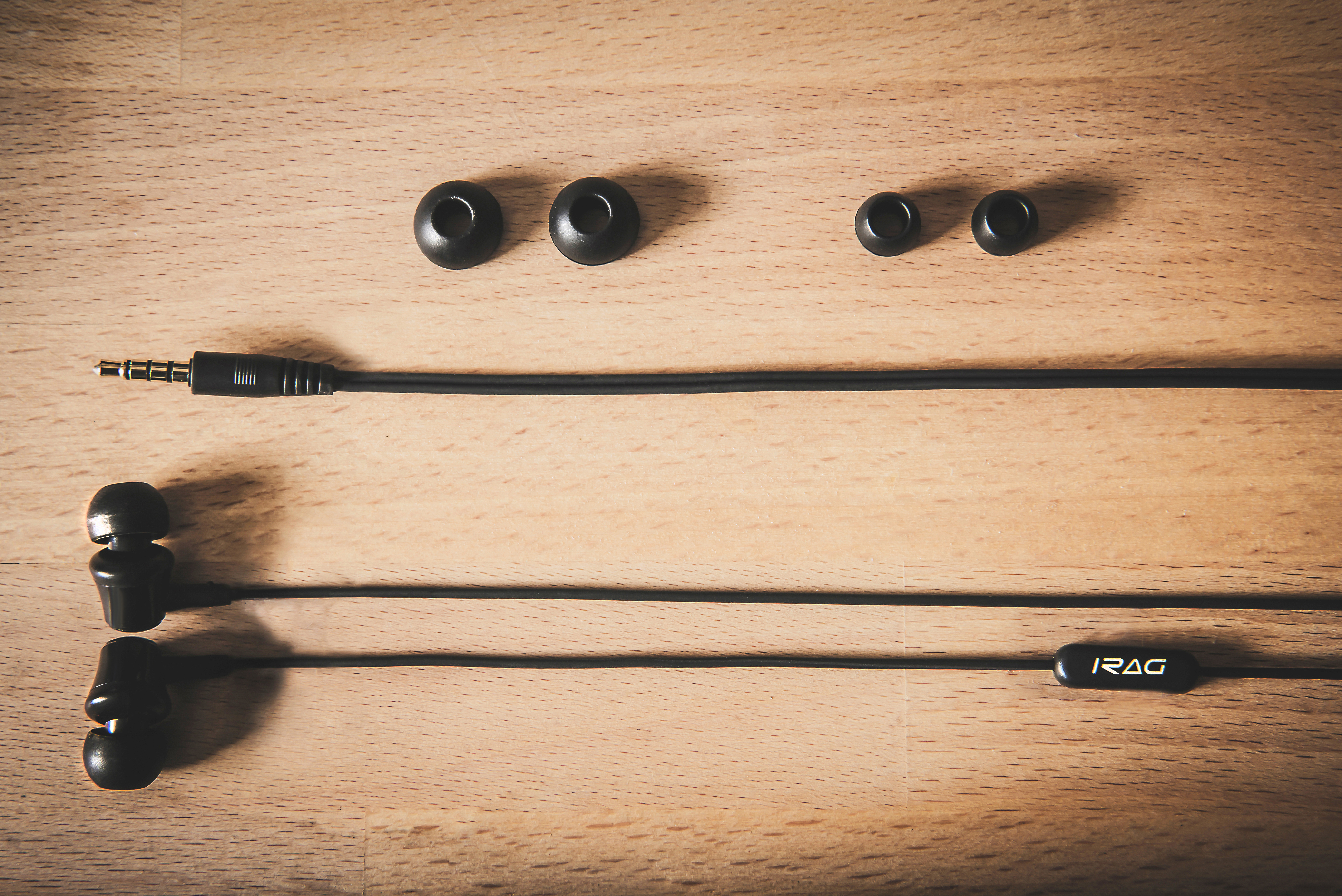 Comfort/Fit
While sound quality and design can vary with earbuds that come bundled with smartphones, there's one thing that's almost universally true: they never fit quite right. Whether it's the EarPods that ship with Apple's iPhones or the in-ear headphones that come with various Samsung phones and other Android phones, they always seem to sit funny. In fact, some earbuds actually hurt if you wear them for too long.
The iRAG S801s are some of the most comfortable earbuds you'll come across. They're lightweight to ensure you won't experience discomfort or fatigue when you use them for extended periods, but they're not so light that they feel cheap. The tips come in three sizes so you'll always find the perfect fit for your ear canal, and they're made of soft rubber that grips well and locks in your ear. You definitely won't have to worry about these earbuds popping out at the gym.
Bottom Line
The bottom line is that these are not $10 headphones. The iRAG S801 In-Ear Earbud Headphones might cost $9.99 on Amazon, but they offer sound quality and fit on par with headphones that cost five times that amount. They look great, they're comfortable, and they offer above-average sound quality that beats any earbuds in this price range by a mile.
Price:
Available from Amazon, BGR may receive a commission
Here is some more key info from the Amazon product page:
Warranty
Hassle-free 24 month warranty and easy to reach customer service
Specifications
Classic round earbud design
Jack: 3.5mm
Speaker Driver: 10mm
Length of Cable Cord: 4 feet
Mylar Thickness: 6µ
Normal Impedance: 16O±20% at 1KHz
Normal Power Rating: 3mW
Maximum Input Power: 5mW
Output S.P.L.: 100±4dB SPL at 1KHz with 126mVrms input
R/L Output Difference: 3dB at 1KHz 1mW ?
Distortion: 3% Maximum (1KHz/1mW)
Frequency Response: 20~20,000 Hz
Buzz & Rattle: 50~3KHz (0.22V)
Weight: 11±2g
Built-In Remote Control and Microphone
Control music by the using the remote control button to play/pause, fast-forward, rewind
Pick up/end calls, record voice memos
Package Contents
1x Pair of Earphones
3x Earbud Piece Sizes: small, medium, large
Compatibility
iPhone, Samsung, HTC, LG and all 3.5mm audio jack devices.
To learn more about our sponsored deals and sponsored posts opportunities, please email sponsored@bgr.com.